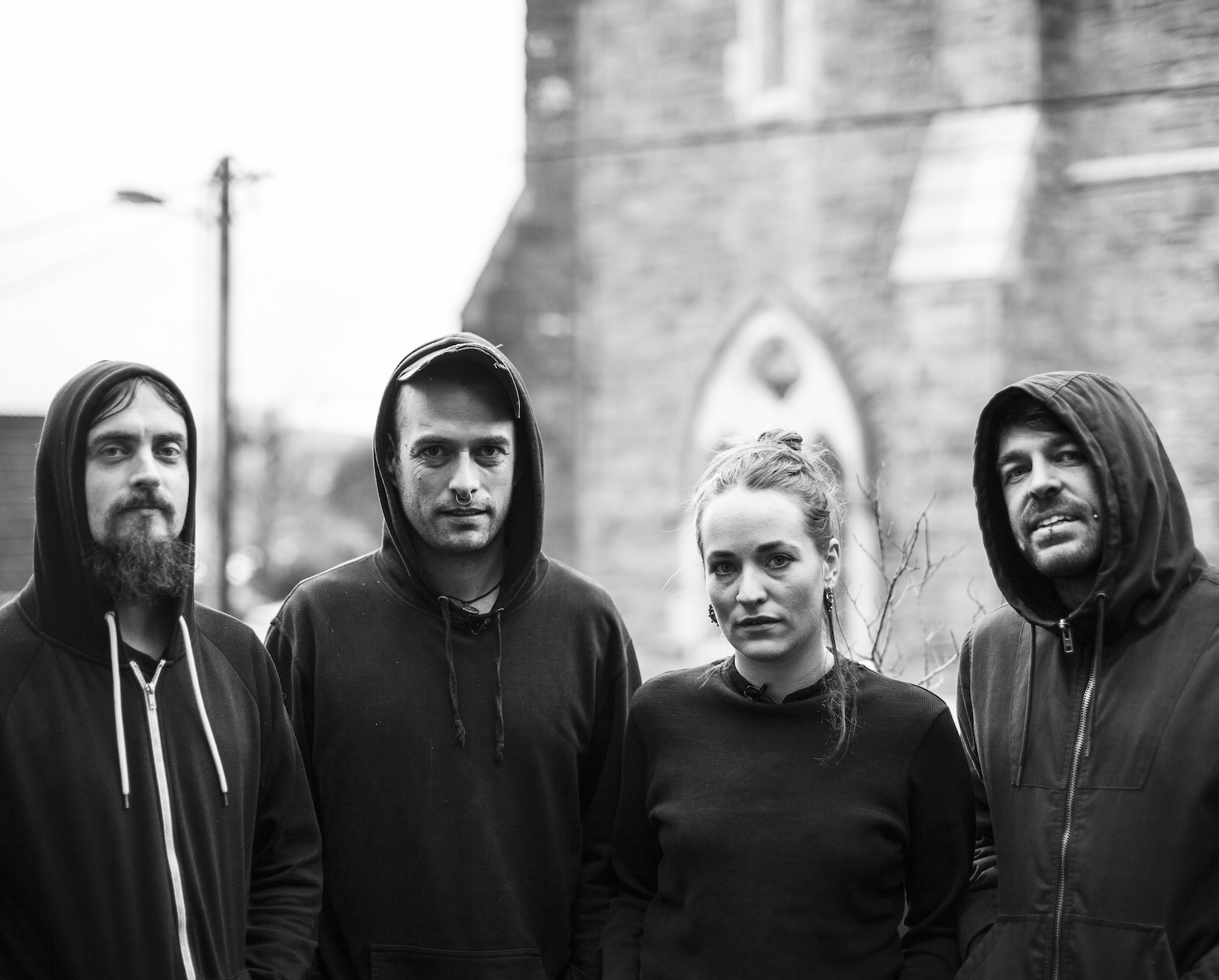 'What you say when you look at the world': An Interview with Radie Peat and Daragh Lynch of Lankum
Behind Lankum's politically aware folk is a subtle mix of influences. After a major year for the band, and ahead of a European tour, Radie Peat and Daragh Lynch speak to The Journal of Music about the punk ethos, the importance of sessions and their evolving musical interests.
Last year was an exceptional one for the band Lankum. In April, they won two BBC Radio 2 Folk Awards, followed in October by the Best Folk Group award at the RTÉ Radio 1 Folk Awards, while their singer Radie Peat won Best Folk Singer. They have also just completed their first US tour. 
It is the quality and energy of their music that explains this success. But also, after decades of commercial growth in Irish traditional music, the folk band format had became quite staid, and Lankum's direct, edgy approach made them immediately stand out.
When Lankum released their first album Cold Old Fire in 2015, it indicated a return to folk's roots, both musically and politically. Songs such as 'Father Had a Knife' and 'Salonika' were reminiscent of the ballad boom of the 1960s, but work such as 'Cold Old Fire', about the recession in Ireland, the anti-war song 'Cold Days of February' and the arrangement of 'The Old Man from Over the Sea', pointed to something more.
Their second album, Between the Earth and Sky (2017), went even deeper, making direct social commentary with songs such as 'What Will We Do When We Have No Money?' and 'The Granite Gaze' and displaying subtly in arrangement with 'The Turkish Reveille'. 
Spiritual home
Beneath the catch-all description of 'folk', however, is a more subtle mix of music and influences on the band.
The group's origins lie in the session culture across a number of Dublin City pubs, particularly the Cobblestone in Smithfield, Thomas House on Thomas Street and Devitt's, bars that have a genuine interest in the music beyond tourism. Singer and guitarist Darragh Lynch describes the Cobblestone, which is run by Tom Mulligan, as a 'spiritual home'.
It's definitely one of the places that would have been central – the tunes in the front part, and the gigs in the back room. We know Tom well, so any time we had friends in town… it would be the first port of call.
Singer Radie Peat also remembers the venues as being important when the band began to form, around eight years ago, but she had been going there for many years before. 'I would have been going to the Cobblestone a lot longer than that because my dad would have brought me as a teenager. I would have been playing sessions the whole time. I don't ever remember not playing sessions.'
Peat grew up in Dublin, learning concertina every week from Noel Hill in lessons at the Piper's Club, and singing too, partly down to the influence of the singer Róisin Chambers, as she described in the recent documentary by Myles O'Reilly.
Daragh Lynch and his brother Ian – who sings and plays pipes, whistle and concertina in the band – came to Irish traditional music by a more circuitous route, before meeting and starting to play with the other member of the band, fiddle-player Cormac MacDiarmada. 
[Ian and I] would have been into lots of different kinds of music growing up as teenagers – rock 'n' roll, punk music – and the socially conscious end of punk music would have led us on to the likes of Christy Moore, Planxty and Luke Kelly – a natural progression. And then that led us on to traditional tunes, the playing of Liam O'Flynn, and then on to Seamus Ennis and Willie Clancy.
Punk ethos
It wasn't just the music though – it was also the ethos in traditional music that resonated with him. 
The attraction to punk music when I was a teenager would have been that everybody put on their own gigs, everybody formed their own bands, a communal thing, where everybody in the audience knew each other and they were friends with the band – a very close, connected atmosphere. A similar thing would happen when playing traditional tunes and going to singing sessions. There's a similarity between that kind of punk scene and traditional music and song.
Sessions are one of the sources for their material, but their songs come from many other avenues. A friend of the band is the American experimental singer-songwriter Andy the Doorbum. On his 2011 album, The Man Killed The Bird, And With The Bird He Killed The Song, And With The Song, Himself, he recorded the song 'The Reveille', which he had sourced from a 1950s album of sea and whaling songs by Paul Clayton. 'Andy took it from him and slowed it down a bit, and we took it from Andy and slowed it down again.' The result, 'The Turkish Reveille', is a twelve-minute lament, the climax of Between the Earth and Sky.
Another source that the band find themselves coming back to repeatedly is the collection From Puck to Appleby. First released in 2003, it contains a unique collection of songs from Irish Travellers living around London from the 1970s onwards, recorded by Jim Carroll and Pat Mackenzie.
Because Lankum sing a range of songs from the Traveller repertoire, in particular those by Mary Delaney, the treatment of Travellers in Irish society weighs on them. 'We sing a number of songs that we got from Traveller singers', says Peat, 'and it's very jarring and difficult to know that and see how the Travelling community is treated.'
A political conscience
But Lankum don't just sing about issues, they also get involved, singing at benefit concerts for various issues. They were very involved in the recent campaign to repeal abortion legislation in Ireland. When the Pope visited Ireland, they took part in a protest outside the old Magdelene laundry on Sean McDermott street, singing 'The Granite Gaze' about the legacy of the Catholic Church – a 'very moving moment' for the band.
The housing situation in Ireland is also something that exasperates them. 'So many friends of mine in the last year or two have either been kicked out or told that they only have a couple of months left in their house, 'says Lynch. 'Basically, Dublin is becoming impossible to live in. It's very saddening and angering.' 'It cannot go on the way it's going,' adds Peat, 'and something needs to drastically change. Crisis is absolutely the word for it'.
Their political and social conscience extends throughout their material, but for good reason, as Peat explains.

There is a vein of defiance running through a lot of folk music. … In our choice of traditional songs, and in our own songwriting, we put forward our views, but not in the way that we need people to hear our views. 

You write about what you know and what you feel. You're naturally drawn to express similar sentiments to your own. It's not a calculated thing. A lot of it is just trying to express yourself, what you're feeling and what you think about the world, and what you say when you look at the world.
The band have just returned from the States, but are playing Germany at the end of the month, and then the Imbolc festival in Derry, followed by dates in Switzerland, Belgium, Cork and Edinburgh.
Peat is also doing a solo concert on 27 January as part of Temple Bar Trad in Dublin, and performing in the Imagining Ireland concert at the Barbican in London on 30 January.
Go play a tune
Currently working on material for a third album, Lynch and Peat find their musical interests are continuing to evolve.
Musically, we're getting more and more into exploring different ways of layering chords, keeping it interesting for ourselves. A lot of the earlier stuff I still like, but the arrangements are a lot simpler. Now we're exploring more harmonium chord shifts, Cormac playing the viola and how that will shift the sound, with the harmonium.
For Peat and her singing, 'I've definitely had a lot of fun getting to grips with the harmonium and a big old Russian accordion I have called a Bayan. … I love concertina, but in terms of song accompaniment I've got much more drawn to these other instruments in the last couple of years.'
The music is evolving, but the band's origins in Dublin session culture is still essential. After a tour, it's one of the first things they do:
'We have significantly less time to do it now,' says Peat, 'just because we tend to be on the road a lot, but one of the first things we do to relax and to ease back into being home would be to go sessions.' 'It's such a bizarre thing', adds Lynch, 'to take a break from playing music, we go play a tune.' 
For more on Lankum and their upcoming concerts, visit lankumdublin.com/gigs.
Published on 24 January 2019
Toner Quinn is Editor of the Journal of Music.