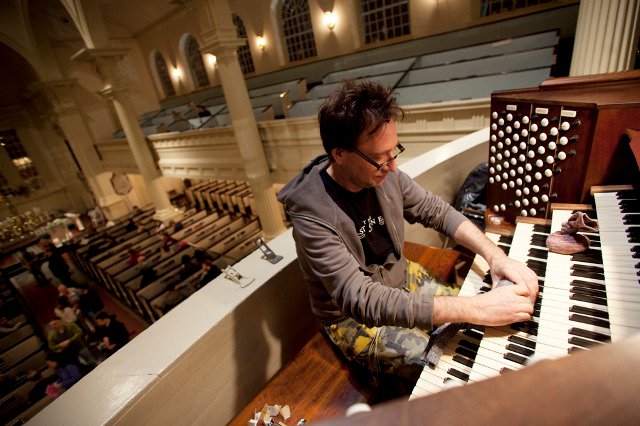 John Zorn Visits Louth
The American musician John Zorn will be in Louth on 4 and 5 October for concerts of his music. He himself will close the mini-festival with a late-night solo organ recital.
Louth Contemporary Music Society have brought about the American musician John Zorn's first visit to Ireland. Zorn will be in Dundalk for several concerts of his music on 4 and 5 October. Attempts to define the musician inevitably fail — he is variously described as a composer, multi-instrumentalist, record producer, arranger and saxophonist — and Zorn himself has said that 'all the various styles are organically connected to one another'.
Zorn has often collaborated with the Brazilian percussionist Cyro Baptista and his group Banquet of the Spirits. On Thursday, 4 October, at the Táin Theatre, Dundalk the Baptista and his group will perform music from their latest release, Caym: The Book of Angels, an interpretation of Zorn's Masada songbook, which focuses on music of the Jewish diaspora. This concert is preceeded by Zorn in conversation at 7.30pm — this event is only open to ticketholders for the concert.
On Friday, 5 October, at 8pm in St Nicholas' Church in Dundalk, the chamber choir Neue Vocalsolisten Stuttgart perform a new Zorn work, The Holy Visions. The work deals with the life, work and philosophy of the abbess, mystic and composer Hildegard von Bingen. Described as a 'mystery play in seven strophes', The Holy Visions is written for five female voices. The programme also includes other vocal works by Zorn, as well as the premiere of an instrumental miniature, Missa Sine Voces, performed by the EQ Ensemble.
Zorn himself concludes the mini-festival with a solo organ recital at St Patrick's Cathedral, Dundalk, at 10pm on the Friday. This event is free to ticketholders of one or more of the other concerts.
Tickets are available from the Central Ticket Bureau and the Táin Theatre.
Published on 28 September 2012