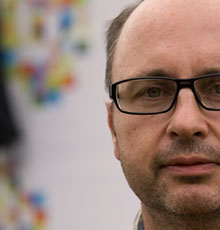 Music 3.0 Call for Ideas
A week-long pilot programme of talks and discussions revolving around innovation in the music industry is looking for participants.
Music 3.0 is a four-day programme of talks and workshops, searching for the music industry's 'next big thing'. Its organisers First Music Contact and Jim Carroll's belief that this next big thing will be outside the realms of the existent record industry (music 1.0) and live industry (music 2.0) and within that of 'innovation', taking the lead from other areas in a bid to blast open the boundaries of the current stagnant industrial structures.
'Our hope with Music 3.0 is that it will embellish the ideas and plans which the participants have by showing them how non-music industry people have dealt with innovation, change and disruption in their art forms or business sectors,' explains Jim Carroll, blogger, radio presenter and producer of the Banter talks . 'I don't think there is any point in listening to the same old voices from your own background telling you what you already know.'
To do this, Music 3.0 are inviting applications from anybody, whether already involved in the music industry or not, who has an idea for change. The week will provide a platform for those ideas to be openly discussed.
'We also want to hack people's passiveness regarding how the current rules apply to what they do or want to do. We want to show them how to challenge their thinking and the industry's financial and infrastructural barriers and remind them that creators and do-ers will be the ones who will dictate and direct the new industry. We want to put them, be they musicians or developers or troublemakers, at the centre of things.'
Music 3.0 will take place at The Lab on Foley St., Dublin, from 21–26 May. The deadline for application for free participation is 5pm today, 4 May. The application form can be downloaded here, and should then be emailed to First Music Contact.
Published on 4 May 2012