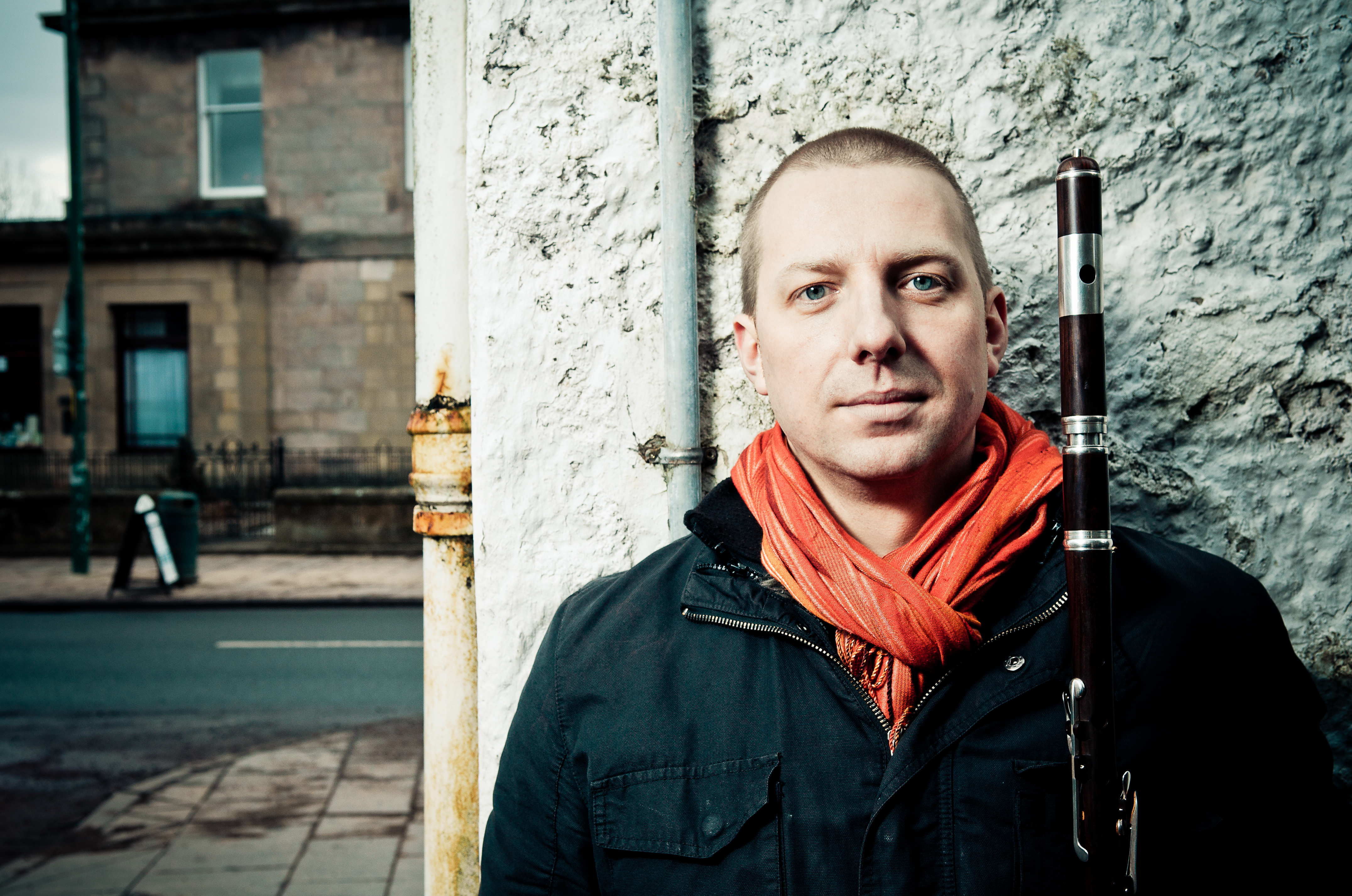 New Album from Breton Flautist Sylvain Barou
Breton member of Guidewires, flautist, Sylvain Barou, has his first solo album coming out later this month featuring guest musicians such as Dónal Lunny, Jacques Pellen, Ronan Pellen, Julien Stevenin, Keyvan Chemirani, Prabhu Edouard, John Doyle, Liz Carroll, Stelios Petrakis, Pádraig Rynne, and Méabh O'Hare.
Photograph: Archie MacFarlane
Guidewires flautist, Sylvain Barou, has a new album, his first solo one, coming out later this month. Self-titled, it features a long list of guest musicians, some traditional Irish, some Breton and some from further afield; namely, Dónal Lunny, Jacques Pellen, Ronan Pellen, Julien Stevenin, Keyvan Chemirani, Prabhu Edouard, Gilles Le Bigot, Youenn Le Bihan, John Doyle, Liz Carroll, Ed Boyd, Stelios Petrakis, Hamid Reza Khabbazi, Florian Baron, Rubén Bada, Alain Genty, Pádraig Rynne, and Méabh O'Hare.
Based in Rennes in Brittany, Barou has spent a good bit of time in Ireland, and describes this album as being 'like a log book of the work of the last ten years', including Breton, Irish, Indian, Eastern European, Greek and Middle Eastern elements. With all the variety of influences, Barou explains that he didn't want the album to 'feel like you are changing CDs on every track', and so paid particular attention to 'keeping some homogeneity to the sound'.
About half of the tracks are traditional (including a good few Irish tunes, such as the jigs 'Grier's' and 'Bold Doherty', and the reels the 'Humours of Carrigaholt' and the 'Squares Of Crossmaglen'), mostly from old tapes and recordings Barou has been collecting over the years, but also some he has learned along the way from friends. The more exotic material includes a famous 7/8 traditional Afghan song, 'Shah Koko Jaan', adapted as a tune, and some Greek and Bulgarian pieces. The rest are compositions by Barou and by friends like Ronan Pellen, the cittern player, who happens to be a neighbour, and Keyvan Chemirani (the French-Iranian percussionist).
Lunny, who has been playing with Barou and Padraig Rynne in a trio of late, has this to say of Barou:  'I think of him as a mountaineer. Not only is he avidly interested in music from every corner of the world, but he also seeks out challenges; peaks of musical achievement which can normally only be accessed by musicians who have been born into their particular culture… Reaching these heights demands a degree of musicality one encounters only occasionally.'
Barou himself shared some interesting thoughts on the traditional music scene in Ireland with The Journal of Music:
'From the external view that I have here, it would seem that Ireland is more conservative than Scotland, for example. We see many examples of groundbreaking and extremely innovative traditional music coming from there lately, and the same goes for the new Breton music scene. But on the other hand, I heard some absolutely gorgeous 'pure drop' trad music played by really young Irish musicians recently which really impressed me, and which is fantastic too.
I think the music we are going to hear from Ireland in the coming years is going to be fascinating. Musicians and also the audiences are much more open-minded now than they used to be, even ten years ago. I feel that Irish musicians are protecting their tradition very well while also bringing it to new places thanks to some interesting crossover work that we can see happening more often.
I just hope that the public will continue to support Irish music. I was a bit shocked to realise that it's very hard even for some of the most famous Irish acts to sell out a venue. People don't go out to gigs as much as they used to. It's sad. Trad music needs to be supported more, by the population and by the policy makers.'
Published on 5 March 2012