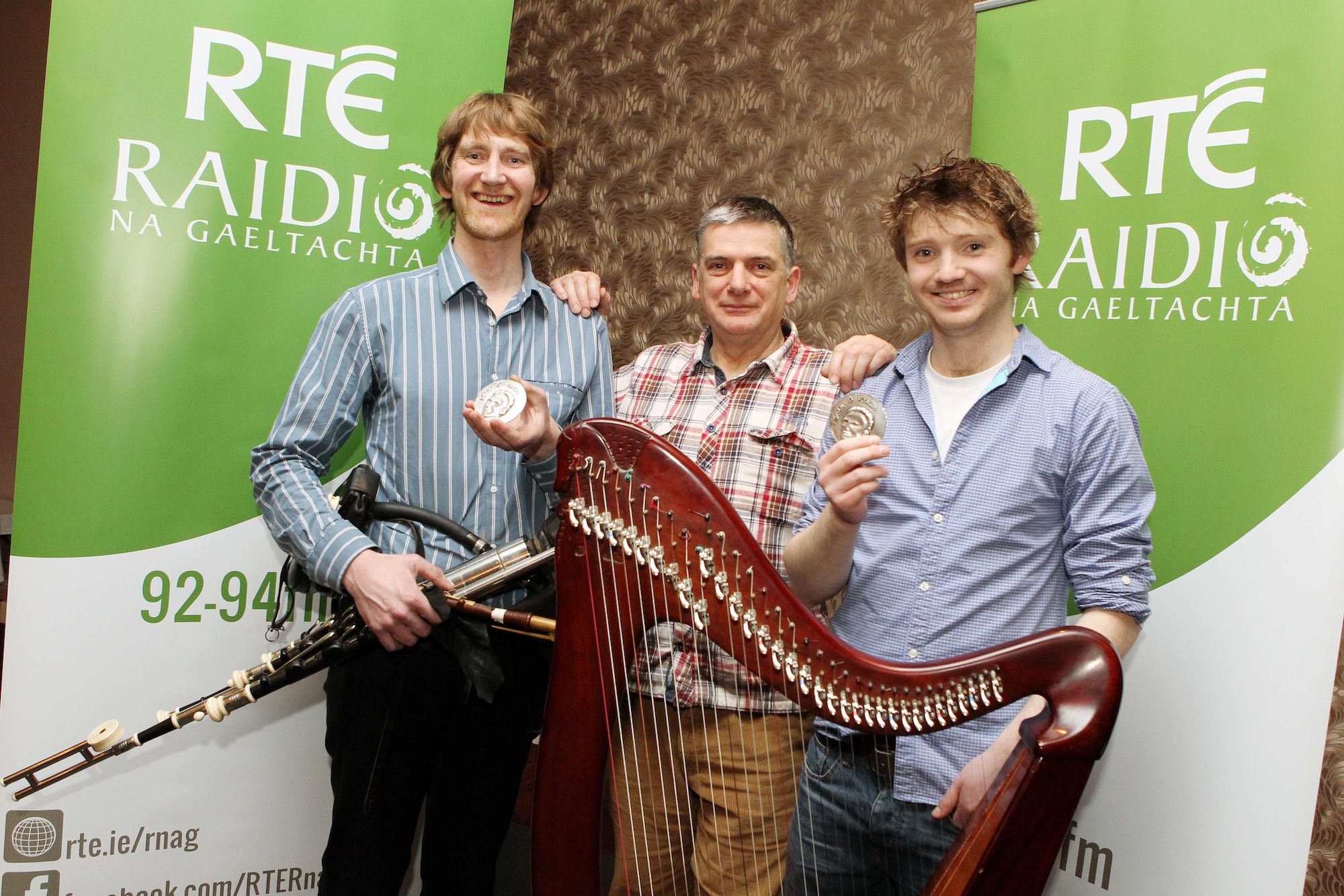 Seán Ó Riada Gold Medal for Tiarnán Ó Duinnchinn and Oisín Morrison
Monaghan piper Tiarnán Ó Duinnchinn and Dublin harpist Oisín Morrison were the winners of the Seán Ó Riada gold medal in the concert final which took place in Cork on Friday (18 January).  The final was broadcast live on RTÉ Raidió na Gaeltachta.
The winners were each presented with a gold medal specially designed by Cashel goldsmith Pádraig Ó Mathúna and a cheque for €1250 at the event in the Rochestown Park Hotel.
Tiarnán Ó Duinnchinn has been playing the pipes since he was 9 years of age, when he started with The Armagh Pipers Club.  He has been playing and touring professionally since 1995, with bands and as a solo performer.  He released the album Ceol is Píob with his wife, singer Stephanie Makem, in 2008.  He has presented TV and radio programmes for TG4, RTÉ and BBC, and his music has been featured in the soundtrack for two films. 
Harp gold medal winner Oisín Morrison is from Rathfarnham in Dublin.  Oisín has a degree in Irish and music from UCD.  He is an Ad Astra Performing Arts scholar and is currently studying for a Masters Degree in Irish.  Oisín has been playing harp for ten years.  He was chosen to represent Ireland, together with fiddler Aidan Connolly, at the Celtic Congress Centenary in 2011.  Oisín teaches music in Dublin, and also at various festivals during the summer.
There were 15 musicians in total competing in the final, eight pipers and seven harpists. The judges were pipers Mick O'Brien from Dublin, Ailean Domhnallach from Scotland, and Mayo harpist Laoise Kelly.
The finalists on harp were Ailie Robertson, Aisling Lyons, Anna Sheehan, Fiana Ní Chonaill, Kavan Donohoe, Oisín Morrison and Úna Monaghan. Pipers in the final were Éanna Ó Cróinín, Eoin Quinn, Fiachra O'Regan, Fionn Ó hAlmhain, Fionnán Mac Gabhann, Kieran Joy, Mícheál Ó Sé and Tiarnán Ó Duinnchinn.
This is the third year of the competition, organised by Peadar Ó Riada on his RTÉ Raidió na Gaeltachta programme Cuireadh chun Ceoil. Each year the competition is open to a different instrument, and in this coming year the competition will be open to box and concertina players.
The gold medals in this year's competition were sponsored by Gael Linn. The entire concert is available to listen to on the RTÉ Player. 
Published on 20 January 2013