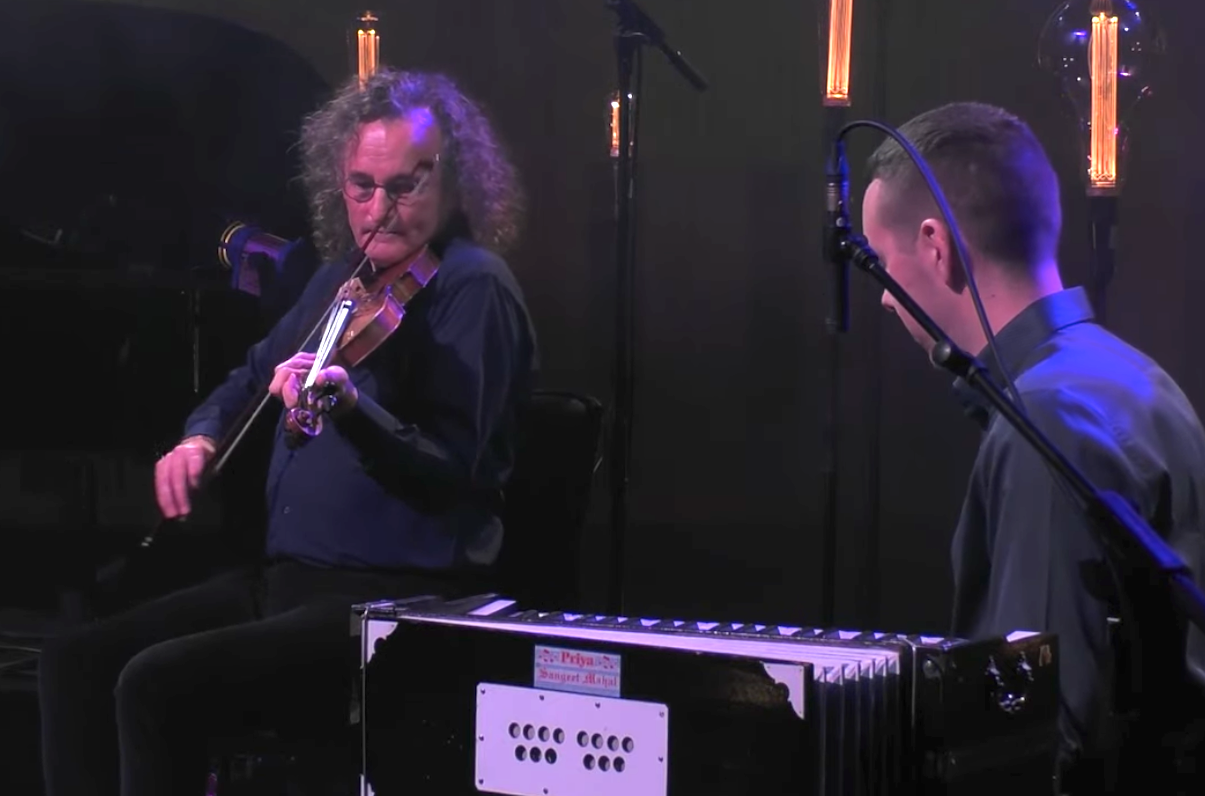 The Continuing Journey of Martin Hayes
Martin Hayes' livestreamed concert from the National Concert Hall last week (8 December) gave an insight into the changing music of the fiddle-player, and revealed new collaborative directions. Toner Quinn reviews.
We hear a quiet strum of four strings, checking his tuning, and then, solo on the stage of the National Concert Hall in Dublin, fiddle-player Martin Hayes begins the air 'The Lark in the Clear Air'. It's a tune familiar to those who grew up in Ireland before this difficult millennium. It was the theme tune of a long-running Sunday morning radio programme. Then it was comforting, now it is wistful.
Hayes plays it twice, reclaiming the tune into the traditional domain from the classical version that once was more familiar. 'I'm enjoying the sound in here,' he says after finishing. 'I'm going to close my eyes and feel and imagine that you're with me in the room. I know you're out there in the world.' 
He invites jazz pianist Cormac McCarthy and bouzouki and concertina player Brian Donnellan to join him, two musicians he had only just started playing with before the pandemic. McCarthy's work has attracted growing attention in recent years, through his work as an arranger and performer. Donnellan is an emerging musician hailing from the same area as Hayes in County Clare, and there's an additional connection as Donnellan's grandfather played with Hayes' father P.J..
Beginning with a drone on harmonium from Donnellan, Hayes begins a hornpipe he learnt from his uncle Paddy Canny. It avoids a clear harmonic centre, and the musician explores the space it creates for him, avoiding definition. He follows it with 'My Love is in America' with McCarthy playing rain-drop-like notes on piano. Hayes recorded this tune on his breakthrough album The Lonesome Touch with Dennis Cahill in 1997, and the concert now starts to illustrate how his playing has broadened out – the space between notes is wider, the bows are longer, the dynamics are more varied, the search for meaning between the notes is more intense.
It's twenty-eight years since Hayes first came to wide attention through his debut cassette tape on the Green Linnet label in America. On that recording he was accompanied by guitarist Randal Bays, but creatively it was very much a solo album and it introduced his still, slow, spiritual approach to playing. Since then, Hayes has been part of a number of ensembles, as a duo with Dennis Cahill, and playing with the Tulla Céili Band, Triúr, the Gloaming, the Martin Hayes Quartet and Brooklyn Rider, and so it feels, in this concert, like we may be getting to hear more of the soloist once again – particularly interesting given the isolation of musicians over the past nine months.
In the following set, the hornpipe 'Johnny Cope' and the reel 'Hughie Travers", we hear a familiar sound, Donnellan's dampened bouzouki reminiscent of Cahill, and McCarthy's piano closer to the style of the Gloaming, but the focus of the fiddle-player in these characteristic long sets, and the ability to keep on increasing the intensity, is compelling. It is in the air 'Aisling Gheal', however, that we experience what a Hayes/McCarthy combination could bring in the future. Shadowing eachother closely, the two still find freedom to express themselves, and when Hayes finishes, McCarthy continues with an improvisation. Hayes puts his head down and listens, completely immersed in the journey the pianist is on.
For the reels 'The Old Road to Garry' and 'Big Pat', Donnellan turns to concertina. 'He has the entire repertoire of all the music we play in East Clare,' says Hayes, 'so any tune from my childhood that I want to play, Brian has it right at his fingertips.' It's a set that works well, particularly when McCarthy turns the opening phrase of the second reel into something bright and charming.
Hayes' subsequent version of 'Lafferty's' illustrates how much of the wider world of music he has soaked up and submerged into his playing. From an orthodox start, it develops into something more meditative, Hayes playing repeated long notes, then faster repeated motifs, as McCarthy improvises, and then Hayes joins him in a free exploration. It ends too soon, but again points to the directions that this duo could develop in.
After 'The Wind Swept Hill of Tulla' paired with Junior Crehan's 'Caisleán an Óir', and Peadar Ó Riada's 'Sport', comes what might have been the most dramatic moment of the evening. With hardly a pause after 'Sport', Hayes begins 'Toss the Feathers' at pace, and McCarthy joins in. After several rounds, the pianist starts playing the tune along with Hayes and jumps to add in jazz inflections and improvisations around it. For just a few seconds, it's a completely different sound world. Hayes then ends the concert just as he ends his second album Under the Moon, with the gentle 'Lucy Farr's', returning to the atmosphere of the opening air. As a concert, it was impeccably crafted.
Hayes' music has been slowly, subtly developing over the past three decades of his recorded career, and we tend to underestimate just how far it has come. Had you not heard of Hayes before, and if you listened to the first set of this evening – Paddy Canny's hornpipe and the reel 'My Love is in America' – it is possible you would imagine you were listening to a niche piece of contemporary jazz, or instrumental music from any particular genre or none, rather than a fiddle-player from Clare. That could be interpreted as stating that Hayes has moved away from Irish traditional music, but that would be untrue. He exposes the universality of these dance tunes through an intricate, individual and intense approach to melody, which is what Irish traditional music expression is about. Mostly, it takes audiences time to catch up with an artist travelling on an individual path, and that was certainly the case when he released his counter-cultural debut album, but since then he has managed to bring audiences with him. How? In an age of global cultural convergence, it seems Hayes has sought and found a balance between the deep internal exploration of the local and the adventurous exploration of the global. That is not easy – it is mystifying at times – but it is what makes his musical journey, of which we were a part last week, so resonant in our time.
Published on 17 December 2020
Toner Quinn is Editor of the Journal of Music. His new book, What Ireland Can Teach the World About Music, will be published on 1 February 2024 and is now available to pre-order. Visit https://bit.ly/3uz7rGm.