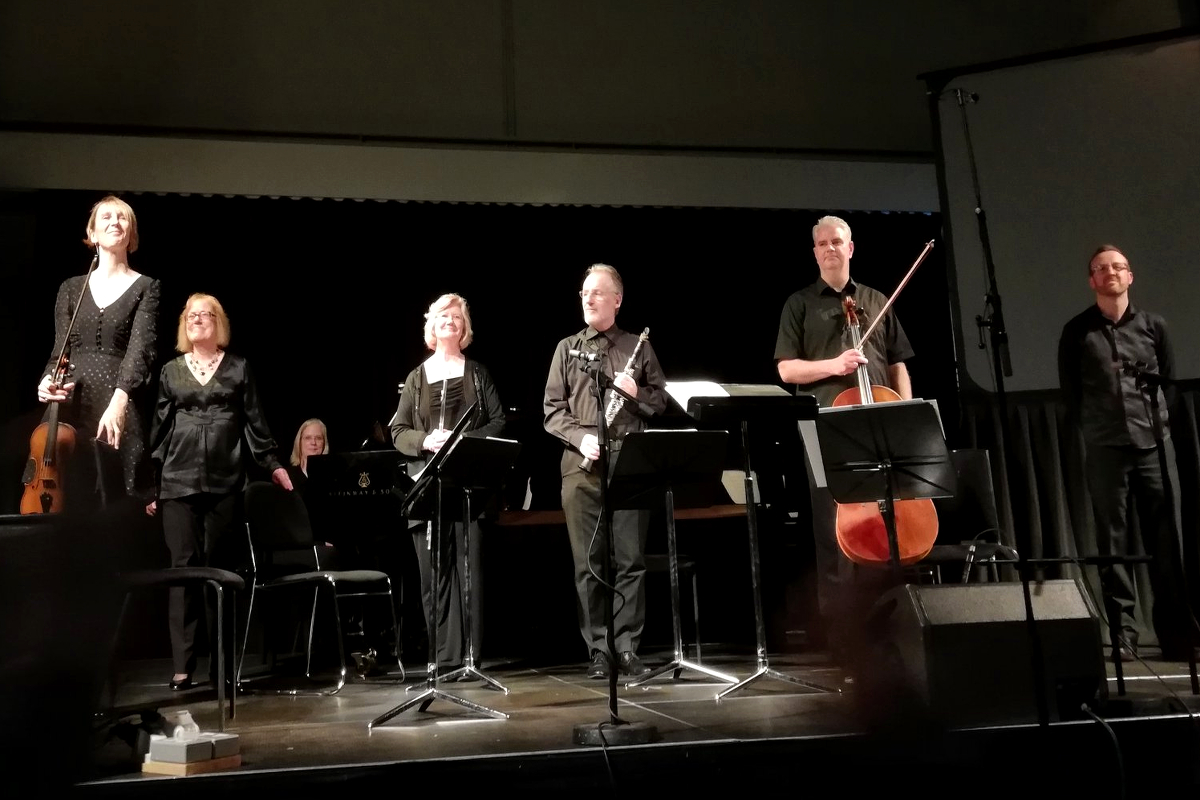 Leaving a Trail for New Composers
The fourth concert in the Female Composer Series at the National Concert Hall – programmed in partnership with Sounding the Feminists – featured music by Thea Musgrave, Sofia Gubaidulina, Jane O'Leary and Kaija Saariaho. Tim Diovanni reviews.
On 7 February at the National Concert Hall, Concorde ensemble – Jane O'Leary (director, piano), Elaine Clark (violin), Dermot Dunne (accordion), Martin Johnson (cello), Paul Roe (clarinets), Madeleine Staunton (flutes) – highlighted eight musically diverse works for small ensemble by women of ten nationalities. The programme, called 'Trailblazers,' was the fourth instalment in the 2018–2019 Female Composer Series. 
Orfeo I (1975) by Thea Musgrave, for flute and tape, opened the programme. This work contained dialogues between the flautist, Staunton, representing Orfeo, and the recording, in which the flautist James Galway intoned distant ghostly calls. Musgrave enacts the drama of this timeless myth through movement; at one point she instructs the performer to 'decisively turn away – back towards audience.' In addition, Musgrave specifies lighting changes should be made 'where possible.' This performance omitted both effects and consequently the intended dramatic effect was lost. 
Sofia Gubaidulina's De profundis (1978) stood out for its heavenly beauty: a pure open meditative hymn recurred with an accompaniment that quietly sparkled. Dunne executed the piece with an appropriate headlong yet never-overblown vigour.
Stasis and change
Although Dunne's performance of De profundis impressed, other interpretations felt staid. In Amazon I (1977), by Joan Tower, a work that often unfolds organically, each line emanating from the previous, the ensemble came across as technically proficient but without the requisite fiery spirit. Moreover, the conductor – Dunne in this piece and later O'Leary in hers – seemed superfluous, even detrimental; closer communication between performers might have been better achieved without one. 
One noticed several attractive components in Marta Ptaszynska's Moon Flowers (1986), such as a quiet chiming twinkle in the stratosphere of the piano and a high whispering pitter-patter in the cello. But these components could have been better served by extended development or commitment. The cellist, Johnson, seamlessly switched between muscular and intricate styles. 

Jane O'Leary conducting Concorde Ensemble in her work between 2 waves of the sea.
O'Leary's between 2 waves of the sea (2016) was music of stasis and change, infinity and ephemerality. One line gained prominence, held one's attention, and then faded into an undulating seascape. Another gesture then emerged from the sonic bath; the process looped, smoothly and naturally. The subtly shifting musical terrain corresponded well with the hyper-focussed images of the sea by Gwen O'Dowd which were played on a slowly moving video. O'Leary's long tenure with this ensemble, which she founded in 1976, shows in her outstanding writing for the instruments.
Narratives and communication
Kaija Saariaho's Cendres (1998) evoked faint suggestive atmospheres. Because of its harmonically derived design, the work distorted a traditional listening experience; narrative development was markedly absent. Like O'Leary, Saariaho gave the impression of standing still while passing through time although O'Leary did a much better job of sustaining one's engagement. 
In Nicola LeFanu's Isobirthday (2002), Roe and Staunton, on clarinet and flute, often embodied juxtaposing characters; in the beginning Roe laid down slow contemplative legato lines and Staunton flutter-tongued and sputtered. Out of all the performances, this one demonstrated the most visible communication between performers; this connection facilitated a tightly woven and effective interpretation. 
In 'Advice from a caterpillar' from the opera Alice in Wonderland (2007) by Unsuk Chin, Paul Roe interacted with the young protagonist, not onstage, by playing his bass clarinet; the screen near him displayed his witty surrealist dark 'speech', which synchronised with his music. This excerpted solo began with a long ascending scale, which wound and snaked up to a moaning bending wail that recalled the opening of Rhapsody in Blue. This figure returned several times, maybe once or twice too many. Roe performed admirably considering his reed seemed affected by the the exceedingly hot and dry hall.
Concorde is clearly adept; however, one wonders whether a more urgent, connected style could have benefitted some of the works. That said, on the wider purpose of this concert and the Female Composer Series, aspiring young composers in the audience – maybe some of the undergraduates who sat on my right, one of whom carried manuscript paper before the concert began – could only have been encouraged by this programme.
Published on 20 February 2019
Tim Diovanni is a music journalist from New York and a graduate student in musicology at the TU Dublin Conservatory of Music and Drama.