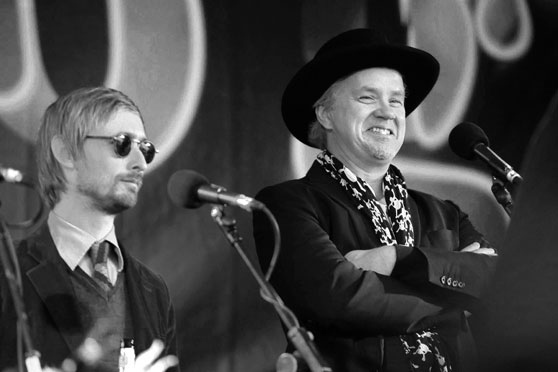 Live Reviews: Analog Festival, Dublin
The Analog 2008 festival – Grand Canal Dock, Dublin / 18–20 July 2008
Ports are multicultural. They are where the riches of the world arrive and dissipate. The Analog 2008 festival berthed at Grand Canal Square, and brought with it musicians from far-flung places, and songs from the history of sea travel.
From Brazil, Vinicius Cantuária played smooth bossa nova, both original material and standards by Antonio Jobin and Caetano Veloso. The procrustean beauty and apparent effortlessness edged towards easy-listening, but he brought a little of the Copacabana to grey Dublin. From a single village in Romania, Taraf de Haïdouks play in-your-face, high-tempo Roma music, driven by accordions, fiddles and a cimbalom. Their music out of context is slightly hollow, and this performance had something of the spectacle about it, rather than the transporting. Tortoise, from Chicago, played their progressive rock-tinged jazzy space funk, with real percussive flair, mesmerising their audience with rhythms that were not quite constant, but creatively slipped loose and crumbled in order to always rebuild. An excellent gig.
Crewed by musicians from all corners of the globe, Hal Willner berthed 'Rogue's Gallery', his latest vessel. A salmagundi of sea songs, sung by some who needed to be keel-hauled, but by others who raised triumphantly aloft the Jolly Roger.
Sea songs were fun and serious. Their topics were bawdy, their function to provide a rhythm for manual labour. There were many types of shanty: short-haul; halyard and long-drag; capstan, windlass and pumping. But there were also the more leisurely songs and ballads of men isolated in a wooden world, that captured their longings and experiences.
Teddy Thompson also stood out. He sang 'Haul Away, Joe', a call and response with the celebrity ensemble behind him on vocals that really worked. Neil Hannon, Chris Difford, The Langley Sisters, Tim Robbins and others all joyously rotated onto the stage to provide backing vocals. They were clearly enjoying the shared experience of a Willner event.
Gavin Friday slithered onto stage wearing a tight suit and earrings, every inch a pirate you would not cross. He sang 'Baltimore Whores' accompanied by Eliza Carthy on violin and was marvelous. And then Eliza Carthy! She sang with energy and passion, a siren that could lure anyone with ears happily onto the most savage rocks. The English folk tradition is deep in her DNA, being the daughter of Martin Carthy and Norma Waterson, who also performed brilliantly that night. Eliza Carthy understands these songs, that they tell stories and must be told respectfully, while also updating the music for a modern audience. She is a first-rate interpreter, and the music became compelling, transporting. A grog-free reverie that felt authentic, new.
Julie Fowlis sang in Gaelic, the audience falling silent at the beauty of her voice and the strangeness and singularity of a song not in English.
In startling contrast, Neil Hannon treated his material ironically and couldn't feign interest in what he was singing. It was a knowing, vaudeville performance. He even broke off in the middle of his second song, 'Turkish Revelry', to ask the audience if they were following the story as he himself had got lost 'around verse six'. Nevertheless he continued to the bitter, bitter end.
Lou Reed was the banner name for this concert, a legacy rock star that shifts tickets and impresses crowds. He struggled, Laocoön-like with his songs, and should equally be punished by Poseidon. And if that great god could take the Three Pruned Men at the same time, it would be a blessing. Guggi, Dave-id and Friday, reunited on stage, enjoyed themselves imitating the Beastie Boys singing 'Bully in the Alley'.
It is difficult to write about Shane McGowan. The bare facts about his performance would make unpleasant reading. However, the crowd roared him onstage, a terrifying echo of the Roman mob, the circus and blood sports.
Hal Willner was captain of an endeavour that rode the analogue seas, crests and troughs manned by various able-bodied sailors and land-lubbers. It was an adventurous journey and the organisers of Analog deserve great credit for landing it.
Published on 1 September 2008
Seán Ó Máille is a freelance critic, photographer and full-time secondary teacher in Dublin.