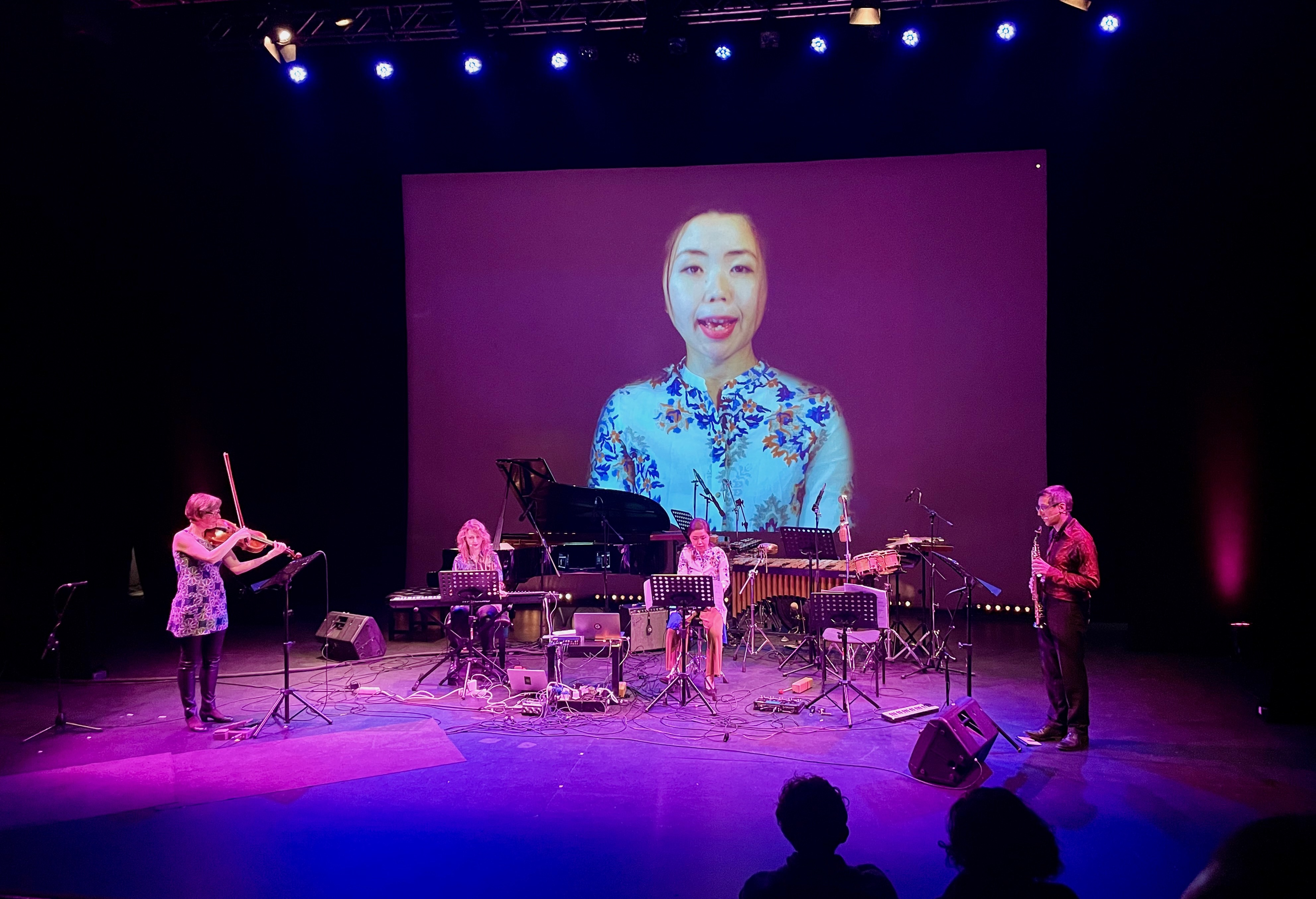 Making Unlikely Things Possible
The Music Current contemporary music festival returned last week post-pandemic and featured international groups Splinter Reeds, Loadbang and Ensemble Garage, Barry Guy and Maya Homburger, and a range of premieres. James Camien McGuiggan reviews.
Music Current is returning to strength. After the 2020 festival was cancelled as everything was that year, it returned with a postponed and reduced festival in 2021. Even though the concerts could go ahead at that point, Covid restrictions meant that group rehearsals were for the most part not feasible, so most of the pieces were for solo instruments. Now, finally, ensembles are able to rehearse and travel, and Music Current is back with five days of concerts and events at the Project Arts Centre in Dublin (19–23 April), including a slew of premieres.
Indeed, the first concert, by Dublin Sound Lab, had nothing but premieres and new commissions, many of which were developed in collaboration with the performers under the aegis of Dublin Sound Lab and Music Current. (Fergal Dowling is artistic director of both.)
The first of these pieces was Will We Give It a Bash? by Paul Scully, and was performed by Scully (electronics) and Paul Roe on clarinets. This was a great piece to herald the start of the festival: it was theatrical, self-reflexive, multimedia, and fun, even if the fine grain of the composition seemed less carefully wrought than the overall thrust was.
The next piece should have been Jane Deasy's Blossom, but this was one of the few works in the festival cancelled for Covid reasons. So instead there followed Gráinne Mulvey's Entry and Exit Wound, performed by Mulvey (electronics) and Joe O'Farrell (flute). In this work, Barry McGovern's reading of Edward Denniston's poem Text for a Civil War was heavily manipulated into bitter, guttural sounds. It was a difficult work, but only in the way that the subject merited.
Greek composer Panayiotis Kokoras' Stone Age, for cello and tape, was built around a 3-D printed 'bow' designed by Kokoras that cellist Ilse de Ziah used in various ways. The bow was notched somewhat like a scraper or güiro, and this, amplified and manipulated and supported by some often nice electronics, created some wonderful sounds, especially in the first half, when they were strongly percussive and quite unlike anything I'd heard before.
Elis Czerniak's semi-improvised and the Acceptance of Death for bass flute, bass clarinet, cello, and electronics had some unconvincing theoretical apparatus, but the music itself was sensitive, especially in its harmonic colour. The highlight of this concert, though, was Brona Martin's Margaret's Story. This quadraphonic tape work was humble, Martin playing curator to Irish folk singer and banjo player Margaret Barry (1917–89), whom we hear interviewed by Alan Lomax. Barry is mostly just let speak, with Martin creating an accompanying bed of sound, or, when Barry gives a musical example, stretching and orchestrating the sound (mostly with manipulated samples from that same musical fragment), throwing it around the room and looping it, so that it sounds almost as if we had physically fallen inside Barry's voice. It was a charming work, but there was a love for Barry in it which gave it a profundity, too.
Splinter Reeds play Irish composers
The second evening was a concert by US-based wind ensemble Splinter Reeds for their first Irish performance. In addition to some excellent Irish premieres (Yannis Kyriakides' Hypothetical Islands (2012) and Paula Matthusen's Antenna Studies (2018)), Splinter Reeds performed three world premieres by Irish composers. Siobhán Cleary's Veeve was a lively, playful work: the bassoon ostinato is based on 'Madness' by Rozebud for the rhythm game Friday Night Funkin'. But the material worked perfectly in the avant-garde setting, thanks to Cleary's sophisticated use of electronic texture and tempo shifts.
Mulvey had her second premiere of the festival tonight: P9-PBH is loosely structured around how Mulvey imagines matter might coalesce and become dense as it approaches a black hole. Liberties were taken with the science, but musically it was engaging and rich. 
The final premiere of this concert was festival director Fergus Dowling's Everything is Real. This purely acoustic work was a companion piece to his Everything is an Illusion, which was performed the following night by another US-based ensemble visiting Ireland for the first time, Loadbang. In these two pieces, Dowling experimented with the relationship between electronic and acoustic sounds: in the former, all the sounds are acoustic, but playfully mimic electronic sounds; in the latter, the electronics gradually emerge from underneath the live music to become thoroughly interwoven with it. I found Everything is an Illusion the more successful work, and particularly enjoyed the complex staccato that ricocheted between the performers and the tape; Everything is Real worked well moment by moment but lacked a strong overall structure: the piece was built around two promisingly juxtaposed elements, but the contrast between the elements was not much developed over the course of the work.
Loadbang are a unique ensemble: comprising bass clarinet, trumpet, baritone voice, and trombone, they can only perform music written especially for them. And so although Dowling's Everything is an Illusion was the only world premiere that night, their entire programme comprised Irish premieres. Of these, I was particularly struck by Alex Mincek's Number May Be Defined (2012), which I think may be the quietest piece of music I've ever heard, and Chaya Czernowin's IRRATIONAL (2019), with its raucous homophonic explorations.
A different approach
Both Splinter Reeds' and Loadbang's concerts were fairly conventional: there were few multimedia or theatrical elements, and the emotional range tended towards the cerebral – humour, for instance, was scant and understated. It was no worse for this: both programmes were excellent, and the performances were energetic and virtuosic. 
If the entire festival had comprised such immaculate professionalism I would perhaps have wilted, but fortunately the following night's concert took an entirely different approach. Maya Homburger (violin) and Barry Guy (double bass) played with a light joy and finely tuned reciprocal attentiveness in their duo concert. This concert thoroughly intermixed Homburger's background in early music and Guy's background in free improvisation, especially in the first half, which comprised various recontextualised classical works, from an anonymous ninth-century hymn to Bach and Kurtág. The second half comprised original compositions of Guy's. His large Quindecim I found only occasionally as individual as Guy's playing normally is, but his Five Fizzles (for S.B.) (1993) was wonderful. The S.B. in the title is Samuel Beckett, and Guy perfectly captured the conjoining of existential seriousness and slapstick that is such a guiding aesthetic in Beckett's work. 
The final concert of the festival was by members of the Cologne-based Ensemble Garage. This ensemble has made a name for itself performing multimedia and amplified work with a thematic focus on digital media under capitalism. These interests were well represented in this fascinating concert. Matthias Kranebitter's Concerto for the Invisible Hand (after Adam Smith) (2015) was a great energetic opening, as well as a surprisingly effective musical representation of the rather abstract co-ordination problem of capitalism. But the standout piece was Natacha Diels' Sad Music for Lonely People (2018, revised for this concert), which was a wild multimedia collage suffused with bitter irony. I am not sure to what extent Diels' claim that this helps us have mercy on each other and ourselves is in earnest, but then, music can make unlikely things possible.
If I had been around earlier, I could have asked Diels myself: she ran a composition masterclass that day, one of several non-concert events that ran alongside the concerts. I did not catch any of these workshops, lecture-recitals or panel discussions, but I was glad to see them hosted, and glad too that they were accessibly priced.
There was a great breadth of music between this festival's concerts, and the musicianship was superb across the board. There was a host of brand new music, and female composers were well represented too. The attendance was not exactly stellar, but if this is because Music Current is a smaller, more fringe festival than New Music Dublin, which takes place less than a week later, then perhaps the festivals are complementary. But certainly from a musical point of view, Music Current has returned confident from its hiatus.
Visit www.musiccurrent.ie.
Published on 27 April 2022
James Camien McGuiggan studied music in Maynooth University and has a PhD in the philosophy of art from the University of Southampton. He is currently an independent scholar.