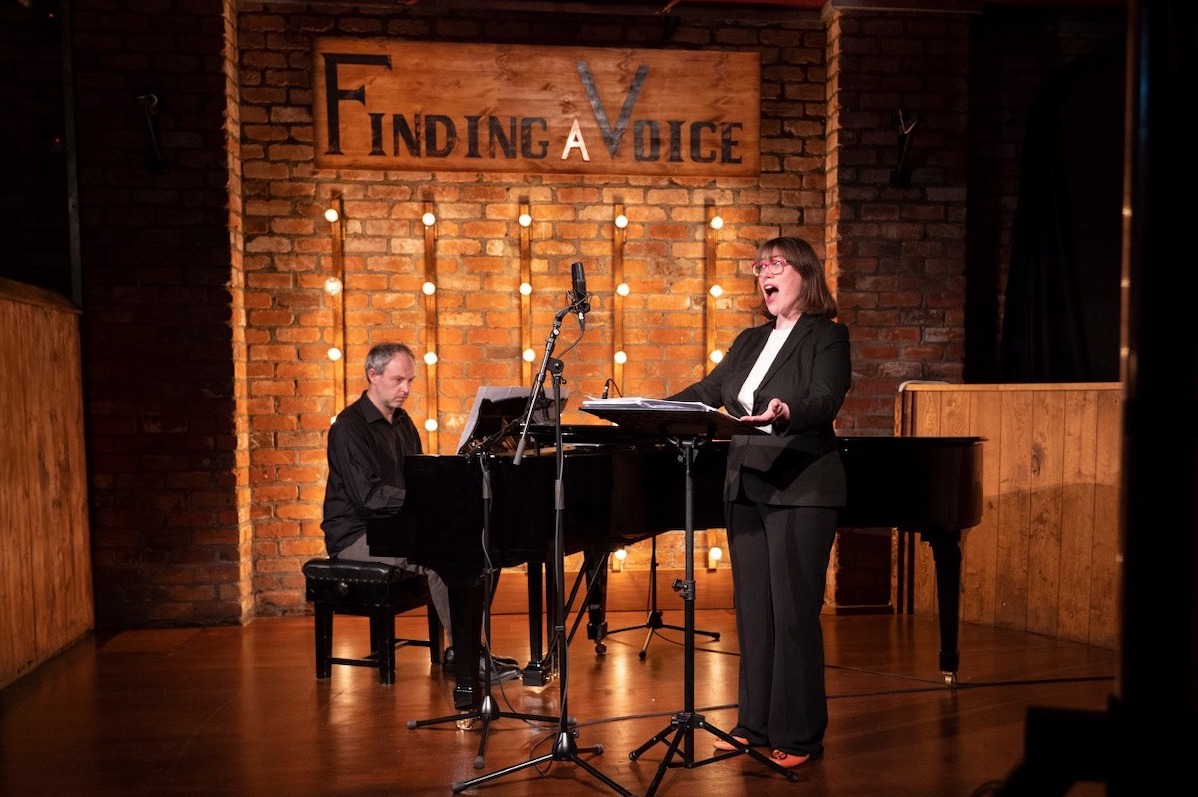 A Series of Discoveries in Tipperary
Finding a Voice, the Clonmel, Co. Tipperary, concert series celebrating the music of women composers from the 12th century to present day, took place online from 5 to 8 March. Anna Murray reviews.
Taking place to coincide with International Women's Day, Finding a Voice is a four-day concert series dedicated to music created by women. Founded by sisters Róisín and Clíona Maher in 2018, the series has brought the voices of composers and performers from across the centuries, from early music to newly commissioned works, to the beautiful venues of Clonmel. In 2021, the series featured eight events, linked by a theme of 'It's about time' – whether that response is marking the bicentenary of a little-known composer, programmes that span centuries, works that celebrate memories or passing time, or in-the-moment improvisation.
This year's programme, adapted to an online presentation, seemed to be dedicated to a pleasing kind of intimate and direct communication. Performers, playing at the Hearns Hotel in Clonmel, are surrounded by the warm tones of rich wood and brick, with the cameras alternating between wide shots and beautiful images of faces, hands, instruments. The combination of these close portraits and the clarity of sound in your headphones creates a very particular atmosphere, which the choice of programming also seemed to suit. The production focused on 'live' sound, with exclusively unamplified instrumental and vocal music. Even with the technical mediation of live-streaming, the impression sometimes was less of a performance and more of being a welcome observer of personal music-making between friends. Most performers didn't even speak or address the audience, and it is a credit to the dedication with which they carried their programming that this never seemed isolating.
A Japanese landscape and a 12th-century trobairitz
This closeness, for example, benefited concerts such as the lunchtime opener by percussionist Alex Petcu (one of only a few performers to introduce pieces and speak directly to the audience). Petcu's programme was entirely works for marimba and vibraphone and this 'close-up' approach allowed us to fully hear even the tiniest sounds produced on these instruments. Alongside some works by powerhouse percussionist Evelyn Glennie were works by lesser-known composers, including Keiko Abe's evocations of the landscape of Japan, and a gorgeous rolling vibraphone piece, Spel I by Australian composer Kate Moore, among others.
The Saturday lunchtime performance with Marja Gaynor, David Power and John Walsh felt the same benefits of the intimacy of the setting. This set was a kind of early/traditional music hybrid session that placed some European early composers and traditional Irish airs alongside music by Gaynor. The most striking of these was the opening piece, A chantar, by Beatriz de Dia (Comtessa de Dia), a 12th-century trobairitz (a female troubadour) – the only song in this style by a trobairitz of that time to survive with its music. Gaynor, Power and Walsh's version featured the idiosyncratic drone of a hurdy-gurdy as well as violin and guitar, and was a surprisingly tender work.

Marja Gaynor, John Walsh and David Power (Photo: John D. Kelly)
This year, Finding a Voice seemed to live up to its name; after watching all eight events (two of which were voice-focussed) across the weekend, I felt I had discovered not only the music but the voices of a number of composers that were relatively new to me. In particular, the music of Pauline Viardot (1821–1910) was an exciting discovery; through a performance of her songs by soprano Kelley Lonergan Petcu and pianist Gabriela Mayer, we were introduced to a bold and confident voice. Though probably best known in her time as a performer, this same quality of polished assurance, and a hint of a flair for drama, infused her composed works too.
The true find of the festival though was perhaps Ellen Jansson's performance of Fanny Mendelssohn Hensel's Das Jahr. Written in 1841, Das Jahr is a cycle of 13 movements, corresponding to the months of the year plus an epilogue, written after the composer had spent a year in Italy. The cycle is hugely enjoyable and evocative, only enhanced by its accompanying vignettes drawn by Mendelssohn's husband and epigraphs by German poets (the most memorable of these being June's 'do i hear murmurings, do I hear songs?'), and it is difficult to believe this performance was its first Irish outing. The experience of listening to Das Jahr is a little similar to looking at someone's holiday snapshots; a virtuosic sequence of self-contained, fleeting images captured in sound, which combined string together a kind of narrative. Its moods flit from ringing, brass-like fanfare to a delicately detailed texture – as speaker Diana Ambache described one movement, 'capricious as the changing weather'. These different moods were ably managed by Jansson with a nuanced performance particularly notable for her ability to bring out of the complex music a wonderful sense of movement.

Gabriela Mayer and Kelley Lonergan Petcu (Photo: John D. Kelly)
Interior and glass-like
What was also remarkable during the four days was the breadth of eras and genres that were represented. While the feature concerts of the music of Viardot and Mendelssohn perhaps seemed to give the whole something of a 19th-century slant, this was more than balanced by concerts of improvised, twentieth-century, and traditional music. In Ex-Tempore/In the Moment, violinist Cora Venus Lunny and pianist Izumi Kimura presented another festival highlight in an hour of improvisations that were introspective, interior, of a glass-like fragility that hovered constantly on a point between tension and meditation. Both players leaned into the physicality of their instruments, creating a powerful blend and balance between the sounds of strings, wood and metal, and the extremes of dynamic range.
The music of Rhona Clarke has been a regular feature of the Finding a Voice series, and this year was represented by her song cycle The End of Day, sung by Elizabeth Hilliard with pianist David Bremner. The cycle formed the centrepiece of the duo's programme, framed by works by composers such as Nadia Boulanger and Augusta Holmès. The End of Day has Clarke's gorgeous simplicity and effortless lyricism. There are hints of nostalgia for childhood, and more than a touch of melancholy and regret, even anguish, all carried beautifully by Hilliard. Another regular to the Finding a Voice festival, two musicians from the Irish Baroque Orchestra, Claire Duff (violin) and Malcolm Proud (harpsichord), rounded out the festival's programming. Their concert of duo works focused on the compositions of Élisabeth Jacquet de la Guerre, a court musician for Louis XIV. Jacquet de la Guerre was a harpsichordist as well as a composer, and indeed these works seem to be a joy for any harpsichordist, full of energy, and finding ways through nimble and clever filigree to wring the most expression it can from the instrument. Throughout the four works, the violin plays off this emotional base, occasionally playfully exchanging motifs and melodies, and other times letting itself run away with the melody entirely.
It is the real strength of this series that after four years they have managed to so assuredly find a way to balance addressing the issue of unequal programming and strong curation. While concerts of only women composers may not be righting the issue, Artistic Director Róisín Maher's approach of celebrating and sharing little-heard voices should be seen as an inspiration to wider creative and equitable programming.
For more on Finding a Voice, visit: www.findingavoice.ie/
Published on 11 March 2021
Anna Murray is a composer and writer. Her website is www.annamurraymusic.com.