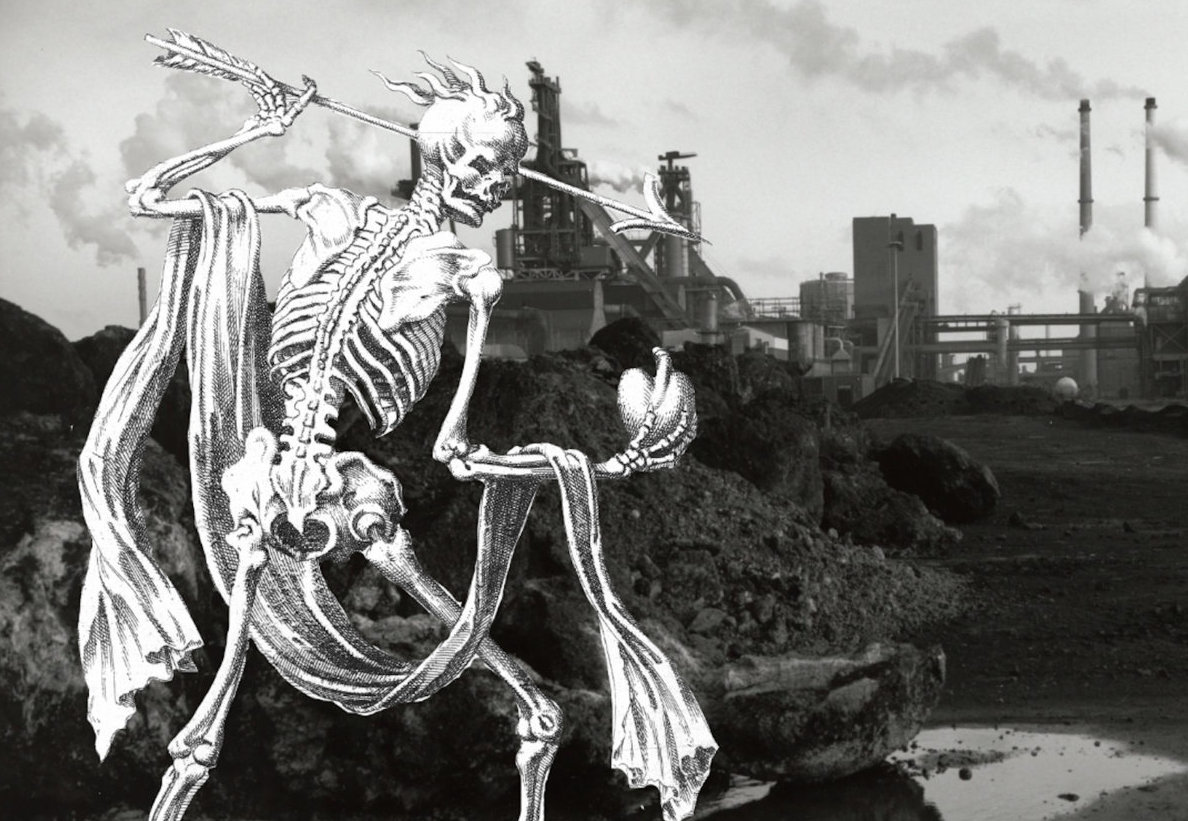 A Snapshot of Underground Music Making in Ireland
The Department of Energy, the record label founded by Dan Callanan, has recently released 'May Day (Landscape Mixtape)' featuring 63 tracks from over 40 artists, exploring the theme of local resistance to corporate and state violence. Don O'Mahony reviews.
Back in 2020, during the first lockdown, the world experienced the Great Reset. Shorn of the hustle and bustle of travel and communal working we began to notice our local environment, the one that we often take for granted. With a sharp decline in traffic and a complete absence of overhead planes nature began to reassert itself. Soon, even programmes like RTÉ Radio 1's news and current affairs programme Drivetime were interrupting their usual format to report on the phenomenon of… bird song! Even going as far as introducing an interactive element where they invited listeners to share recordings of this strange new manifestation in their locality.
The Great Reset offered an opportunity to appreciate the world around us, while also giving us the time to consider the important things in life. Coincidently, Dan Callanan, who makes electronic music under the name Local Gods, had just initiated The Department of Energy. Describing it as an artwork disguised as a record label, The Department of Energy provided a framework for Callanan's interest in psycho-geography, locality – particularly around his native Lee Valley area in the county of Cork – folklore, and his interests as a multi-disciplinary artist. The first release to bear The Department of Energy imprint was Lee Valley Delta Drones, a collaborative release that was described as a 'landscape mixtape', which featured field recordings, academic analyses, found audio recordings of local radio ads from the 80s, as well as electronica.
This was followed in 2021 by Lee Lines (Landscape Mixtape). Featuring 47 tracks from 32 artists, Lee Lines was nothing if not ambitious. But The DoE outdid itself with the release in May of this year of May Day (Landscape Mixtape), which features 63 tracks from over 40 artists. Whereas all the tracks on Lee Lines were recorded in February 2021, the tracks on May Day aren't necessarily defined by a specific period. However, in contacting interested parties, Callanan suggested a conceptual starting point of local resistance to corporate and state violence.
Snapshot
On the surface, these compilations provide a snapshot of underground music making in Ireland. Refreshingly free of boundaries, restrictions and genre, the compilations feature a diverse cast of composers, spoken word performers and interdisciplinary artists.
Recent years have seen the steady growth of a vast hinterland of communities exemplified by outlets such as Dublin Digital Radio and labels like Fort Evil Fruit and Moot Tapes, to name just two. It feels more than sufficient that this most recent compilation exists to celebrate creativity that happens below the radar, but, whether by accident or design, May Day appears to tap into an increasing pride in the Irish language, culture and traditions.
The pandemic helped put austerity politics, and banking, developer and landlord greed under a sharper lens, but it seems also to have seen a closer cleaving to tradition and increased positive sentiment around language, culture and nationalism. The recent rallying around Dublin's Cobblestone bar by a young generation of folk – and dare I say alternative folk – musicians is a case in point. Would there have been any similar resistance offered had this happened a mere decade ago? Perhaps Callanan's suggestion was no overlaboured injunction, but merely the communication of a shared point of view? 
Birdsong, which featured on a mere seven tracks on Lee Lines, features on 13 tracks on May Day. If the compilations are anything to go by there is an increased awakening to our environment, but it's not just that presence that put me in mind of Austin Clarke and his The Blackbird of Derrycairn.
The great poet wasn't beyond turning to ancient Gaelic poetry for inspiration and some of May Day's contributors are journeying back to old wells. Tom Roseingrave unearths a family recording of his grandmother singing 'The Irish Soldier Boy,' a song about a mother sending her son off to fight for Irish freedom. The track is dominated by Roseingrave's sincere rendition of the song. Occasionally, his grandmother's spectral voice accompanies him. There's a colour to her singing, a quality you don't really hear anymore. It's not so much a duet but a musical palimpsest of old and new recordings. What little we hear of the old recording paints a convivial picture of a parlour sing-song, but Roseingrave ruptures this mood by introducing a number of discreet sonic non-sequiturs, such as some hiss, delay, echo and reverb, in a dub style. There's a touching moment where his grandmother's cough is stretched out for a number of seconds and the grandchild respectfully draws breath in its wake as he awaits his moment to recommence.
Another contributor with fighting on their mind and an ear for space and ambience is Síomha Callanan. I am deducing that this is the artist who performed as SC on Lee Lines. While her slowly worked 'Do Lámha' on that compilation took several minutes to reveal the tune for 'Tabhair Dom Do Lámh', her take here on 'Marcshlua Uí Néill (O'Neill's March)' is sui generis. What it does share with the former track is the use of a harp, possibly detuned, and an appreciation for the surrounding ambience.
The presence of birdsong lends itself to cosmic vibes, but her extraordinary playing propels this to other realms. Her note plucking is so slowed down it bears little resemblance to the original. It has a rickety music box quality, but to call it deliberately artless would be wrong. This is simultaneously wistful and searching. Whether it is testimony to the original air or the playing, it feels as, if not more, modern than any of the electronic contributions to this compilation.
Violence
Questions of corporate and state violence are addressed by The Ecliptic's 'Solstice of Culture' and Top of Coom's 'The Rossport Five'. Both lean heavily on landmark Irish documentary films for their theme and messages.  For the former, it is Peter Lennon's electrifying 1967 statement Rocky Road to Dublin and its question of what to do with your revolution once you got it. But it also turns its attention to the acts of barbarism wrought by planners and developers, the 'vultures waiting to pull the heart out of medieval Dublin.' This is presented as a series of news reports, including a recording of Mary Robinson protesting the destruction of Wood Quay.
If the approach is a bit scattershot, there's no doubting the sense of ire. The track is underpinned by three distinct musical passages: the first, a melancholy air on accordion; the second, a gentle synth-scape; and the third, and most affecting, a keening lament accompanied by processional piano.
Piano forms the basis of 'The Rossport Five', which plunders Risteard Ó Domhnaill's 2010 documentary The Pipe, which captured how Shell Oil's decision to build a high pressure gas pipe shattered the community of Rossport. The drama of the film is played out through fragments of dialogue with the optimistic piano underneath becoming disrupted by drones and sustained chords.
Beyond these tracks the messages are far more opaque. There are spoken word odes to hippy consciousness and utopian ideals such as Miss TAKEN's 'Fungi Tea Party' and Laura LAIR's 'Uisneach.' But Clíona Ní Laoi's caustic 'Play With The Fire That Will Defeat All Of Your Power' sounds a more revolutionary note with its urging to 'Dance to the death of domesticated humanity'.
Elsewhere, Knowing's instrumental electronica track 'Lullaby for the Resistance' may be on-message in title alone, but it is one of numerous highlights on May Day that assure us of the hale and hearty state of underground and experimental music making. Through a brooding, staggered rhythm it conjures up a cinematic science-fictional landscape. But out from its stormy soundscape and mechanical clattering it ends with birdsong.
Uiscálainn's 'Thimish' is also about hypnotic repetition. Taking a similarly churning approach to rhythm, it's something of an uncertain epic, caught in a constant tension of threatening to become truly exultant or staggering back into the downbeat.
Opener
May Day does, at least, open on an optimistic note. 'Éirí na Gréine', the first of two tracks by Niall Delaney, is a beautiful and fitting beginning.
Composed of crystalline drones and a deep and sonorous sound that could be an organ, the piece is burnished by the presence of two, if not three alternating hushed vocalisations. One might have assumed his slightly less celestial but no less angelic 'Luí na Gréine' would have closed the record, but it isn't the case.
Perhaps the most high-profile artist featured is Amanda Feery. Her 'How to Breathe' begins with muffled banging and creaking, setting many possible scenes in mind. Where are we? Who's trying to get in? An accordion begins to drone, increasing the tension, but it's only when we hear the clickety-clackety rattle of keys do we actually realise where we are – in the bowels of a music box. Its sense of scale is interesting. While it feels as if we are inside a much larger structure it also feels like it has an inherent vulnerability.
It's interesting to note that two song titles, Robbie Kitt's instrumental 'Os ár gcomhair' and Richard Hughes' 'Romhainn Amach' point to what's ahead of us or in front of us. 'Cad a mheassan tú a tá romhainn amach?' ('What do you consider is ahead?') asks a voice on the latter track. The heavily distorted response seems to suggest there isn't much, but May Day suggests otherwise.
Visit www.thedoe.org and https://thedepartmentofenergy.bandcamp.com.
Published on 10 August 2022
Don O'Mahony is a freelance arts journalist based in Cork.