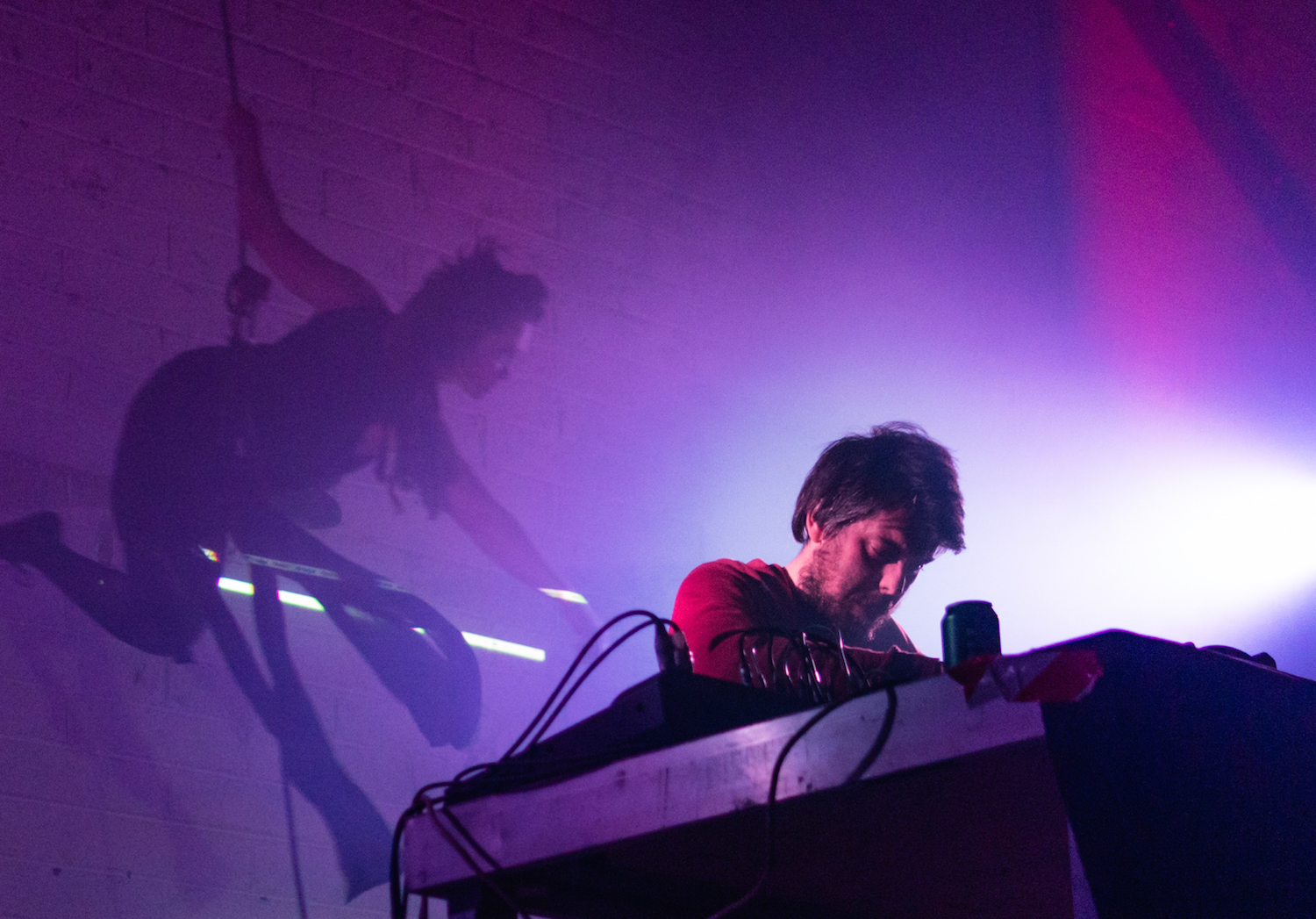 Some People are Frightened
The second Cork Sound Fair took place last week. Spread over four days (28–31 March), the festival displays the fascinating diversity of Irish electronic music. Don O'Mahony reviews a selection of performances from Saturday night and Sunday.
With a focus that resonates with the Open Ear festival, which takes places down the coast on Sherkin Island, Cork Sound Fair – now in its second year – was conceived as a platform for experimental and electronic musicians. Despite being greatly expanded from last year's event, which took place over two days, this year's festival was careful to avoid having overlapping performances. The line-up also placed a greater emphasis on Irish and Irish-based artists. 
Among the few artists making their return to the festival was multimedia artist Jennifer Moore, who performs under the name Dream-Cycles. A fine-art graduate from NCAD, Moore's interests stretch from DJing to moving-image work. Her performance on Saturday 30 March in the Roundy bar had a cinematic quality as Moore overlaid her electronic soundscape of slowly throbbing bass and shimmering choirs with a sometimes spoken, sometimes sung fragmentary narrative.
Dreamlike and touching strongly on memory, Moore's sound world is embellished by snippets of what sound like children laughing and running and speeding cars, suggesting the urban environment she evokes in her words about a city she grew up in. In her performance, Moore cuts a somewhat animated figure as she sells the story with the tone of her voice and range of facial expressions, none of which are overplayed. 'Supply, demand. Supply, demand'. she repeats at one point, before asking: 'Are you excited by this? Are you excited? Some people are frightened.' The pace shifts up the barest gear as a gentle beat appears and she softly croons: 'You look good when you're smiling. Your hair is black and it's shining.'
The specifics of Dream-Cycles' reverie are elusive but it ends leaving you keen to recall and make sense of her half-remembered thoughts and sensations.
A road taken
Dream-Cycles sets things up nicely for local trio Crevice – composer Irene Buckley, Elaine Howley of psych rock outfit The Altered Hours, and solo artist Roslyn Steer. In 2017, they released their remarkable In Heart album. Composed out of long jam sessions, Crevice's songs, which are built from synths and keyboards, appear to unfold at a leisurely pace but submerge the listener into the late-night ambience of their world. 
The group take the opportunity of this rare gig to try out brand new pieces. Projected behind them are film works from their regular collaborator, visual artist Carolyn Collier. Each song appears to be tailored to the images, whether it is a road taken on a late-night drive, a woman carefully combing her lengthy locks, or just streams of smoke. Crevice's opening number, 'Season Breach', progresses at a sprightly gallop, the murmured voices of vocalists Howley and Steer keeping pace with each other. Gradually it seems as if each instrument is sliding in and out in a vast swirl. The sure and steady build towards its climax feels so assured, the minimalist patterns rendered in maximum, it belies their improvisational approach to writing.
Where the songs on In Heart were layered and had a submersive quality, two of the four new tracks played tonight feel more folky and stripped of artifice, with the rawer sounding live vocals creating a more devotional tone.
Click on the embed below to listen to Crevice.
Gathering storm
Known for his work in a number of indie rock bands as a fan of the shoegaze sound, local musician and engineer Chris Somers adopted the name of African Fiction for his unexpected foray into techno. He has since abandoned the name but that's not the only thing that has changed. Where that project traded in a dirty and corrosive sounding brand of techno, his set here sounds far sleeker but no less darker and moody for it. Incorporating more space and rises and falls, Somers layers the sound with live guitar, and, through low-key licks, creates a driving sense of drama like a gathering storm.
There were certain echoes between it and the performance of Bliss Signal at the Sunday closing party. Normally comprising UK electronic producer Mumdance and James Kelly of the darkly soulful electronic project WIFE, and the black metal band Altar of Plagues, for this concert Mumdance was replaced by Italian techno producer Shapednoise. For Kelly, it was a homecoming gig, and his guitar playing harked back to his metal roots. Playing from their debut album, they delivered a sound that was as intense and uncompromising as it was beautiful.
Melancholy waltz
Earlier that evening, the Circus Factory venue witnessed some of the more distinctive performances of the weekend. Cloaked in tulle veils fastened by thread at the neck, druidic duo Salac were as heavy on the theatrical as they were sonically, delivering heavily distorted bass and serrated fuzz.
What a blessed relief then was sound artist Rachel Ní Chuinn. In a collaboration with light artist Renata Pekowska, Ní Chuinn's improvised performance was easily the most satisfying and certainly the most intimate sounding of the weekend. Pekowska's projections of distorted glimmers of light were centred around a revolving image that resembled a cell under the microscope; Ní Chuinn played low clarinet over the calm static of surface noise while gentle slow-release tones pinged like bubbles of gas reaching the brim. The melancholy waltz between sound and image married beautifully with the warehouse space located along Cork's docklands.
Hypnogogic states
That merging of the sonic and the sculptural, or visual element, was a thread through the festival that event founder Conor Ruane had been keen to support. It's a focus that began in the Crypt of St Luke's church at the opening event with Cork-based audio-visual artist Darren Kirwan's Diaphone; Diaphane, which had the novel visual element of vibrating lines of strings that worked as a kind of oscilloscope, registering the soundwaves produced by the piece."
Back at the Circus Factory, Jimmy Wormall, under the name Darqhorse, played a piece on modular synth that explored the notion of hypnogogic states. Based on his recent thesis at University of Limerick, this was not the ambient composition that this reviewer imagined would accompany a journey into states between sleep and wakefulness. Instead, we were presented with a jarring and robust palette of sounds that built into a seemingly random architecture of beat clusters and ricochet pings. It was cerebral, but had a palpable physicality.
Due to a regrettable slippage in the night's schedule, Wormall's set was curtailed to less than half of its original 55-minute duration. It was something that also impacted on previous sets. An unfortunate lapse in an otherwise fascinating weekend of diverse and forward-looking Irish electronic music. 
Published on 4 April 2019
Don O'Mahony is a freelance arts journalist based in Cork.