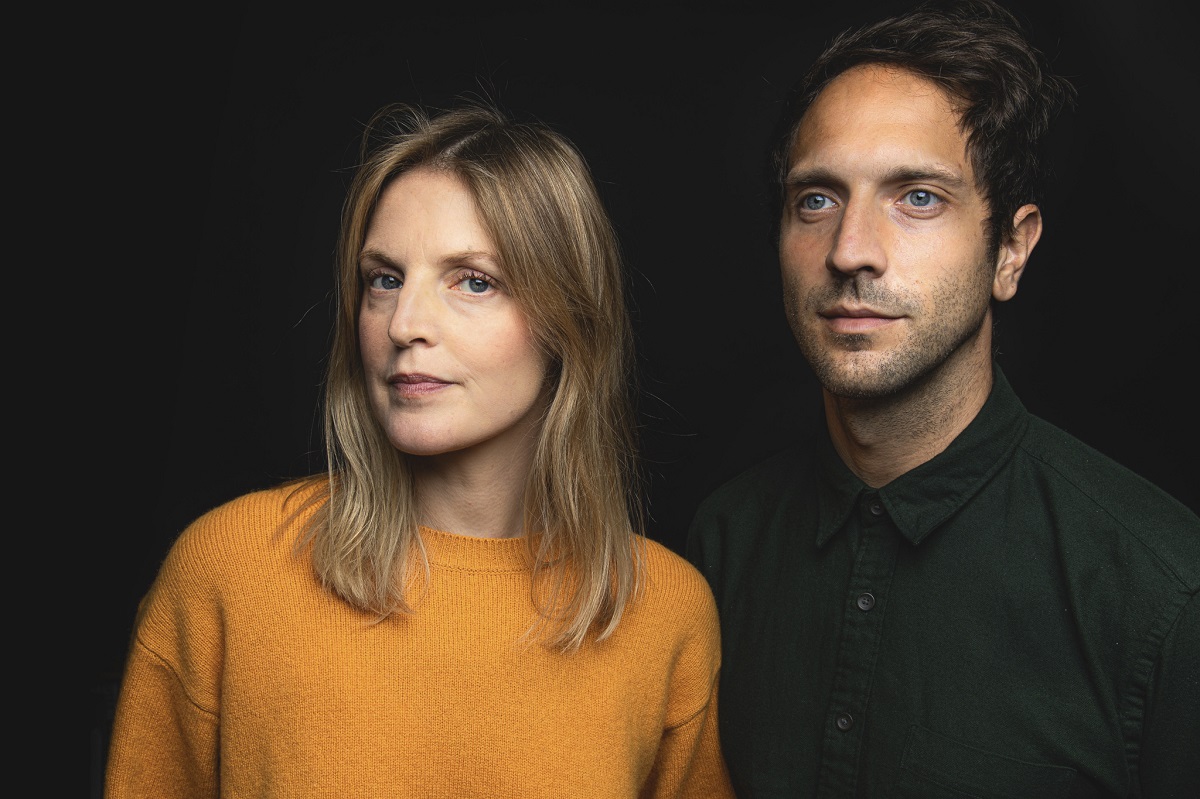 Startling Voice in an Expanded Soundworld
Snowpoet – the London-based duo of Lauren Kinsella and Chris Hyson – release their third album 'Wait For Me' tomorrow. Anna Murray reviews.
Wait for Me is the latest album from the Snowpoet duo, Lauren Kinsella and Chris Hyson, with guest appearances from musicians such as Dave Hamblett (drums) and Josh Arcoleo (sax). It is their fourth release under the Snowpoet name, and they are regular performers both in Ireland and the UK, but really it was 2018's Thought You Knew that cemented their reputation for a considered and genre-less form of sort-of-jazz.
If you had asked me then to describe what Snowpoet's music sounded like, I would have used words like 'floating', 'gentle' and 'moody'. But 2021's Wait for Me showcases a different side to the duo, taking some of the essential DNA of their previous work and pushing it in a new direction. Even with song titles like 'Sky Thinking' and 'Wool, Cotton, Lace and Snow', the first impression of this album is that it is significantly more earth-bound. The bass and drums pump, the voice flickers in and out, electric pianos repeat obsessive uneven patterns, the drums are an almost subterranean, persistent throb.
Genre fluidity is a cornerstone of Snowpoet's work, moving between their jazz-inflected approach to melody and solo-like instrumental spaces, indie-folk melodic simplicity, and chamber-pop lushness – and, on this album, one foray into out-and-out infectious electro-pop in 'With You' (strongly calling to mind the more recent releases of My Brightest Diamond).
But there are shared elements running throughout that help bind it as a whole. The first is the overall soundworld that constantly returns to a base of rich warmth, provided by wide gentle basses and synths moving slowly and smoothly over a bass drum. It allows other elements, such as the piano or occasional appearance of the sax, room to shine, and creates a kind of gentle forward propulsion that carries the listener through the whole album, even through rhythmic breaks such as the fuzzy, texture-focused 'Tiers'.
Kinsella's voice
The second is the treatment of Kinsella's voice, which quickly becomes so integral to the fabric of the songs. She makes a startling entrance within a few seconds on the opening track 'Roots', with scattered, semi-spoken interjections over a keyboard riff. It is instantly disarming and an appropriate introduction to the space her voice will occupy for the rest of the album, easily moving between storytelling, rhythmic drive, harmonic building-blocks and texture.
On Wait For Me, however, there is also an abandoning of the naturalism that seemed so integral before; their production was always beautiful, though hew more closely to a live-like set-up of instruments and voice, even with some additions of vocal layering. Instead, Snowpoet have more firmly embraced the possibilities of production and electronics to expand their sonic world. This is noticeable most of all in the treatment of Kinsella's voice, which, while still allowed its characteristic light touch and flowing approach to melody, is frequently treated as sound source rather than a 'live' instrument. Within one track (particularly noticeable in 'The Wheel') we get close-miced and transparently doubled spoken passages, reverb-washed sustained backing lines, and catchy sung parts that are delayed and ping-ponged from side to side to create complex rhythms.
The variety of tone and textures this creates makes the album work on many levels – it is smooth and warm for filling wide spaces or background listening, but interesting and surprising enough for repeated close listens. However, this is probably the area where its weakness emerges; the extended, somewhat changeless spoken-word sections, especially when exposed in tracks such as 'Floating Practice', can be a little tiring on repeated listens. Despite this, the album is rich in mood and sound, fluid and flexible; it seems inevitable it will become a regular rotation.
To purchase Wait For Me on limited edition numbered and coloured vinyl, CD, 24Bit 48Khz WAV, or MP3, visit https://editionrecords.com/releases/snowpoet-wait-for-me/
Published on 17 February 2021
Anna Murray is a composer and writer. Her website is www.annamurraymusic.com.