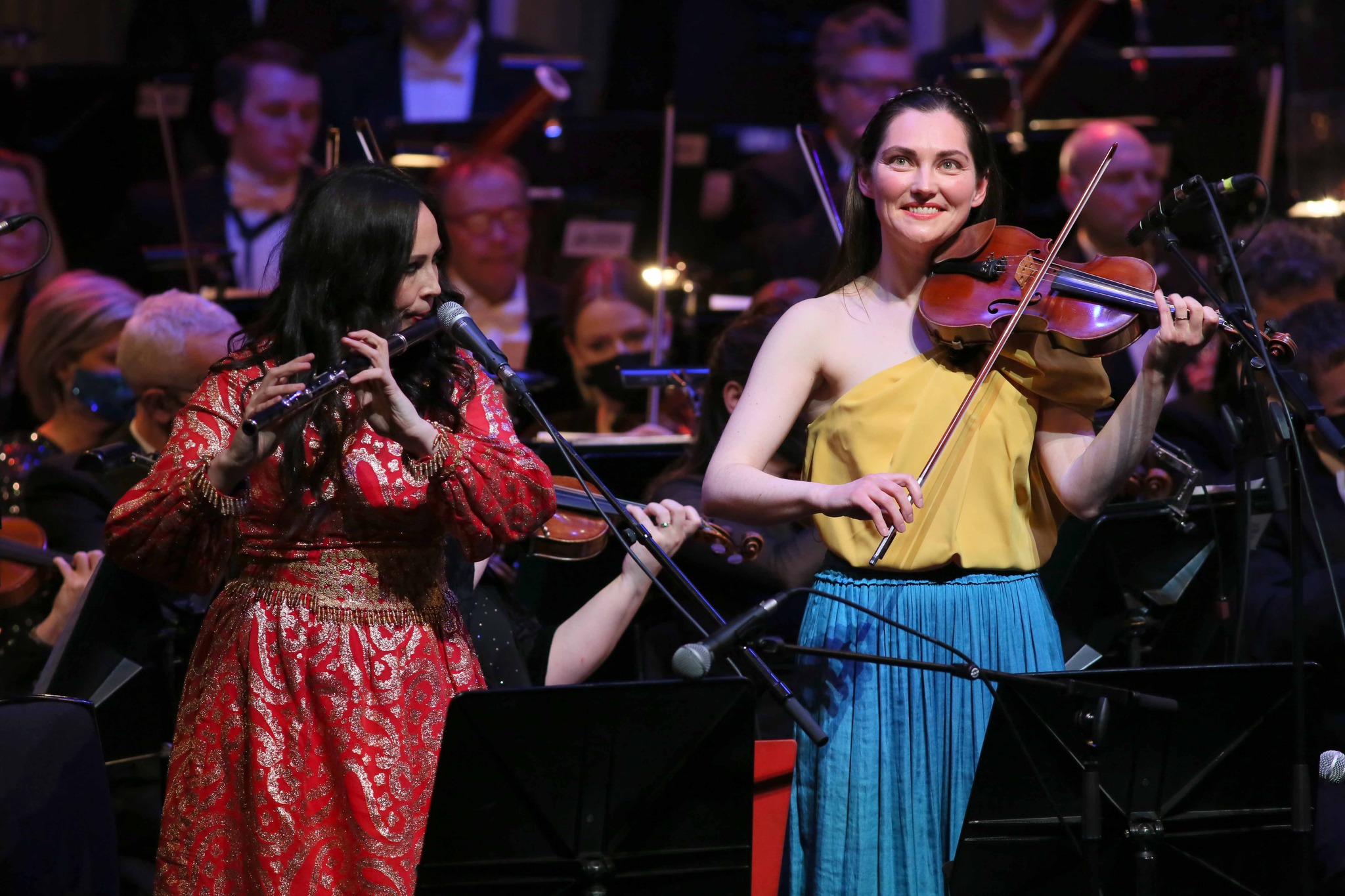 Striking a Celebratory Tone
The National Symphony Orchestra presented two concerts for International Women's Day featuring a range of works by female composers with soloists Catriona Ryan, Louise Mulcahy, Sharon Shannon, Ava Dodd, Zoë Conway and AIS. Adrian Smith reviews.
In celebration of International Women's Day, the National Symphony Orchestra presented two concerts at the National Concert Hall on Friday 4th and Tuesday 8th of March featuring a broad selection of works by female composers and musicians.
The Friday night concert was led by the vibrant Italian-Turkish conductor Nil Venditti who injected plenty of life into proceedings with her upbeat personality and amusing asides between pieces. It began, however, on a more sombre note, with a rendition of the Ukrainian national anthem in solidarity with the people of Ukraine. As well as being a rousing piece of music, the anthem is one of a handful of national anthems written in a minor key, making it all the more poignant in the current circumstances. In contrast to all the recent hullabaloo about boycotting Russia, playing the work of Ukrainian composers and promoting Ukrainian culture would seem to be a much more constructive way of demonstrating support for the country than banning Russian artists and cancelling performances of Russian art.
The concert proper began with Fanny Mendelssohn's Overture in C major, the composer's only stand-alone work for orchestra. This was taken at a lively tempo and the strings responded well, negotiating the rapid passagework with great gusto and flair. Also impressive was the demisemiquaver hunting call interjections from the French horns that entered very crisply indeed giving an overall impression of tightness that was generally maintained throughout except for a few brief moments in the recapitulation where the strings lacked cohesion.
Perhaps the most well-known work on the programme, Cécile Chaminade's Concertino for Flute is an obligatory part of every flautist's repertoire. The highly lyrical opening section of this piece was well phrased by flautist Catriona Ryan and the fast accelerando passages that led into the first big reprise of the opening theme were well executed. The piece itself is quite episodic which can make it hard to pull together and it probably needed a much firmer direction to make it sparkle but overall this was a fine performance from Ryan.
Marianna Martines is perhaps best known for being the author of the only symphony – her Sinfonia in C major – by a female composer in the classical era. Her overture to the oratorio Isacco, figura del Redentore is essentially a symphony in all but name in that it follows the three-movement fast-slow-fast format of the Italian overture style. The work is well crafted but absolutely unexceptional and full of the kind of clichés that one finds in the likes of Sammartini, Hasse and other early classical composers that also worked in this style. That said, it does have a nice lyrical second movement with some very attractive writing for the woodwinds.
Without a doubt the standout work of the evening was Joan Tower's Fanfare for the Uncommon Woman No. 1. Written for the same instrumentation as Aaron Copland's Fanfare for the Common Man, it is impossible not to see the piece as both a homage and a retort to Copland's piece. Beginning with gong, timpani and rolls on the snare drum, overlapping fanfare calls build up into an arresting crescendo. There follows a more rhythmic section that was launched into with a sense of relish by the brass musicians of the NSO, who brilliantly executed the extended cresendoes and electrifying dialogue between the parts.
Folkish revelry
The Magic Harp was the piece that brought Ina Boyle her first early success when it was chosen for publication by the Carnegie Trust in 1919 and later performed by the London Symphony Orchestra. While it is undoubtedly a great achievement and demonstrates aspects of Boyle's style that would later be refined in the Glencree Symphony; looked at objectively, the piece is rather disjointed, drifting from sections of atmospheric pastoralism to brooding melancholy to moments of folkish revelry without bringing any one of them to a sense of fruition. While it is very pleasant to listen to, much of it sounds like Vaughan Williams without the big cathartic moments needed to convey a strong impression.
Inspired by a performance of Haydn's String Quartet Op. 77 No. 2, Caroline Shaw's Entr'acte is one of her most popular orchestral works. The opening, affecting motive is one of those that easily catches the ear and the multiple deformations of pitch and timbre that it is subjected to are inventive but never too harsh or dissonant. The strings of the NSO produced a rich, full-bodied sound for the emotive arco passages and delicately handled the central pizzicato section.
Anna Clyne's Masquerade is an unusual piece in that it contains so much material of little actual substance – swirling chromatic passagework, snippets of John William's style film music, rumbling percussion – and yet the mash-up does manage to deliver a strong overall impact. Some of the melodic material is actually derived from the English country dance 'Juice of Barley', but there's nothing folk-like about the result which is brash, exuberant and expertly orchestrated and made for a satisfying conclusion to the concert.
Eclectic second concert
The following Tuesday's concert, conducted by Elaine Kelly, took a much more eclectic approach, featuring works by female composers, Irish traditional music, poetry and song in a gala-type evening hosted by Ruth Smith.
After another rendition of the Ukrainian national anthem, the programme proper began with Joan Tower's Fanfare for the Uncommon Women No. 2. While this piece did not quite have the striking harmonies or determined rhythmic figures that made the first fanfare so effective it was performed with a similar degree of enthusiasm by the percussion and brass musicians of the NSO.
Elizabeth Maconchy's Nocturne opened very atmospherically with slow moving, sustained strings combined with overlapping arpeggio figures in the woodwinds. This all sounded like a prelude to something grander but instead the texture thinned out leaving just the basses and bassoon. The opening material returned and then there was a sudden forced climax that came out of nowhere followed by another one a minute later. While the structure was unconvincing the piece did succeed in generating a very definite harmonic and timbral colour that fitted with the nocturne genre's tendency towards light melancholia.
A poem on the subject of genital mutilation entitled 'I will not be shamed' by the Nigerian-Irish poet Chiamaka Enyi-Amadi was movingly read by the poet herself before soprano Ava Dodd performed three arias 'Deh vieni non tardar' from Mozart's Le Nozze di Figaro, 'Je marche… Obéissons' from Massenet's Manon and 'O mio babbino caro' from Puccini's Gianni Schicchi. While Dodd sang these excellently, I could not really see how these three standard arias by male composers fitted into the programme other than the fact that they are sung by a soprano.
After this diversion, the programme got back on track with the overture to Ethel Smyth's opera The Wreckers. This fascinating piece began with quite strident marching rhythms and full-on orchestration before thinning out into a series of slower sections that contained hints of exoticism and lyrical English pastoralism. A pulsating figure livened things back up and ushered in the concluding section that pulled out all the stops with a rousing, patriotic sounding anthem. As if the piece did not have enough ideas, there were several more half dance-like, half-sinister sounding ideas before the final cadence drew this thrilling piece to a close.
Traditional arrangements
The second half of the concert mostly featured Irish traditional music and started with John Tate's arrangement of Liam O'Flynn's 'An Droichead' performed by uilleann piper Louise Mulcahy. After a slightly stilted start, Mulcahy settled into the piece with her ornamentation of the tune becoming much more fluid even if the orchestra tended to drown her out towards the end.
While Tate's arrangement of O'Flynn's piece had a certain degree of subtlety to it, the same cannot be said for Brian Byrne's arrangement of Sharon Shannon's 'The Beast from the East'. Shannon's electric guitar playing in the lower register with distortion and plenty of open string resonance did not blend at all well with the orchestra and exposed the derivative nature of the tune itself which sounded like a poor imitation of Horslips.
Transitioning back to her familiar accordion, it was time for the Sharon Shannon classic 'Blackbird' but again, as much as I have a soft spot for this tune, the orchestral arrangement did not really work here either and tended to get in the way. The final arrangement of 'Frenchie's Reel' was the most successful of the three Shannon pieces, if only because the orchestra was restricted to playing a sustained synth-style halo for most of it.
More poetry followed, this time from Rachael Hegarty, before fiddle player Zoë Conway and Louise Mulcahy – here on flute – took to the stage to perform Conway's 'Desert Storm' / 'Rounding Malin Head' set. Gavin Murphy's arrangement worked well here, with the orchestra remaining mostly in the background allowing the characteristic rhythmic nuances of Conway's tunes to shine through. For the same reasons, the second arrangement of Conway's 'Bearna Mhéabh' worked very well indeed, starting out with a slow air from cello principal Martin Johnson that was taken up by Conway on fiddle before leading into a faster section that revealed some nice instrumental combinations from the orchestra that accented her distinctive, syncopated rhythms.
Mícheál Ó Súlleabháin's arrangement of Liam O'Flynn's 'Bean Dubh an Ghleanna' was probably the most sophisticated of the night and by this stage Mulcahy was firmly in the zone, turning in a fine performance that gelled perfectly with the orchestra's roaming bass line.
Conway's Ala for fiddle, uilleann pipes and orchestra was the sole world premiere on the programme. In another arrangement by Gavin Murphy, the piece started out with a gentle duet for cello and cor anglais that provided the head for a slow march on uilleann pipes. Murphy's arrangement interwove tasteful lines on strings and the woodwinds between the main tune on the pipes and Conway's accompanying part. The second part of the piece transitioned into a pair of hop jigs and again Conway's unusual phrasing allowed the orchestra plenty of scope to emphasise these turns with colourful interjections even if it all started to get a little too kitschy towards the end. The concert wrapped up appropriately enough with a song entitled 'Freedom' by singer-songwriter AIS (Aisling Moore), a powerful, soulful anthem to female empowerment that included a coda of spoken poetry by Enyl-Amadi.
If we ignore the opera arias, the programming for this second concert worked well in that it featured variety, put all genres on an equal footing and struck a celebratory tone emphasising women's achievements. Combined with the first concert, however, overall there were two many short works in the programmes. It is worth asking: are we not past the point now where we have programmes of works by female composers that seem designed to show that female composers simply existed, rather than excelled, at various points in music history? Is it not time to give over the main feature on the programme to large-scale works by the Gubaidulinas, Saariahos and Mulveys of this world while leaving the Mendelssohns and Chaminades to the opening warm-up acts? It is just a thought, but one that perhaps indicates how far we have come in terms of female representation or maybe how far we still have to go.
For upcoming performances by the National Symphony Orchestra, visit www.nch.ie.
Published on 16 March 2022
Adrian Smith is Lecturer in Musicology at TU Dublin Conservatoire.