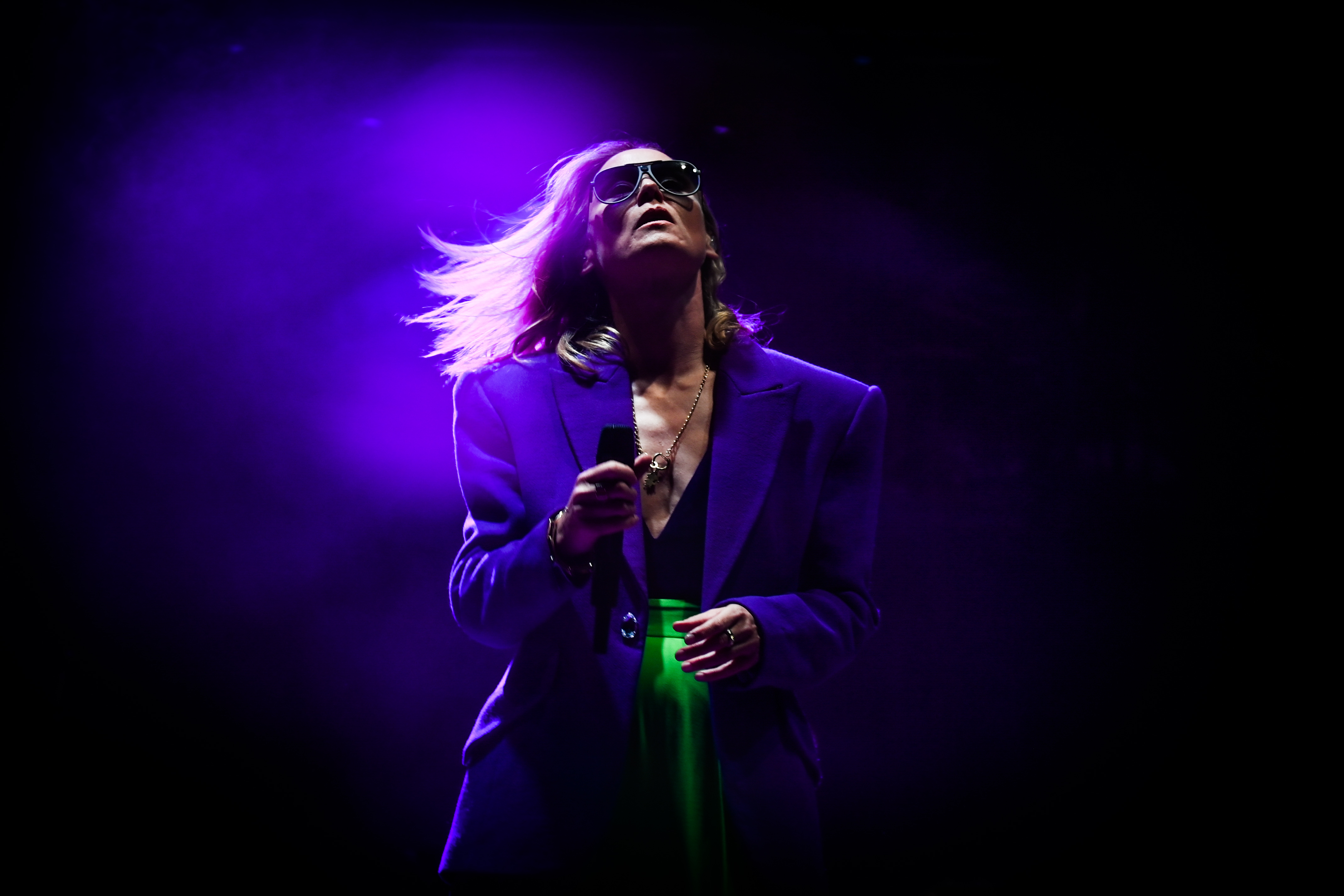 A Win for Smaller Offerings
The Body & Soul festival returned on 17–19 June with a reduced capacity and a line-up including CMAT, Róisín Murphy, Pillow Queens and Jon Hopkins. Andrea Cleary reviews.
In a business that measures success by growth, Body & Soul's decision to cut back capacity by a third – from 15,000 in 2019 to just 5,500 this year – is a courageous move. 'Instead of just going back to our roots,' they wrote ahead of their 2022 offering, 'we are cultivating shiny new ones. While everyone else is throwing the festival they couldn't throw in 2020, we're looking to curate our own festival of the future.'
Of course, there won't be any 'festivals of the future' if sustainability is not placed at the core of these endeavours. Gone are the days, we have to hope, of plastic cups littering arenas while the lights come up; of congested country roads as tens of thousands of people descend on a peaceful landscape in their cars; of tents, chairs and other camping equipment left behind for someone else to worry about. 
In fact, on arrival to Body & Soul's Leave No Trace campsite (comprising 70 per cent of the capacity this year, with a commitment to 100 per cent in 2023), a poster adorns a fence: an image of camping equipment and rubbish littering a past site. Don't do this, it implores. Don't be that guy.
Thankfully, Body & Soul 2022 proves that a serious approach to sustainability is rewarded by almost complete compliance. From compostable food containers to reusable cups (€1 with your first drink, reused for the weekend and returned to be used again at other events), it would have been difficult to not leave the place in a pretty decent state. Along with plenty of space in campsites, and respectful campers whose age range veered a little older than, say, Forbidden Fruit or Electric Picnic, this was – shock horror – a genuinely pleasant camping experience at a festival.  
Music for Psychedelic Therapy
As a rainy Friday afternoon turned to a dry evening, Dublin band Sprints, fresh from a string of guitar-driven singles, opened the main stage, followed by Choice Prize nominees Soda Blonde with a vibrant set of tracks from their debut album Small Talk (2021). King Kong Company set the bar high with infectious energy, high-octane costumes (a box-man, a gleaming chrome robot, a futuristic firefighter) and the kind of performance that proves this band are most at home on the stage. Friday was rounded off on the main stage by festival draw Jon Hopkins – elsewhere on-site, in a specifically designed geodesic dome, his 'Music for Psychedelic Therapy' immersive sound experience ran throughout the weekend. His main stage performance was a far cry from his typically cerebral live shows pre-pandemic. Here, he is all energy and light, laser-focused and in full curator mode. The set is formed around an emotional arc; sometimes meditative, other times boundless inhibition-shattering dancefloor magic. He ends on a note of pure euphoria, with a remix of Al Corley's 'Square Rooms' (of all things).
Saturday brought sunshine and a main stage lineup of all-Irish talent. The undisputed performance of the weekend came from CMAT. Considering her trajectory in the past two years, she is probably our surest bet for a breakout pop superstar – she certainly has the live chops to win over any crowd on her European and US tours. 'Nashville', 'I Don't Really Care For You' and 'Every Bottle (Is My Boyfriend)' are perfect sing-along hits with emotional punch. She is pitch-perfect, managing to belt out massive notes while simultaneously playing acoustic guitar, smiling wryly, dancing, flirting with her bandmates or all of the above at once. Visibly moved by the end of the set – the huge crowd simply refused to let her off the stage by repeating the chorus of 'I Wanna Be A Cowboy, Baby!' until she asked us to please shut up so she could introduce the band – she left the stage having set a high bar for the rest of the festival. 
Next up on the main stage were Pillow Queens who have been touring extensively since lockdown restrictions eased, including a host of US dates and a recent UK support slot for Phoebe Bridgers. Back on home ground they are confident, assured and sound better than ever. They've also amassed quite a repertoire of anthemic tunes, perfect for festival crowds who are a mix of die-hard fans and newcomers.  
A break from the main stage brings us to Pop Dungeon on the Woodland's stage. Louise Bruton and Aisling O'Riordan – perhaps the only Irish DJs with the chutzpah to play pop songs live in their entirety – are a treat for pop fans who fancy hearing Charli XCX and Lorde alongside, say, Christina Milian and Britney. As the sun sets on day two, it's back to the main stage for Róisín Murphy who brought vibrant lights, costume changes and decades of groundbreaking dancefloor hits to the Westmeath estate. Of the electronic hitters on the main stage, including Mogwai the following evening, Roisín reigned supreme.  
Something magical
Of course, the Body & Soul experience is truly felt on the smaller stages, where every nook and cranny is filled with something magical. The Hennessey Hip Hop stage was a constant source of energy, though one wonders if acts like Aby Coulibaly, Mango X Mathman and Jafaris might have fit better in an early slot on the main stage which would have benefitted from more hip hop on the line-up.  
Other highlights included the Mother Drag Aerobics, hilarious Dublin queer cabaret duo Wild Gees and a sean-nós dance performance from Edwina Guckian on a small wooden stage. Dotted around the site, there was also Black Tarot, a 'book nook' with personalised reading recommendations, a fire pit to warm the bones in the evening, a solstice meditation, a pagan rave and plenty of excellent quality coffee and food – the variety of drinks options left a little to be desired, but the free flow system allowed attendees to bring their own drinks into the main arena. Those looking to take a load off, day or night, could head to the Secret Orchard for interviews, talks and screenings of music documentaries like Shut Up and Play The Hits and Summer of Soul. David O'Doherty – who suffered major airport delays and arrived on stage with his wheelie suitcase – was another highlight in the Secret Orchard.
Two surprise acts – Kneecap and The Mary Wallopers – made appearances on the final day. The latter, in particular, were utterly charming, their humour and ability to curate a wonderful sense of mischief are eclipsed only by their talent as players. 
Most festival weekends experience highs and lows, but with this year's Body & Soul the only thing there was to complain about was the weather, and even that improved as the weekend went on. As a vision of festivals for the future, Body & Soul has achieved its goal. Sustainable, meticulously curated (while still maintaining a sense of spontaneity) and trusting of its attendees to enter into the vision. Without a doubt, the best-run festival I have attended, and a true win for smaller offerings, Body and Soul 2022 was a triumph. 
Visit https://bodyandsoul.ie.
Published on 30 June 2022
Andrea Cleary is a freelance music and culture writer based in Dublin.