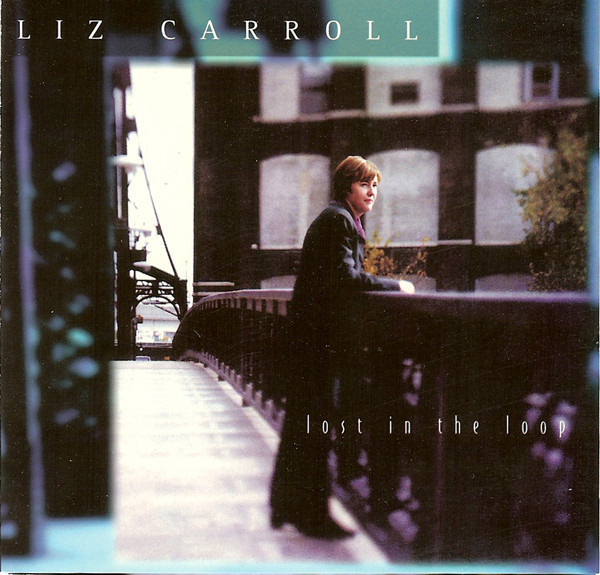 Lost in the Loop - Liz Carroll
A review of a new CD by Irish-American fiddle-player and tune composer Liz Carroll.
Lost in the Loop is the latest album from fiddler Liz Carroll. This Chicago based first-generation Irish lady is probably best known for her work with the band Trian and for her solo album with Dáithí Sproule on guitar. Of the twenty-five tunes featured here, some thirteen arc her own compositions.
With nine accompanists featured on the fourteen tracks it is hardly surprising that Dáithí Sproule also makes an appearancc. Others include John Doyle (guitar), Zan McLeod (bouzouki), and Seamus Egan (guitar, percussion and whistles) who produced the album – a real seamless production. From the very first track, the standard of accompaniment is unsurpassed. In fact, the CD is perhaps as much a demonstration of where accompaniment 'is at' in Irish traditional music today as much as it is a solo fiddle album. The individual who listens to a traditional album with a view to being seduced by the strains of a single melancholic air, however, may lind the consistently dense polyphony of guitars, bouzoukis, percussion and synthesised keyboards a little overpowering. There are momcnts, though, when guitar sensitivity in combination with more sparse texture provides at least a sense of contrast between tracks.
The second track on the album is a set of two of Carroll's own compositions: 'The Champagne Jig goes to Columbia'and 'Pat and Al's'. The first is a very appealing tunc. The playing and use of variation here is particularly subtle and worthy of praise. This type of tune is easily assimilated into the traditional repertory. The second tunc here is also quite endearing. It is idiomatic to the fiddle and thus it may find favour among fiddle players over other instruments in the tradition.
Two reels, 'The Old Maid of Galway' and 'Lizzy in the Lowground' are played with a lively natural rhythm and work well with the 'thudding' bass and percussive guitar accompaniment.
The tenth track contains two jigs: 'On the Boulevard' and 'Crabs in the Skillet'. The first tunc, another of Carroll's compositions, is a real gem. The intention here appears to have been to purposely play these tunes uncluttered – using all forms of embellishment sparingly. It works well and provides a sense of contrast between adjacent tracks.
The playing of what are called 'old standards' on the sleeve-notes is at times varied but highly personal. Although both standardisation and musical cloning are prevalent in Irish traditional music performance today, a sense of individuality is something all musicians aspire to in some shape or form. Liz Carroll, in a round about way, achieves this. Her playing of 'Con Cassidy's' reel (track 3) and the 'Flogging' reel (track 4) demonstrate her dexterous bow work and her very individual technique of using unaccented chromatic steps in between accented intervals. Her staccato rolls in the beginning of the 'Drunken Sailor' hornpipe mark the start of some really sensitive and tasteful playing, although just after the first statement of the tunc she decides to ad lib some rhythmic augmentation and thus reshaping the tune totally, almost inferring that the tune is not interesting enough to sustain her own interest, or indeed the interest of the listener, without the enhancement of these musical 'pyrotechnics'.
Is it possible that, in the sphere of Irish traditional music today, the only way to bring credibility to newly composed tunes in the Irish tradition is by recording them? This struck me while reviewing this album. There are some really great compositions here as I have mentioned earlier, but there are also a number of others that I personally found less enjoyable. While this is totally subjective. my question is still: can recording a newly composed tune be justified because it is exactly that a 'new' composition? The reel 'Golden Legs' is one example that comes to mind. It is a little limited by the sequential patterns within phrases resulting in a lack of that essential ingredient – melody.
Despite the number of misgivings expressed here, the fiddle playing on this album is first rate. Liz Carroll is in total control of her instrument and has obviously put a lot of careful thought into each track. I have two collections of CDs at home. The first lie on a dusty shelf covered by old concert programmes and back issues of Treoir (and JMI). The second I keep by the CD player – for playing. These are frequently in the wrong case and have tea stains and nameless telephone numbers on the sleeve notes. I will be keeping Lost in the Loop by Liz Carroll in the latter because it is essentially a good album and one that I will actually listen to rather than file on that dusty shelf.
Finally, it seems that no traditional musician in the business of making commercial recordings is complete nowadays without an on-line presence. This indispensable marketing tool provicles the interested viewer/punter with a window into the world of the artiste, their music and personal life. With credit card and mouse in hand the opportunity to purchase the latest recording is only seconds away. Visit Liz Carroll at http://www.lizcarroll.com.
–
First published in JMI: The Journal of Music in Ireland, Vol. 1 No. 3 (March–April 2001), p. 13.

Published on 1 March 2001