This week's concerts, livestreams, and job and funding deadlines from Monday to Sunday.
Deadline for both is Thursday 3 February; artists can apply for only one of the two awards.
'A day of mixed emotions' for national broadcaster as it loses RTÉ NSO, RTÉ Philharmonic Choir, RTÉ Cór Linn and RTÉ Cór na nÓg.
Kevin Volans' 'Baobab' to receive UK premiere.
Fellowship will provide training, mentoring and a fee of £2k; applications open until 26 January.
A round-up of recent appointments including the Royal Welsh College of Music and Drama, Sing Ireland, Royal Scottish National Orchestra, Royal Stockholm Philharmonic Orchestra,...
TG4 recently broadcast 'Mná na bPíob', a documentary in which musician Louise Mulcahy explores the lives of female uilleann pipers from the past. Adrian Scahill reviews.
The opening night of Irish National Opera's production of Vivaldi's 'Bajazet' took place in Navan this week. Brendan Finan reviews.
The Other Voices festival celebrated twenty years this year, with a weekend of live music in Dingle just before the latest restrictions. Andrea Cleary reviews.
RTÉ recently broadcast a new documentary on the Irish folk revival, titled 'The Flourishing'. Toner Quinn reviews.
The latest restrictions on live music events leave many unanswered questions, writes Toner Quinn.
The new Beatles documentary 'Get Back' gives an incredible insight into the band's creative process, and provides an important lesson for our society today, writes Toner Quinn...
The fiddle-player Martin Hayes has recently published a memoir of his life in music, 'Shared Notes: A Musical Journey'. Toner Quinn reviews...
From the Archive
Composer and performer Julie Feeney, who received widespread recognition for 13 Songs, her debut album of 2005, releases her second self-produced album in May. Pages features...
Apr 1, 2009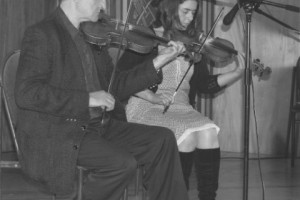 Family music: Tommy and Siobhán Peoples at the Willie Clancy Summer School Fiddle Recital, Miltown Malbay, Co. Clare, 9 July 2007
Aug 1, 2009
How the arts can get through this recession
Jun 1, 2009