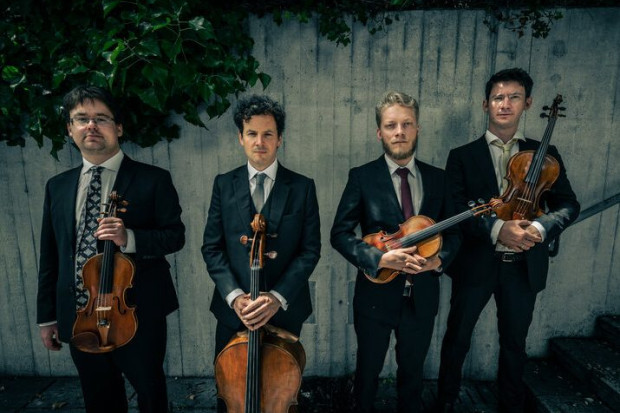 Music for Galway Navarra String Quartet
Thursday, 25 November 2021, 8.00pm
MUSIC FOR GALWAY PRESENTS
Thursday 25th November 8.00pm
St. Joseph's Church, Presentation Road, Galway
Navarra String Quartet
HENRIËTTE BOSMANS Quartet
BARTÓK Quartet No. 3
DVORÁK Quartet Op.106
Tickets in attendance: €20 / €18 | Students (full-time) €6 | MfG Friends €16
Booking by phone: 091 705962 online: musicforgalway.ie
After the very successful presentation of the Italian Quartetto di Venezia at St. Joseph's Church on Presentation Road in 2019, Music for Galway returns to this beautiful place with UK Navarra String Quartet on Thursday 25th of November at 8.00pm.
Presented as part of a tour in association with the National String Quartet Foundation, the Navarra Quartet is firmly established as one of the UK's most sought-after string quartets. The programme includes works by well-known composers Bartók and Dvorák, which are preceded by a work by the fascinating Dutch composer Henriëtte Bosmans.
Taking its name from a bottle of red from the wine region famously known for its multi-coloured landscapes, the Quartet's diverse cultural backgrounds are united in serving the music with relentless passion and commitment. Selected for representation by the Young Classical Artists Trust (YCAT) in 2006, Navarra String Quartet (NSQ) is winner of the MIDEM Classique Young Artist Award, a Borletti-Buitoni Trust Fellowship and top prizes at the Banff, Melbourne and Florence International String Quartet Competitions. In 2017, the prestigious Kersjes Prize in the Netherlands was awarded to NSQ, enabling the creation of many exciting and unique programmes.
Highlights in 2021/2022 include chamber music at the Lammermuir Festival, and performances in Ireland, Holland, Tenerife and across the UK. They direct the eighth edition of their chamber music festival in Weesp, and record works by Samuel Barber, Edward Gregson and Alissa Firsova. In 2022, the Navarra Quartet also celebrate their 20th anniversary, with the release of the complete Mozart quartets dedicated to Haydn, new commissions, and tours to Europe, the USA, and Australia.
Tickets are €20/€18, €6 to children and full-time students, and €18 for MfG Friends. Booking is online at musicforgalway.ie or by phone 091 705962.
Supported by the Arts Council of Ireland
Website