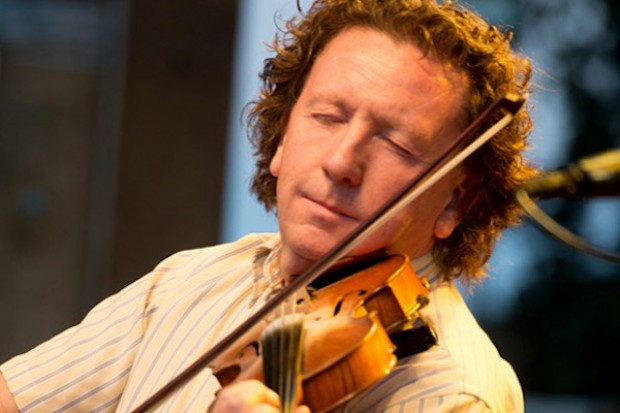 Frankie Gavin with Catherine McHugh
Friday, 7 October 2022, 9.00pm
Upcoming Frankie Gavin concerts
15 September– Monaco - Grace Kelly Irish Symphonic Suite  -  Frankie with Orchestra / Frankie & De  Dannan
20 September – Clifden Arts Festival - Frankie Gavin with Catherine McHugh
21 September – Matt Molloy's Westport - Frankie Gavin with Catherine McHugh
24 September  – The Crane, Galway  -   Frankie Gavin with Catherine McHugh
28 September – Kathy Barry's Bar, Waterford - Frankie Gavin with Catherine McHugh
29 September – Clonmel World Music, Raheen House Hotel, Clonmel  - Frankie Gavin with Catherine McHugh
1 October – Cork Folk Festival - Frankie Gavin with Catherine McHugh, new album launch
7 October – Sheridan's, Miltown - Frankie Gavin with Catherine McHugh
8 October – The Cobblestone, Dublin  - Frankie Gavin with Catherine McHugh
Frankie Gavin
Frankie Gavin has played fiddle and flute since his teenage years. At the age of seventeen, he won All-Ireland competitions for fiddle and flute. Originally influenced by the great Irish and American-Irish fiddle players, James Morrison, and Michael Coleman, he later found himself playing with stars: The Rolling Stones, Stephane Grappelli, James Galway and Yehudi Menuhin as well as with many of the great contemporary players and singers of traditional Irish music. All have left their mark on his eclectic approach to music. In 2010, he officially became the world's fastest fiddle player when he played The Foxhunter's Reel, at a breath-taking 150 beats per minute!
In his time, Gavin has played for four American presidents, starting, as a six-year old, when he played for John F. Kennedy on his 1962 visit to Ireland, then later for Presidents Clinton, Bush and Barack Obama. He has also played for the France's President Mitterrand, Britain's Prince Charles, Prince Albert of Monaco and, in front of the Pope on his most recent visit to Ireland.
Perhaps most importantly, the name Frankie Gavin is synonymous with De Dannan, the globally renowned band he founded with Alec Finn in the mid-1970s. After a short break, in the early 2000s, Frankie started a new version of the band with a young line-up. But two years, to the surprise and delight of many, the old band reformed and played a few special gigs, perhaps most nostalgically at Spiddal, near Galway where De Dannan was born; the legendary line-up on this occasion was Frankie Gavin, Alec Finn, Aidan Coffey, Colm Murphy and iconic singer Dolores Keane.
But creative geniuses do not stay still for long and, in addition to solo work, Frankie Gavin is now involved in several new and exciting groups. 
Frankie Gavin and De Dannan
This is a stunning new young line-up led by Frankie, comprising, Frankie on fiddle and flute, Catherine Mc Hugh on keys, Conor Connolly on accordion and vocals, Kaitlin Cullen-Verhauz on vocals and cello
The Roaring 20s Irish Orchestra, a band formed to recreate the sound of the Flanagan Brothers, a family of Irish musicians who emigrated from Waterford to New York in 1911 and became famous for their songs and dance music throughout the 1920s and 1930s.  A recording of this music, By Heck, was launched at Waterford City Hall in August 2018. This "orchestra" comprises Frankie on fiddle, Emma Corbett on melodeon, Martin Murray on banjo, Carl Hession on piano and a "back row" of double bass, clarinet and a 4-piece brass ensemble.
The Provenance, a line-up comprising Frankie, three highly-accomplished female fiddle players, Sorcha Costello, Eadaoin Ni Mhaicin, and Ciara O'Brien with Brian McGrath on keyboards and George Grasso on bouzouki.
For many old De Dannan fans the best news of 2018 was that Frankie Gavin and Alec Finn made up their differences and played together again, not only in band line-ups but as a duo. In 1977, they made a recording together. In mid-2018 they recorded together again to mark 40 years of their partnership. Tragically, Alec Finn passed away just a few weeks after the new recording was launched.
With all this in mind, there can be no doubt that 2018 was a momentous year for Frankie Gavin. Winning Traditional Musician of the Year at the Gradam Ceoil Awards in January was the icing on the cake. The award ceremony included messages from Ronnie Wood – Frankie is a massive fan of the Rolling Stones - Prince Albert of Monaco, and a speech from President Michael D. Higgins.
There's more information about Frankie Gavin together with videos and audio tracks on this website https://frankiegavin-dedannan.irish
Website
Add a Listing