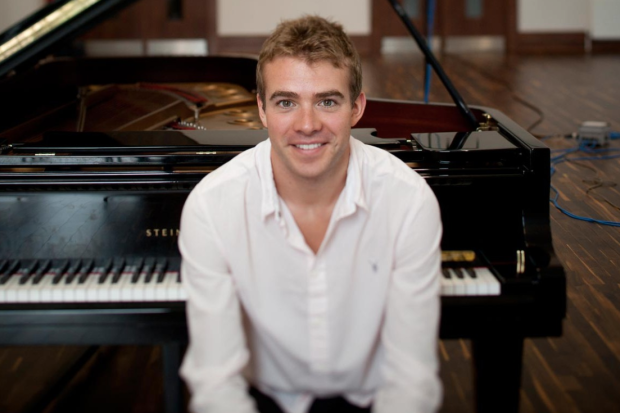 Drogheda Classical Music presents Fiachra Garvey (piano), Musici Ireland (strings) and Niall O'Sullivan (trumpet)
Wednesday, 8 December 2021, 7.30pm
Drogheda Classical Music is a boutique series of concerts bringing world-class performers to Ireland for the delight and enjoyment of Irish audiences. Since its first concert in October 2012, it has attracted many top names including Sheku Kanneh-Mason, Angela Hewitt, Alina Ibragimova, Cédric Tiberghien, Johannes Moser, Tara Erraught and Finghin Collins. It is the only series of its kind across the entire North East and offers an intimate concert experience for audience and performers alike.
Drogheda Classical Music is delighted to return with live and in-person concerts this autumn.
The opening concert on Thursday 21 October at 7:30pm takes place in St Peter's Church of Ireland, Drogheda and features Irish mezzo Gemma Ní Bhriain with pianist Cahal Masterson and cellist Yseult Cooper Stockdale. Featuring works by Berlioz, Schumann, Richard Strauss plus Schubert's Auf dem Strom, in an arrangement with cello, this programme highlights the beauty and natural pairing of voice and cello. Book tickets here.
On Saturday 13 November at 7:30pm, the Lir Quartet will be joined by guest cellist Christopher Marwood for Schubert's Cello Quintet. The last piece of chamber music that he wrote prior to his premature death at the age of 31, it is a work of light and shade, serenity and drama, and surely one of the most recognisable and beloved pieces of his chamber music output. It will be paired with John Kinsella's quartet 'On hearing Purcell and Shostakovich at Bantry House - June 2008'. Book tickets here.
The final concert in the autumn season on Wednesday 8 December celebrates French composer Camille Saint-Saëns. Although best known for opera, larger orchestral works and instrumental concertos, Saint-Saëns devoted much time and effort to writing chamber music. Marking 100 years since his death, this concert presents two of his great works, the piano quintet and his short and quirky septet for piano, strings and trumpet. This programme will be performed by Fiachra Garvey, Musici Ireland strings and Niall O'Sullivan. Book tickets here.
All concerts take place in St Peter's Church of Ireland, Drogheda and will have restricted numbers. The performances will last approximately 1 hour in duration and be performed without an interval.
Tickets are €20 and can be booked through Droichead Arts Centre on 041 9833946 or www.droichead.com with further information available from www.droghedaclassicalmusic.com
The Series is funded by the Arts Council and Louth County Council and run in partnership with Droichead Arts Centre with sponsorship from the d Hotel and RTÉ Supporting the Arts.
Full details:
Thursday 21 October
Gemma Ní Bhriain (mezzo), Cahal Masterson (piano) & Yseult Cooper Stockdale (cello)
Schumann Frauenliebe und -leben
Schubert Auf der Storm
Boëllmann Notre Amour
Berlioz La Captive
Strauss Vier Lieder Op. 27
Saturday 13 November
Lir Quartet with Christopher Marwood (cello)
John Kinsella 'On hearing Purcell and Shostakovich at Bantry House - June 2008'
Schubert String Quintet in C major
Wednesday 8 December
Fiachra Garvey (piano), Musici Ireland (strings) and Niall O'Sullivan (trumpet)
Saint-Saëns Piano Quintet in A Major, Op.14
Saint-Saëns Septet in E flat major, Op. 65
Website
Add a Listing