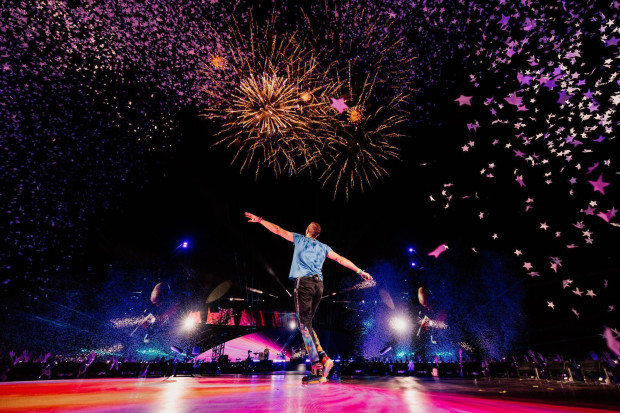 Coldplay
Friday, 30 August 2024, 7.30pm
Coldplay has announced a new set of European dates for their Music Of The Spheres World Tour in the summer of 2024, following their European stadium tour in 2023. Included in these new dates are two concerts at Croke Park, Dublin, planned for Thursday, 29th and Friday, 30th August.
The band is also extending its reach to Greece, Romania, and Finland for the first time, as well as returning to Rome and Budapest after an absence of several years. Ticket pre-sales for all performances commence on Tuesday, 25th July, with general sales beginning on Friday, 28th July.
Coldplay have also confirmed they will make a limited number of Infinity Tickets available for the shows at a later date. Infinity Tickets are released to make concerts accessible to fans at an affordable price. They will cost the equivalent of €20 per ticket and are restricted to a maximum of two tickets per purchaser, and must be bought in pairs (which will be located next to each other).
For more, visit www.coldplay.com.
The new dates are as follows:
JUNE 2024
8: Athens - Olympic Stadium
12: Bucharest - Arena Națională
16: Budapest - Puskas Arena
22: Lyon - Groupama Stadium
23: Lyon - Groupama Stadium
JULY 2024
12: Rome - Stadio Olimpico
13: Rome - Stadio Olimpico
20: Dusseldorf - Merkur Spiel-Arena
21: Dusseldorf - Merkur Spiel-Arena
28: Helsinki - Olympiastadion
AUGUST 2024
15: Munich - Olympiastadion
17: Munich - Olympiastadion
21: Vienna - Ernst-Happel-Stadion
22: Vienna - Ernst-Happel-Stadion
29: Dublin - Croke Park
30: Dublin - Croke Park
FULL UPCOMING MUSIC OF THE SPHERES WORLD TOUR DATES:
SEPTEMBER 2023
20: Seattle, WA - Lumen Field (Support: H.E.R. + 070 Shake) SOLD OUT
22: Vancouver, BC - BC Place (Support: H.E.R. + 070 Shake) SOLD OUT
23: Vancouver, BC - BC Place (Support: H.E.R. + 070 Shake) SOLD OUT
27: San Diego, CA - Snapdragon Stadium (Support: H.E.R. + 070 Shake) SOLD OUT
28: San Diego, CA - Snapdragon Stadium (Support: H.E.R. + 070 Shake) SOLD OUT
30: Los Angeles, CA - Rose Bowl (Support: H.E.R. + 070 Shake) SOLD OUT
OCTOBER 2023
1: Los Angeles, CA - Rose Bowl (Support: H.E.R. + 070 Shake) SOLD OUT
NOVEMBER 2023
6: Tokyo - Tokyo Dome (Support: Yoasobi) SOLD OUT
7: Tokyo - Tokyo Dome (Support: Yoasobi) SOLD OUT
11: Kaohsiung - Kaohsiung National Stadium (Support: Accusefive) SOLD OUT
12: Kaohsiung - Kaohsiung National Stadium (Support: Accusefive) SOLD OUT
15:: Jakarta - Gelora Bung Karno Stadium (Support: Rahmani Astrini) SOLD OUT
18: Perth - Optus Stadium (Support: Amy Shark, Thelma Plum) SOLD OUT
19: Perth - Optus Stadium (Support: Tash Sultana, Thelma Plum) SOLD OUT
22: Kuala Lumpur - National Stadium Bukit Jalil (Support: Bunga) SOLD OUT
JANUARY 2024
19: Manila -Philippine Arena (Support: TBA) SOLD OUT
20: Manila -Philippine Arena (Support: TBA) SOLD OUT
23: Singapore - Singapore National Stadium (Support: TBA) SOLD OUT
24: Singapore - Singapore National Stadium (Support: TBA) SOLD OUT
26: Singapore - Singapore National Stadium (Support: TBA) SOLD OUT
27: Singapore - Singapore National Stadium (Support: TBA) SOLD OUT
30: Singapore - Singapore National Stadium (Support: TBA) SOLD OUT
31: Singapore - Singapore National Stadium (Support: TBA) SOLD OUT
FEBRUARY 2024
03: Bangkok - Rajamangala National Stadium (Support: TBA) SOLD OUT
04:: Bangkok - Rajamangala National Stadium (Support: TBA) EXTRA DATE
JUNE 2024
8: Athens - Olympic Stadium
12: Bucharest - Arena Națională
16: Budapest - Puskas Arena
22: Lyon - Groupama Stadium
23: Lyon - Groupama Stadium
JULY 2024
12: Rome - Stadio Olimpico
13: Rome - Stadio Olimpico
20: Dusseldorf - Merkur Spiel-Arena
21: Dusseldorf - Merkur Spiel-Arena
28: Helsinki - Olympiastadion
AUGUST 2024
15: Munich - Olympiastadion
17: Munich - Olympiastadion
21: Vienna - Ernst-Happel-Stadion
22: Vienna - Ernst-Happel-Stadion
29: Dublin - Croke Park
30: Dublin - Croke Park
Website
Add a Listing