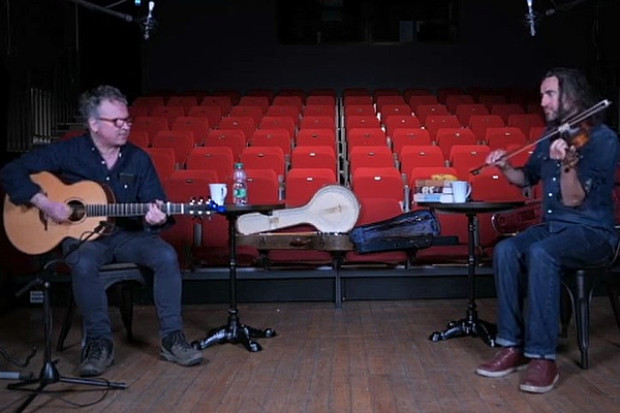 STORIES SONGS AND SHENANIGANS WITH AINDRIAS DE STAIC #3| Featuring LEO MORAN
Wednesday, 7 April 2021, 7.00pm
Join actor, musician and storyteller Aindrias de Staic over four weeks as he weaves stories, songs and music with the wild Atlantic wit of some of west of Ireland's most interesting performers. This third instalment of the series features musician and songwriter Leo Moran.
Note: This event takes place online for audiences to attend via their personal digital devices. You will need a device such as a laptop, tablet, or phone and a good internet connection. Audience members who purchase tickets will receive an email with a link to the event, and will be able to view it between 7:00pm and 11:00pm on Wednesday 7 April.
Filmed in the renowned Linenhall theatre space, and released digitally on-demand, the series features a special guest artist for each session as they sing, play music and share stories from pre-pandemic times.
Leo Moran is best known as lead guitarist and sometimes vocalist in the Irish folk-rock band The Saw Doctors. While studying in Galway he met several prominent figures in the area's music scene, including Padraig Boran and Ollie Jennings, who would become the Saw Doctors' manager. He played in a local reggae band, Too Much For The White Man but eventually formed the Saw Doctors with Davy Carton of Blaze X. In 2013, Leo founded a new country rock band called 'The Cabin Collective'. In late 2013 into early 2014 The Saw Doctors took a sabbatical from touring and recording. During this time Moran toured with Anthony Thistlethwaite under the name Leo & Anto. He currently plays guitar with legendary songwriter, Padraig Stevens.
Described as a new generation of Irish storyteller, Aindrias de Staic is also a well-known musician and actor, and 'a captivating yarn-spinner'. De Staic is best known for his award-winning one man shows Around the World on 80 Quid,The Year I Got Younger, The Summer I Did the Leaving and The Man From Moogaga.
All four episodes were filmed behind closed doors in the Linenhall building and within COVID-19 restrictions and guidelines. Filming, or other recording of performances in a theatre, concert hall, museum or art gallery, without an audience present, for the purposes of broadcasting is permitted under Level 5.
Website