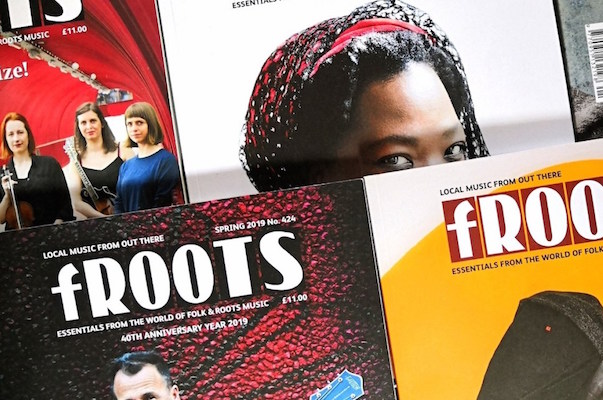 Folk Music Magazine fRoots Suspends Publication
Editor Ian Anderson says rise of digital and lack of Arts Council support contributing factors.
It has been announced that folk and world music magazine fRoots has suspended publication.
Founded in 1979 as Southern Rag by musician Ian Anderson with Caroline Hurrell and Lawrence Heath, it changed its name to Folk Roots in 1985, when it began issuing monthly. In 1998 it became fRoots. By the mid 2000s, it had a circulation of 12,000 and subsequently received a Womex Award for Professional Excellence.
In 2017, fRoots ran a Kickstarter campaign to help with publication, stating that it had had difficulty covering costs since the economic crash of 2008. The lack of an Arts Council scheme in England to help fund specialist publications was also cited.
The campaign raised over £40k and earlier this year the magazine received a Lifetime Achievement Award from Folk Alliance International.
fRoots moved to quarterly publication last year but a statement issued by editor Ian Anderson yesterday (3 July) said that the magazine had not found a sustainable publishing model.
We have worked tirelessly with many allies over those past 18 months to secure our future and have been in advanced discussions with potential publishers to take fRoots into their existing companies. We were given confidence that this would happen, but sadly it was not to be.
Anderson cited the lack of state support and the rise of digital as contributing factors.
It is frustrating that there are no arts funding schemes available to us, in spite of our unique contribution to arts that do qualify for funding and our ticking of many of the boxes that are expected of other supported arts organisations.

Unfortunately being an unfunded single-title publication in a specialised music field is now barely viable and many other music titles of far greater prominence have fallen this century. Changes in reading habits coupled with decreased advertising support in the digital age, along with current political and economic uncertainties, are a major hindrance.

fRoots retains great unexploited potential and we know that the right expertise and investment could unlock this. However, personally, after 40 years of producing fRoots – the past four unpaid – and having invested a very substantial amount of personal funds that I am unlikely to ever recover, I am unable to take it any further myself. As you may imagine, this causes me great regret.
Anderson says that fRoots team will continue to seek potential publishers and funders but it has stopped taking further subscriptions.
For more, visit https://frootsmag.com/
Published on 3 July 2019