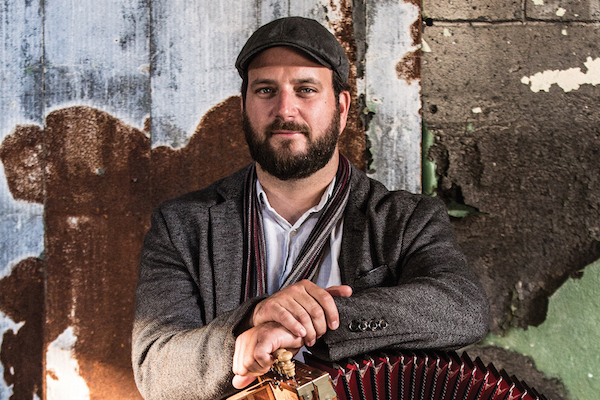 'Dancing sitting down in a chair': An Interview with Quebecois folk musician Pierre-Luc Dupuis
Ahead of De Temps Antan's Music Network tour on 1–10 May, The Journal of Music spoke to band member Pierre-Luc Dupuis about the blend of influences that make Quebecois traditional music distinctive.
De Temps Antan are together 15 years this October. The trio are one of a number of groups, along with La Bottine Souriante and Le Temps du Nord (who did a Music Network tour in 2016), that have generated a new appreciation of Quebecois traditional music internationally in recent years.
The scene at home, however, has also been developing. Melodeon and harmonica player and singer Pierre-Luc Dupuis lives near Joliette in south-west Quebec where the area college has now developed a folk music programme. It means that the next generation can choose to study the province's music at third level.
For a kid who wants to go study music – not only jazz or classical music – there's [now] a way into folk music as well. It's another example that gives the music a little boost.
Along with developments in education, the festival scene in Quebec has also been growing. Neighbouring Ontario has traditionally had the strongest folk scene in Canada with over 30 festivals, but there has been a discernible change in Quebec's scene over the last two decades.
It's not a huge scene, but maybe for 15 to 20 years now, there's more and more folk music festivals all over the province of Quebec… Young people are now more interested to be involved in this kind of music.
Quebec tapping
All of these events provide a place for bands and artists to play and develop their music, and De Temps Antan have recently released their fourth album, Consolez-vous ('Console yourself'), some of which they will perform on their Irish tour.
It's not their first Irish tour – they played a small number of venues a few years ago – but Depuis is very familiar with Irish traditional music, and, although he plays some Irish tunes on accordion, the style is dissimilar. 'The triplets that the Irish do are different to the way we do it. It's really hard for me to play an Irish tune the Irish way!'
The group's name is a play on words and translates as 'Once in a while' or 'From the past', but writing new tunes and songs is an important part of their work. Consolez-vous includes several new compositions such as the set 'Anaë toujours' and the song 'Quand le jupon dépasse'. As well as Dupuis, the band includes guitarist and singer Éric Beaudry and fiddle-player and singer David Boulanger, and their music reflects the unique history of the Quebec province and its mix of cultures.
It's a big blend. We have a very strong Celtic heritage here in Quebec – a lot of Scottish and Irish roots, so we play reels and jigs. But for our songs, it doesn't make sense to sing in English, so we sing in French. For our traditional songs, the root is really in France. When we travel in France we can still find some versions of the same songs.
There is also an Acadian influence from the east and a cajun influence from the south. What makes the music distinctive though is the practice of percussive foot tapping while playing.
Tapping is the way we give rhythm to our music. We don't play with bodhrán or drums –  our drums are really our feet. It's a big part of Quebecois music…. We're dancing sitting down in a chair! 
The group have three footboards during their concerts and it's an integral part of their performance.
At some stages we are all tapping at the same time – different beats, different rhythms. It makes sense for us to play an instrument and tap our feet at the same time. People ask us: how can we do both at the same time? We love to say that we learn to tap our feet before we learn how to walk.
This rhythmic connection is central to Quebecois music: 'Since we were young, the music has been part of the dance – it's really important to give it the right energy.' 
De Temps Antan begin their Music Network tour on 1 May at the Sugar Club in Dublin, followed by The Dock, Carrick-on-Shannon (2nd), Station House Theatre, Clifden (3rd), Riverbank Arts Centre, Newbridge (4th), St James' Church, Dingle (5th), National Opera House, Wexford (7th), Linenhall Arts Centre, Castlebar (8th), Triskel Christchurch, Cork (9th) and the Fiddle Fair festival in Baltimore (10th). For booking details, visit www.musicnetwork.ie.
This tour preview is supported by Music Network.
Published on 24 April 2019