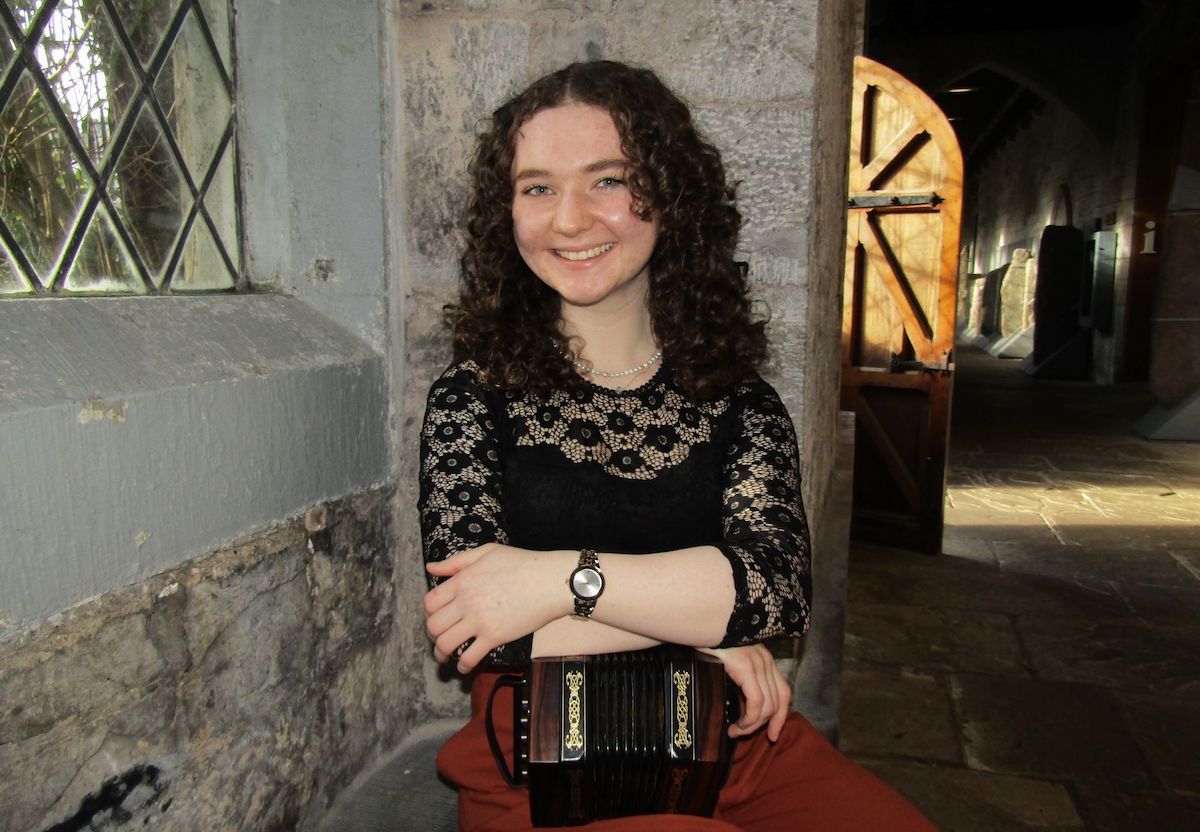 Latest Appointments and Awards in Music (January 2023)
A round-up of recent appointments and awards with news from Consairtín, Arts Council and UCC, Arts Council of Northern Ireland, Improvised Music Company, Irish Baroque Orchestra, University of Galway, Opera North and BBC Radio 3.
Consairtín, the concertina convention in Clare, has announced Gobnait Kiely as the recipient of the inaugural student bursary in association with the Irish Traditional Music Archive.
Kiely, a University College Cork (UCC) student of Music and Irish, will research the life and music of West Cork concertina player Ella Mae O'Dwyer and will present the results of her research in an illustrated lecture during Consairtín 2023, taking place in Ennis from 13 to 16 April. 
Kiely is a concertina player from Béal na Bláth, Co. Cork, and also sings and plays the piano and the tin whistle. In 2021, she was awarded the UCC Dónal 'Doc' Gleeson award for a solo concertina performance. She is currently a concertina tutor in the Lee Valley School of Music in Macroom. 
Further information: https://bit.ly/3QZrXao
– 
The Arts Council, in association with the College of Arts, Celtic Studies and Social Sciences and the School of Film, Music, and Theatre at UCC, has announced the appointment of musician, composer and visual artist Barry Kerr as Traditional Artist in Residence for 2023. 
The residency will include two parts. For the first six months, Kerr will engage with students and staff through delivering a series of concerts, workshops and classes, beginning this month. The second half will allow Kerr to focus wholly on his own practice.
Kerr, who was awarded the Liam O'Flynn award from the National Concert Hall and the Arts Council in 2020, will be hosted by the Department of Music at UCC which includes a team of traditional artists such as Máire Ní Chéileachair, Bobby Gardiner, Connie O'Connell, Conal Ó Gráda, Colm Murphy, Niall Vallely, Karan Casey, Mary Mitchell-Ingoldsby and Jack Talty.
Previous recipients of the award include concertina player Talty, dancer Colin Dunne, singer Karan Casey, concertina player and composer Vallely, flute player Desi Wilkinson and concertina player and dancer Caitlín Nic Gabhann.
The fee for the residency is €30,000, with the Arts Council contributing €20,000 and the university €10,000. UCC will also provide a dedicated space within the university.

Further information: https://bit.ly/3DywWth
– 
The Arts Council of Northern Ireland recently awarded £200,000 of funding to support twenty-one arts organisations in Northern Ireland for the creation of new work. The funding is part of the Arts Council's Commissioning Programme.
Two music projects received support as part of the scheme, including the production company Dumbworld, which will commission composer Brian Irvine and writer/director John McIlduff to work with local conflict resolution academics, community and sporting groups to create the score and narrative for a piece entitled TOGETHERNESS. TOGETHERNESS will be performed in 2023/24 to coincide with the 25th anniversary of the Good Friday Agreement.
The Belfast Ensemble has also received funding for a new opera for children by composer Conor Mitchell. The work will touch on themes of dystopia and sustainability and will be presented in 2023 in partnership with the Belfast Children's Festival.
Further information: https://bit.ly/3HtWYjI
– 
Improvised Music Company (IMC) has announced songwriter Jennifer McMahon and singer and guitarist Patrick Groenland as the artists for its inaugural Incubator project. McMahon will work on a project exploring a sense of place and space, and Groenland's project will be an adventure in collaboration and connection through improvisation.
Members of the public are invited to support the Incubator programme through paid monthly subscriptions that will be matched by IMC. Supporters of the programme, or 'Incubator Champions', will have access to exclusive Q&As with the musicians, vlogs and diaries, and a private premiere performance of the music. Further information: https://bit.ly/400QAay
– 
Irish Baroque Orchestra has announced the appointment of Peter Finnegan as Chairman. Finnegan is the Managing Director of communications consultancy Communiqué International. Formerly the Chairman of Music Network, he is also a director of the board of Fishamble Theatre Company.
Finnegan succeeds Peter Crooks, who is stepping down as Chairman but will remain on the Board of Directors.
Further information: https://bit.ly/3kyPkLL
– 
The Centre for Irish Studies at University of Galway has announced the appointment of Máirín Mhic Lochlainn as Storyteller-in-Residence for this year. Mhic Lochlainn will teach a series of five workshops at the University in early 2023 and a second series in the autumn. 
Mhic Lochlainn has won several awards for story-telling including Corn Neidí Frainc at the Oireachtas festival. She has conducted workshops in story-telling throughout Ireland, Wales and Denmark.
Commenting on the appointment, Professor Louis de Paor, Director of the Centre for Irish Studies, said:
This is a great opportunity for us to recognise the art of oral storytelling and to celebrate Máirín's particular ability in this area of our native culture. We are really looking forward to working with her for the next year.
The five spring workshops, which will be delivered through Irish, are free and open to the public and will run every Thursday beginning on 2 February at 7pm at the Centre for Irish Studies, 4 Distillery Road, University of Galway.  
Further information: https://bit.ly/3XyQ6XN
– 
Opera North has announced Joséphine Korda as its 2022–23 Female Conductor Trainee. She takes up the intensive 9-week scheme at the Leeds-based company while studying for her master's degree at the Royal Northern College of Music in Manchester.
The Female Conductor Trainee programme, which aims to address the gender imbalance in classical music, particularly in conducting, offers emerging conductors experience and support within the opera company and in the wider industry. 
Korda will take part in masterclasses with the Orchestra of Opera North and participate in the company's education work, as well as sitting in on preparations for its three winter season operas and orchestral concert programme. 
Further information: https://bit.ly/3Dc7N7d
– 
Sam Jackson has been appointed BBC Radio 3's new Controller. Jackson will oversee the creative and managerial responsibility for the running of Radio 3 and the delivery of the annual BBC Proms.
Having started his career as a runner for the BBC Proms, Jackson has worked in the commercial radio sector for over 15 years with experience running three national UK radio stations including Classic FM, Smooth and Gold.
Jackson begins his role as Controller in April and will report to Lorna Clarke, Director of Music for the BBC. He will also work alongside David Pickard, Director of BBC Proms, and Simon Webb, who was recently announced as the BBC's first Head of Orchestras and Choirs.
Further information: https://bbc.in/3RicD97
– 
For December 2022 appointments and awards in music, see here. 
Subscribe to our newsletter.
Published on 24 January 2023