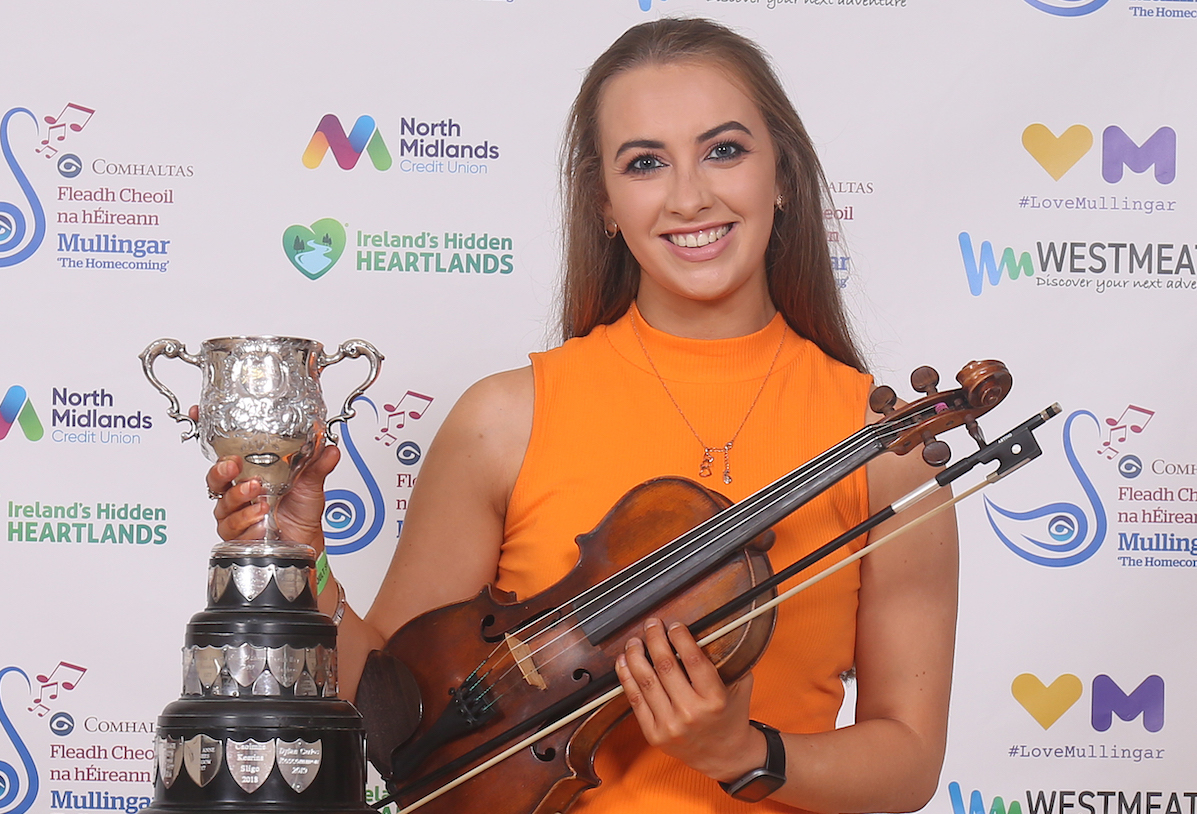 Winners Announced for Fleadh Cheoil na hÉireann 2022
Over 5,000 competitors took part in 230 competitions.
The results of Fleadh Cheoil na hÉireann 2022, the first full Fleadh since 2019, have been announced. The eight-day event took place from 31 July to 7 August in Mullingar, Co. Westmeath.
There were 230 competitions in a range of categories including traditional instruments; ceili and sean-nós dancing; singing in Irish and English; tune writing; duets, trios and ceili bands, and across all age groups. The winners were from Ireland, the UK and the USA.
The winner of the senior fiddle competition was Sarah O'Gorman from Waterford; Barry Conaty from Cavan won the senior flute competition; while Peter McKenna from Tyrone took first place in the senior uilleann pipes competition.
Taobh Na Mara from Waterford won the senior céilí band competition and Tigh na Coille from Clare won the music group competition.
Emma Benson from Roscommon won senior harp, Keelan Mac Craith from Tipperary received the senior button accordion title, Aidan Quigney from Clare won the senior concertina competition, and Máire Ní Bhraonáin from Offaly won the senior whistle competition.
First place for the senior women's sean-nós singing competition went to Clíona Ní Ghallachóir from Donegal, while Cáit Ní Bhaoghill from Monaghan won the senior singing competition in English. The winner of the senior men's sean-nós singing competition was Piaras Ó Lorcáin from Armagh, and Vincent Crowley from Cork won the senior men's singing competition in English.
During the Fleadh, the first Ashling Murphy Scholarships were presented to Lisa Ward from Leitrim for a project that provides access to the arts for disadvantaged and minority groups; to Caoimhe Maddigan from Limerick to help fund a project designing a music teaching curriculum for those with intellectual disabilities; and to fiddle player Jason McGuinness from Sligo to help complete a study into the music of west Sligo.
See the full list of competition winners below. For more on the Fleadh Cheoil, visit www.fleadhcheoil.ie. To view the TG4 broadcasts from the Fleadh, see here.
Subscribe to our newsletter here.
Published on 9 August 2022