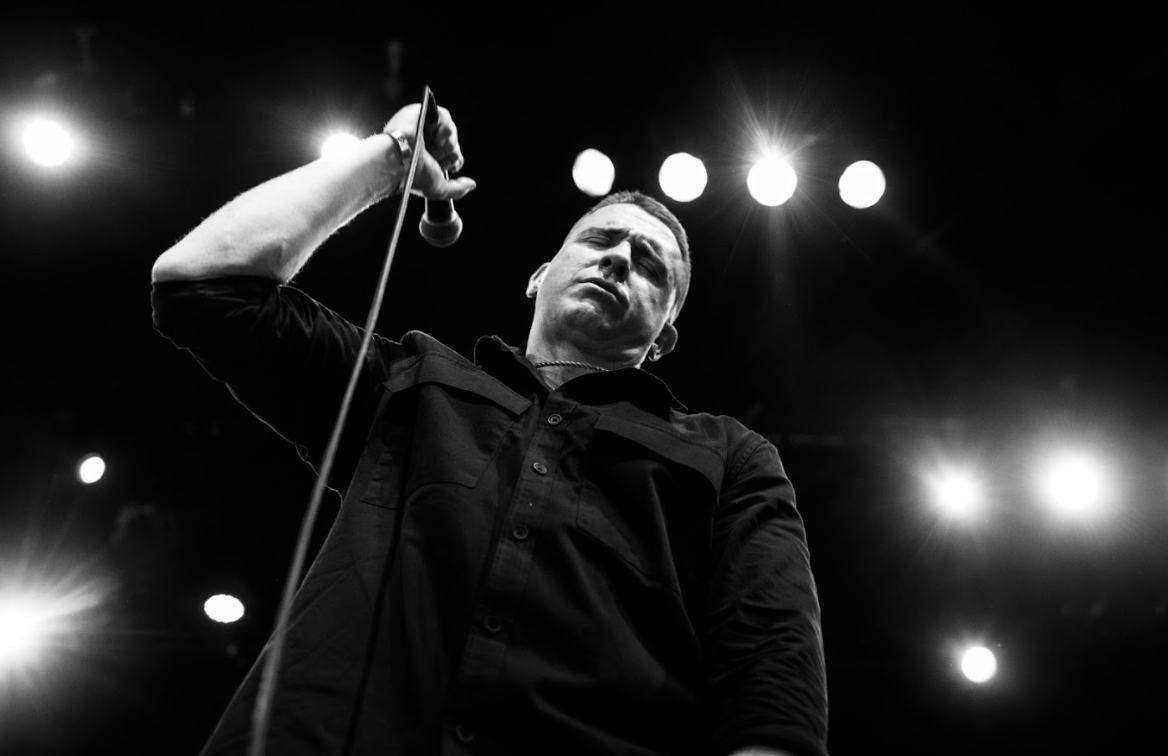 Healing and the Music of Damien Dempsey
'Love Yourself Today' – centred around a 2019 Damien Dempsey concert at Vicar Street – premiered at the Galway Film Fleadh last week. Shannon McNamee reviews.
The feeling of disconnection is something we have all become more familiar with over the past sixteen months. Disconnected from our loved ones, our routines, our 'normal' lives, perhaps even from a sense of purpose, this disconnection has imparted many losses. For me, and many others, there's also been a huge sense of loss from the disconnection from live music and performance. That feeling of connecting with the artist, the music, the fans, is something that isn't quite captured in a live-streamed concert or a record. 
Love Yourself Today – a new film by director Ross Killeen, based on a Damien Dempsey concert – is an insight into this closeness between the artist and their audience, the power of live performance and the impact art can have on people's lives. 
The film had its world premiere at the Galway Film Fleadh on 22 July at an outdoor screening in Fr Burke Park. The Fleadh, which presented a programme of online and outdoor screenings, had claimed a corner of the city-centre park, decked it out with chairs and tables in twos and fours, and created a charming outdoor cinema, complete with festoon lighting and bunting. On the hottest week of the year, it was the perfect evening for an outdoor film screening (and my first actual event since February 2020). Dempsey himself was in attendance.  
Filmed in black and white and set against the backdrop of a 2019 Dempsey concert at Vicar Street, Love Yourself Today follows the stories of three people from the audience; Nadia, Packy and Jonathan. Nadia has lived through drug addiction, abuse and grief; Packy's life has been marked with mental health difficulties; and Jonathan's experiences of abuse and alcohol misuse at a young age derailed his life for a period. Dempsey, however, isn't portrayed as the hero in this. Rather, we see the fortitude and perseverance of Nadia, Packy and Jonathan in telling their stories, how they picked their lives up from the most traumatic of circumstances, and how music, art and human connection was a part of that course. 
The film flicks between unfiltered monologues of the three with visuals of Dublin's North Inner City, the boxing club where Packy works and the homes of Nadia and Jonathan, to scenes from the crowd at Vicar Street. 
Not on Your Own Tonight
The expressions of people in the crowd – crying, smiling, singing, clasping their peers in tight embraces – vividly demonstrate the impact of Dempsey's music and deliverance. 'There's so much trauma out there, you know? Music can help and heal this trauma,' says Dempsey in the film. His music is therapeutic or transformative to not only the three main subjects, but to the Vicar Street audience and his fans in general. 'Apple of My Eye', 'Not On Your Own Tonight' and 'Sing All Our Cares Away' are sung just as much by the collective crowd as they are by Dempsey. 
The emotion is arresting – and the shots so raw– you feel as if you are there in the audience in Dublin. There's also a sense of nostalgia for live experiences of the past. With such heavy issues as grief, addiction and abuse, Love Yourself Today still manages to be uplifting. 'I always wanted to make people high without drink or drugs,' Dempsey says.  
Following an ovation from the Fleadh audience, a Q&A culminated in an impromptu sing-song, Dempsey's voice and the crowd filling the air: 'We sing, sing all our cares away / We'll live, to love another day / We grow strong, from it all'. 'Let's make a film that helps people,' was one of Dempsey's conditions from the beginning, Killeen told us. It feels like they really did.
For more information on Love Yourself Today, visit: http://motherland.ie/film/love-yourself-today-official-trailer
Published on 29 July 2021
Shannon McNamee is Assistant Editor of the Journal of Music.