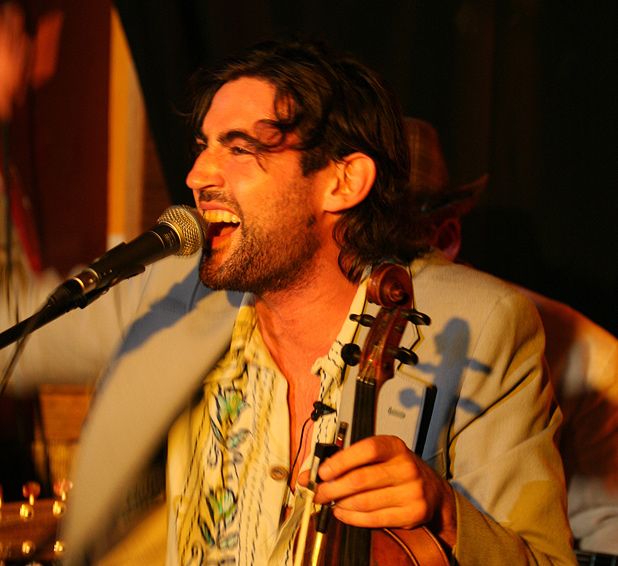 CD Review: Aindreas de Staic – Latchico
Aindreas de Staic – Latchico (2008)
This is a recording of fiddle music with some Jew's harp and what is definitely best accounted for here as 'diddleying'. The music is mostly standard traditional dance tunes with a couple of North American fiddle pieces and one self penned Klezmer-like tune, all arranged in what could only be described as a New Age, Galway style.
This album has some very real problems. From the very first track it is apparent that Aindrias de Staic hasn't enough control of his instrument to do what he needs and wants to do. The intonation is poor and not just different in the way that Paddy Canny's is, or was described by Jos König, among East Clare fiddlers in the 1970s. The ornamental practice is limited to playing quaver values of longer notes, very occasional basic cuts, and there is some fairly ragged double stopping and sliding. The main thing going for it is an incessant beat that is occasionally hidden by some sloppy bowing. The third and last tracks, with their obvious Cajun influence and pronounced back-beat, are a little easier on the ear, but I suspect a Cajun fiddler might have a bigger problem with them than I have. Essentially, the technical limitations of the playing make it difficult to find an expressive voice beyond the level of arrangement.
The Jew's harp playing is grand, but you would want to know the tune to find it in the performance. The best tracks are where de Staic is diddleying and there, where he is not restrained by tradition or technique, you get a sense of the eccentric creativity of the man. This can be most easily sensed on track 12, 'Aggalamh Beirt Ar Telefón', a neo-Celtic, multilingual, telephonic diddley-rap conversation. For many this will be the highlight of the album. There are also some fine and quirky arrangements and great accompanying musicians, though I can't make out who is doing what from some admirably anarchic and minimal sleeve notes.
With all recordings of traditional music you have to wonder: what is the point, what is the musician trying to say? All usually want to say something traditional, new and personal, and some are always more interesting than others. This album is certainly an accurate expression of several aspects of de Staic's extremely bright, creative and colourful personality. However, for all of its new-age pretensions, this album is saying something interesting to me when Aindreas de Staic moves a step away from the demands of the mainstream tradition.
Published on 1 May 2008
Niall Keegan is a traditional flute player and Associate Director at the Irish World Academy of Music and Dance, University of Limerick.