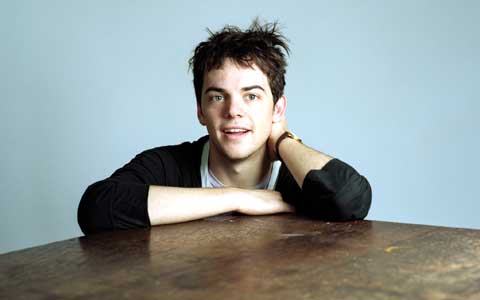 Nico Muhly
Nico Muhly (piano), Nadia Sirota (viola), Helgi Jonsson (trombone, voice), Absolut Fringe Festival, Spiegeltent, Dublin, 6 September 2009
Anyone who has heard Nico Muhly's orchestrations on Antony and the Johnsons' album The Crying Light will not need convincing of his craft. This, at least, was where I discovered him for the first time: and here his writing was always subdued, yet integral and decisive. The Muhly I heard in Dublin was the same craftsman: his harmonic sense was there, as was his feel for texture, and his control of instrumental timbre was always intelligent, even within the unusual grouping of piano, viola and trombone.
But for all this, Muhly appears wasteful with his material. I repeately got the sense that Muhly was stopping half-way, satisfied too soon. Consequently, the music felt fractured, distracted; A long-range sense of structure was largely absent.
His seventh piece, Keep in Touch, epitomised this problem. It felt like that part of a party around 4am, when the stragglers being to play music, all at once but not together, and too drunk to notice the difference. Here, too, there was an overflow of voices: a lyrical viola melody disrupted by clichéd scrunches, the brief and timid appearance of prerecorded material, frenzied chatter by Helgi Jonsson and, most bizarrely, the sampling of the aforementioned Antony Hegarty singing the word 'No'. It wasn't its fullness or absurdity that bothered, it was the noncommital way in which Muhly avoided deep engagement with his material: he lost interest in the sounds the trio was making when there was potential to examine and reexamine them more closely. The feeling was of no friends and too many acquainances.
Other works cut a little deeper. The extract from Muhly's music for the film The Reader was more concentrated, if it flirted with blandness. The fast and rhythmically capricious Skip Town focussed on a limited amount of material, shifting, permutating and extending it. This sense of discipline meant that, when a major change happened – a change of chord toward the end, it was felt more intensely.
The most compelling, though, was the final piece, an extended work for piano, viola and voice, with Jonsson, putting down his trombone. Jonsson, a countertenor, sang a text about Iceland by Thomas Wilkes, a sixteenth-century English madrigalist, whom Muhly suggested was a colourful character not without impropriety.
Much of that colour came through in this performance, which wanted, it seemed, to escalate to a point of rupture. Here Muhly was able to combine his taste for the full and the hectic with an extended structure – no doubt helped here by the song's strophic form. The fractured quality of other works was gone, too: Muhly held back at the piano, and Nadia Sirota's viola playing was very much supportive.
I can't be sure what Jonsson sang – it seemed to move in and out of Icelandic, too – but this was not a work to be understood; This was a work that enveloped, whirled and, eventually, released.
Published on 1 October 2009
Benedict Schlepper-Connolly is a composer and a director of Ergodos, a production company and record label. schlepperconnolly.com