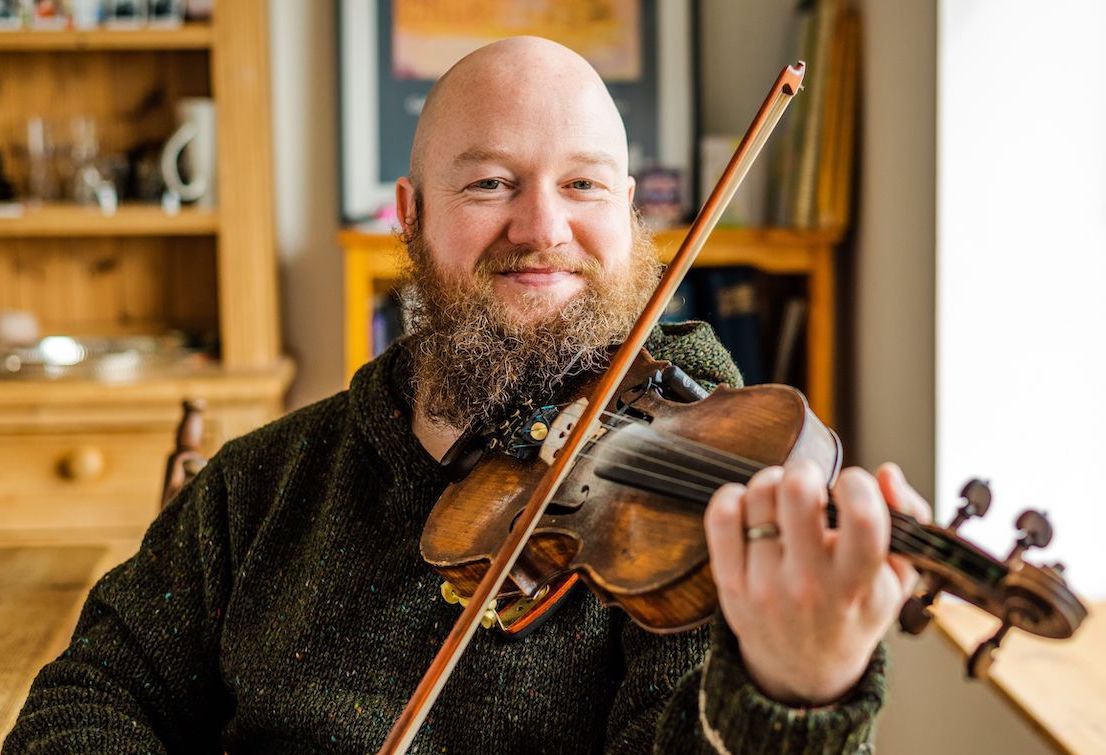 Latest Appointments and Awards in Music (June 2023)
A round-up of recent appointments and awards with news from Scoil Acla, DkIT, University of Limerick and the Royal Welsh College of Music and Drama.
Scoil Acla traditional music summer school on Achill Island, Co. Mayo, has announced fiddle player Fergal Scahill as this year's Artist in Residence.
Scahill is best known as a fiddle player but also plays a number of other instruments and is a member of We Banjo 3. He has recorded two solo albums as well as a duet album with Ryan Molloy. Through his 'Tune a Day' project on social media, he has recorded over 750 different tunes and worked with hundreds of artists. He has performed extensively in Ireland and internationally alongside musicians such as Mairtín O'Connor, Wallis Bird, Gerry O'Connor, Mick Flannery, Máiread Ní Mhaonaigh, Sharon Shannon and many more. 
Commenting on the appointment, Scahill said:
I feel truly privileged to have been asked to participate in Scoil Acla 2023 as Artist in Residence. I am really looking forward to the chance to immerse myself in the vibrant tapestry of this wonderful festival. Most importantly, I am excited about the prospect of collaborating with the students, imparting upon them the valuable tips and tricks I have gathered during my 20-plus years as a touring musician and taking some time to pen some new music inspired by the beautiful rugged landscape of Achill Island.
Scoil Acla Summer School 2023 runs from 23 to 29 July. For further information, visit https://shorturl.at/CDEK5 
–
Dr Daithí Kearney, who this week published an opinion article on changes at Siamsa Tíre in the Journal of Music, has been awarded the 2022/23 President's Prize for Research in the Arts, Humanities and Social Sciences by Dundalk Institute of Technology. Kearney lectures in music, theatre and tourism at DkIT. His research work is rooted in his upbringing in Kerry and he has developed a focus on Siamsa Tíre while also exploring the musical culture of Co. Louth and the surrounding region.
Recent publications include articles and book chapters on Fr Pat Ahern, Siamsa Tíre and the Munnix style of dance. Last year, he convened a symposium at DkIT titled 'Reworking Folklore in Sound, Stage and Screen'. 
A published poet, songwriter, performer and composer, Kearney is co-director of the Creative Arts Research Centre in Dundalk. He is also secretary of the Irish affiliate of the International Council for Traditional Music, and Musical Director of the Oriel Traditional Orchestra.
Visit https://shorturl.at/ijlLZ
–  
The University of Limerick has appointed Dr Sandra Joyce as the new Executive Dean of the Faculty of Arts, Humanities and Social Sciences. Joyce, who has served as the Interim Executive Dean of the Faculty since July 2022, has been appointed to the role for a five-year period.
Prior to her appointment, Dr Joyce held the role of Director at the Irish World Academy of Music and Dance for more than nine years. She is a traditional singer and bodhrán player and has performed extensively around the globe, with recent performances at Harvard University and Milwaukee IrishFest. Earlier this year she released the solo album Since you and I Have Been which features artists such as Dónal Lunny, Niall Keegan, Cora Venus Lunny and Ernestine Healy.
Commenting on her appointment, Joyce said: 
I am deeply honoured to assume the position of Executive Dean of the diverse and vibrant Faculty of Arts, Humanities and Social Sciences for the upcoming five-year period. I look forward to collaborating with colleagues within and outside the University of Limerick as I embrace the exciting and challenging responsibilities of this role.
Visit https://shorturl.at/celoZ
– 
Musician and educator Andrew Bain has been appointed Head of Jazz at the Royal Welsh College of Music & Drama, succeeding Paula Gardiner who retires at the end of this academic year.   
A prominent performer and academic in the UK, Bain is currently Deputy Head and Senior Lecturer in jazz at the Royal Birmingham Conservatoire. 'I am delighted to be taking on the position of Head of Jazz at RWCMD', said Bain. 'After the excellent stewardship of Paula Gardiner since 2001, I look forward to bringing my expertise to the jazz department and wider community to continue and extend the reputation of the jazz course for many more years to come.'
Visit https://shorturl.at/myVW7

Andrew Bain (Photo: Olivier Burnside).
– 
The Royal Welsh College of Music & Drama has also announced its Honorary Fellows for 2023. The fellowships are awarded each year to artists who have achieved distinction in the creative and performing arts industries.
This year's Honorary Fellows are: Lisa Burger CBE – previously executive director and joint chief executive of the National Theatre; writer, performance artist and creative consultant Jonny Cotsen; arranger, composer, and musical director Philip Harper; Ursula Jones OBE – co-founder of the English Chamber Orchestra and former manager of the Philip Jones Brass Ensemble; and Rakhi Singh – violinist, composer, and co-founder and music director of Manchester Collective.
They will be honoured at RWCMD's graduation ceremony on 7 July at St David's Hall in Cardiff. 
Visit https://shorturl.at/wzLRT
– 
In other recent news, Julie Feeney, Amanda Feery, Pádraigín Ní Uallacháin and Edwina Guckian were announced as this year's Markievicz Award recipients. See here. 
For May 2023 appointments and awards in music, see here. 
Subscribe to our newsletter.
Published on 21 June 2023