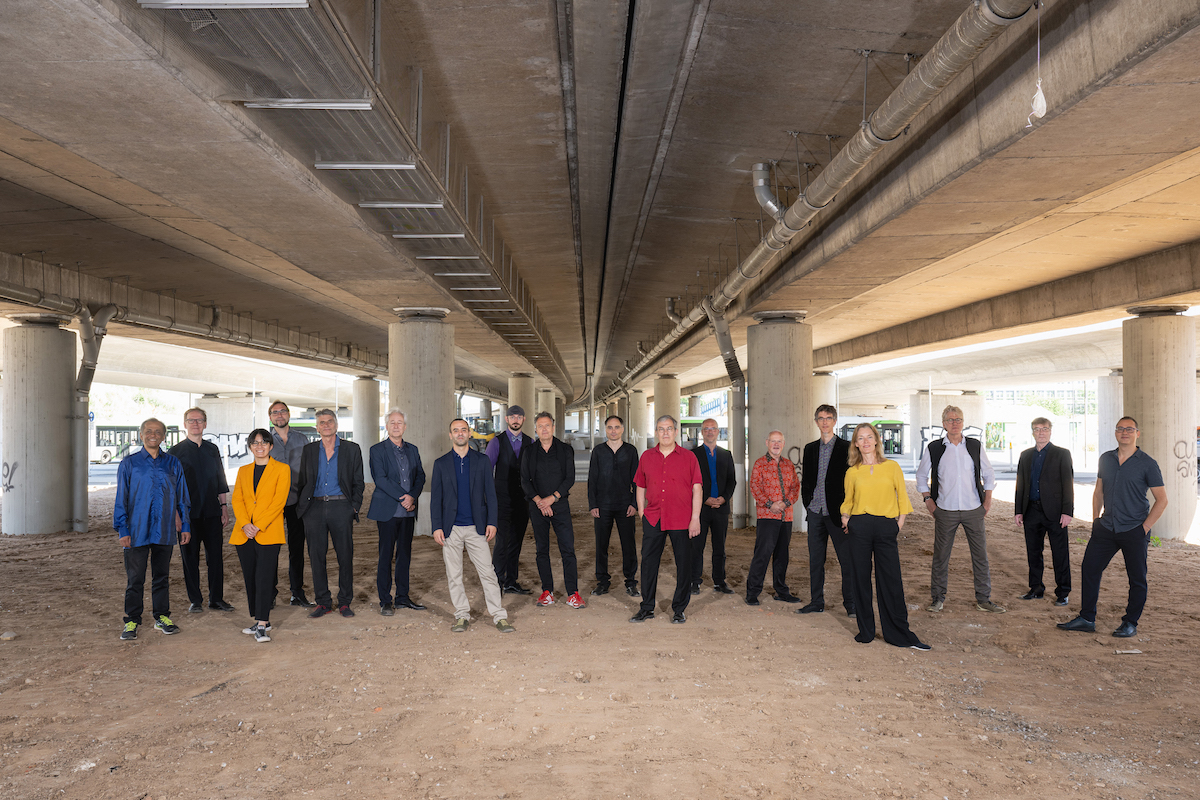 New Music Dublin Announces 20 World Premieres for 2023 Festival
Contemporary music event takes place from 20 to 23 April at the National Concert Hall and across Dublin.
New Music Dublin has announced its programme for the 2023 festival, which takes place at the National Concert Hall and in various venues across Dublin from Thursday 20 to Sunday 23 April.
This year's edition includes 20 world premieres, 12 Irish premieres and features Ensemble Modern, Crash Ensemble, the National Symphony Orchestra, RTÉ Concert Orchestra, Chamber Choir Ireland, Quiet Music Ensemble, Roger Doyle, Juliet Fraser and Mark Knoop, Evlana, Robert Curgenven and more.
Among the new works are a piano chamber concerto by Donnacha Dennehy written for Eliza McCarthy and Crash; Ailís Ní Ríain's Refuse to be wrecked for Elizabeth Hilliard and Gráinne Mulvey; Amanda Feery's My Year of Rest and Relaxation and Ann Cleare's MIDHE for the NSO; Jenn Kirby's Surrounding for Evlana; a revised version of Kevin Volans' Fourth Piano Concerto; …Antarctica calling…listen… by Karen Power; and a new piece by Andrew Hamilton for Crash that will be performed on the Sunday night.
Premieres
The festival's opening concert on Thursday lunchtime at the NCH features pianist Andrew Zolinsky performing six Irish premieres including works by Anna Thorvaldsdottir, Anna Clyne and Linda Buckley. This is followed by Hilliard and Mulvey at Richmond Barracks with a concert theme of Great Women; and Dennehy's new work Limina at the NCH, which will be performed with two of his other works, Overstrung (2010) and PADDY (2003). Thursday evening will feature Jürgen Simpson at the Sugar Club performing Dutch composer Simeon ten Holt's 1977 work Canto Ostinato with a new rendering for live electronics.
Friday begins with soprano Juliet Fraser and pianist Mark Knoop performing British composer Laurence Crane's Ivor Novello Award-winning Natural World (2021), which combines acoustic sound with sampled electronics and field recordings. At 3pm at the NCH, Crash will present five world premieres by Laura Hyland, Anselm McDonnell, Úna Monaghan, Amy Rooney and Yue Song, marking the culmination of Crash Works – a two-year development hub run by the ensemble in partnership with New Music Dublin. That evening the NSO will perform the new works by Feery and Cleare as well as Seóirse Bodley's 1975 work A Small White Cloud Drifts Over Ireland, celebrating the composer's 90th birthday. Friday will conclude with a performance by Roger Doyle with scenes from his electronic opera iGirl, a world exploring female grief, sorrow and sacrifice.
Natural Creators
On Saturday morning, composer Karen Power will host a Natural Creators workshop, exploring sound, creativity and music for children aged 2 to 6 years old. The ever-popular Totally Made up Orchestra, which is directed by Brian Irvine, will perform in the Main Hall of the NCH at lunchtime with conductor David Brophy. Evlana chamber group will present a range of works at 3pm, including pieces by George Crumb, Solfa Carlile, Fergus Johnston, Missy Mazzoli, Pamela Z, Bodley and Jenn Kirby. That same afternoon, Cór na nÓg and Cór Linn will perform the Irish premiere of Craig Hella Johnson's Suite from Considering Matthew Shepard (2017) as well as Elaine Agnew's We Are What Gives us Strength (2019). The final performance of Saturday will feature Chamber Choir Ireland at St Ann's Church performing Carin Malmlöf-Forssling, Lise Borel, a new commission by Áine Mallon, and more
Sunday will feature the Quiet Music Ensemble with a new work by Susan Geaney as well as Kathy Hinde's Acts of Balancing and Unbalancing (2022); Power, Mary Nunan and Atoosa Pour Hosseini's we return to ground (2022); and Anna Murray's AIOI (2022). At Windmill Lane at 5pm, Ensemble Modern will perform David Fennessy's 2022 commission OPEN GROUND, which receives its Irish premiere, and Hans Zender's open-form Modelle für variable Besetzung (1971–73) – a musical exploration of the tension between freedom and rigidity. Sunday evening will feature the RTÉ Concert Orchestra with Brett Dean's Testament, a depiction of Beethoven's anguish as he began to fall deaf; Volans' high-energy Piano Concerto No. 4b; and Power's new commission inspired by a research trip to the South Pole, …Antarctica calling…listen… (2022). The final concert will feature Hamilton's Friendly Piece at the NCH, a work that explores friendliness and loving kindness through music, but revels in ambiguity.
Installations and improvisations
As well as live performances, there will be festival-long installations in the National Concert Hall; workshops; live podcast recordings; a trio of site-specific improvisatory music films featuring the compositions of Úna Monaghan, Sue Rynhart and Cora Venus Lunny presented by Improvised Music Company; and the annual NMDX new music networking programme hosted by the Contemporary Music Centre. There will also be Robert Curgenven's Baile Átha Cliath Pailliún Aeir i bhFoirm Oscailte (Dublin Open Form Pavilion of Air) in Merrion Square, an audio work that uses sound and site-mapping to offer a renewal and reframing of public space.
Commenting on this year's festival, Festival Director John Harris said:
New music is important for the connections it makes – not only with friends, families and colleagues, but also musically - to others' lives and thoughts and experiences. And so it is with New Music Dublin: this a-livest of live festivals is every year a broad, sprawling and terribly incomplete snapshot of new music from the island of Ireland and beyond – but it is also a buzzing hive of real-life connections with the composers, music creators and all the performers who are presenting here.
New Music Dublin is presented in partnership with the Arts Council, the National Concert Hall and RTÉ. For full details and booking, visit www.newmusicdublin.ie.
Subscribe to our newsletter.
Published on 9 March 2023