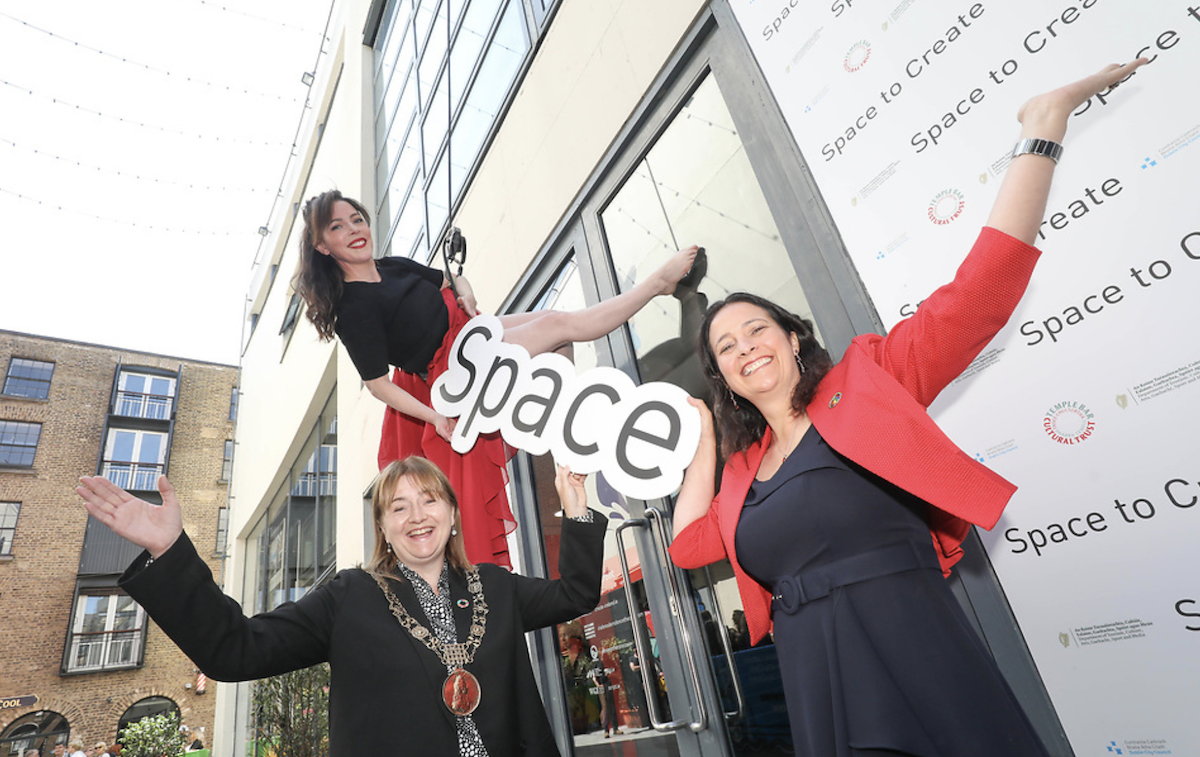 New Scheme to Provide Over 60 Spaces for Artists in Dublin City
'Space to Create' will provide workspaces in Artane Place, Merchants Quay and Temple Bar.
A new initiative called Space to Create, which will deliver over 60 workspaces for artists in Dublin City, has been announced.
The scheme will see Dublin City Council (DCC) identify buildings that can be refurbished and which will then provide artists with turnkey workspaces and/or opportunities to use performance, gallery space and flexible office spaces.
The scheme is launching in four locations: Artane Place in the north of the city, which will provide 14 artist workspaces in two locations (these have been already allocated following a shortlisting process last year); 8/9 Merchants Quay in the city centre, which will provide 21 spaces plus restoration of the former St Anthony's Theatre; the former Eden restaurant in Temple Bar, which will provide 6 spaces; and 2 Curved Street (formerly Filmbase), which is already home to six arts organisations but will take on additional tenants after refurbishment and upgrading.
'Artists across Ireland can struggle to find suitable workspace,' said Minister for Arts Catherine Martin at the launch in Temple Bar (22 June), 'but research finds this problem to be most pronounced in Dublin. The nationwide consultations as part of the Creative Ireland programme revealed a widespread desire for creative spaces such as studios, performance spaces and simple work spaces where artists and other creatives can experiment and collaborate.'
Lord Mayor Caroline Conroy said at the launch that through Dublin City Council's Artists Workspaces Committee, a long term-plan has been set out to try and address the shortfall of artist workspaces. The DCC Development Plan now includes the provision that 5% of all new developments in the capital will be allocated to creative/cultural and community use.
Funders
The scheme is supported by €3 million from the Department of Tourism, Culture, Arts, Gaeltacht, Sport and Media, €3 million from Dublin City Council, and €3 million from a philanthropic donor.
The arts community will have an opportunity to feed into the process as the scheme develops. More than half of the spaces will be in use before the end of 2024 and the remainder in early 2025.
The artists who have been allocated spaces at Artane Place are: Alan Mongey, Caitriona Ní Mhurchú, Cara Thorpe, Chris Judge, Ella Clarke, Emma Montonen, Gemma Kane, Jennifer Dwyer, Lynda Devenney, Malene Jacobson Brazel, Martin Cahill, Sharon O'Callaghan, Sinead Lawlor and Tom O'Dea.
For further details, visit www.dublincity.ie.
Published on 29 June 2023