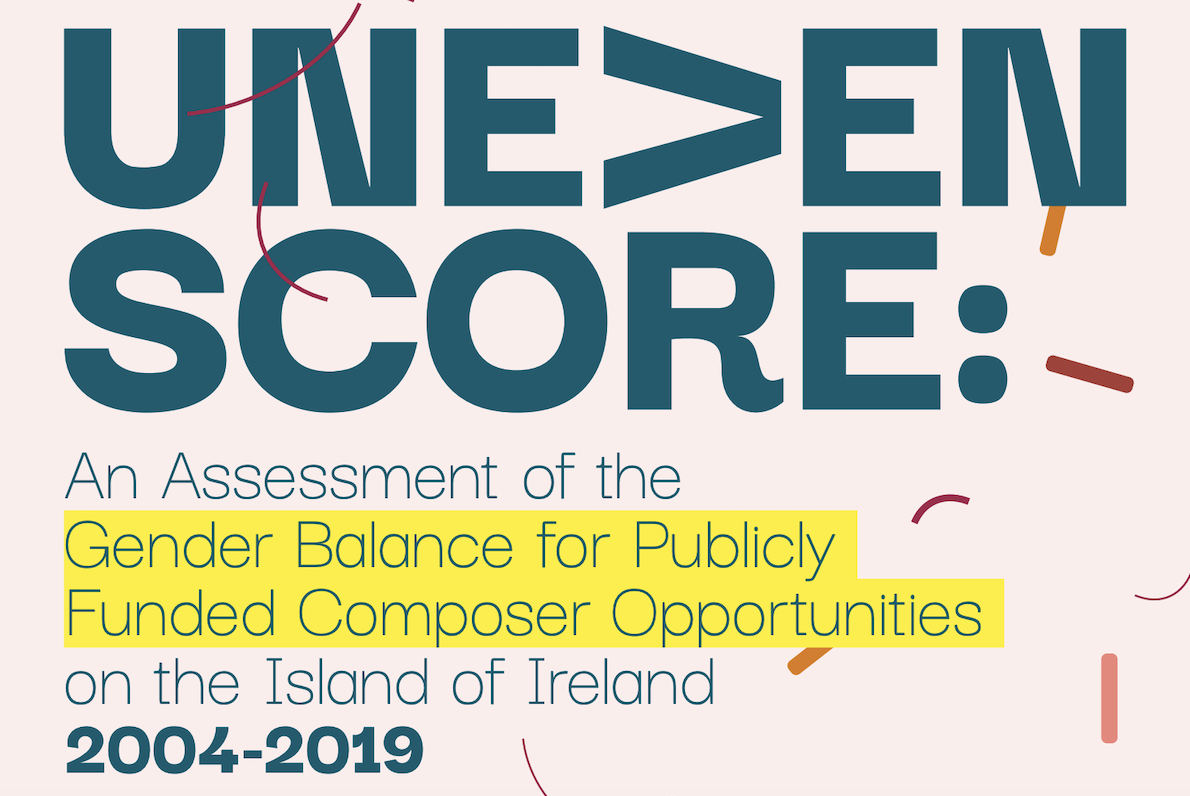 Report on Composers and Gender in Ireland Calls for 'Cultural Change' in Commissioning
31% of new music commissions between 2004 and 2019 awarded to female composers.
A new report on commissioning opportunities for composers has called for a 'significant cultural change' in the commissioning of contemporary music on the island of Ireland due to a 'marked gender imbalance'.
A total of 784 new music commissions over a fifteen-year period between 2004 and 2019 were examined and it was found that just 31% were allocated to women. The new music commissions went to 191 different composers, 22% (42) of whom were women and one was for a composer who identifies as non-binary (0.5%). 
The research by authors Dr Michael Lydon and Dr Ciara Murphy, commissioned by the Contemporary Music Centre and Sounding the Feminists with funding from the Arts Council, also found that from a total of over €6.06m awarded to Irish composers via Arts Council Bursary Awards, the Aosdána Cnuas and Music Commission Awards, just 24% (€1.43m) was allocated to women with men receiving 76% of the total (€4.62m).
In addition, the report, titled Uneven Score: An Assessment of the Gender Balance for Publicly Funded Composer Opportunities on the Island of Ireland 2004–2019, assessed 152 operas between 2004 and 2019, which included both historic and contemporary productions, and found just three of these were composed by women. Two of the new works were composed in collaboration with other composers, which means that just one woman was commissioned to write an opera on her own.
The report estimates that during the 2004–2019 period, 25% to 32% of Irish composers were women. The report also acknowledges that since 2019 improvements have been made in the gender balance of publicly funded composer opportunities, but due to delays in publishing the report, these changes are not reflected in the research findings.
Commissioning organisations
In the section titled 'Findings', the researchers survey data from all of the main commissioning organisations in the country, from the RTÉ orchestras to the National Concert Hall and from Crash Ensemble to Music Network. Amongst the findings are that only two organisations (Concorde ensemble and the promoter Music for Galway) achieved parity in commissioning men and women, although Belfast Music Society, Chamber Choir Ireland, Ergodos, Galway Music Residency and Quiet Music Ensemble reached over 40% in their commissioning of female composers.
The RTÉ Concert Orchestra commissioned no works from women between 2004 and 2019 while 30% of the RTÉ National Symphony Orchestra's commissions went to women. The Ulster Orchestra's total was 19% and the Irish Chamber Orchestra reached 29%. The Contemporary Music Centre commissioned 18 new works between 2004 and 2019, and 28% went to women. The figure for Crash Ensemble was 29% and the figure for Music Network was 37%.
Recommendations
The report makes a number of recommendations, including the following:
commissioning organisations and institutions should consider gender mainstreaming in their commissioning and policy making;

organisations and institutions

should devise and implement Equality, Diversity, and Inclusion (

EDI

) plans;

the Department of Education should address the exclusion of women composers from the Leaving Certificate Music curriculum;

there should be a sustained effort by organisations and institutions to visually represent high profile commissions for Irish women composers; and

commissioning organisations and institutions in receipt of public funding should

 keep adequate records of those commissioned.
The recommendations were authored by a seven-person Advisory Panel including Dr Ann Cleare, Dr Brenda Donohue, Evonne Ferguson, Dr Michael Lydon, Dr Áine Mangaoang, Dr Karen Power and Dr Laura Watson.
Commenting at the launch of the report at IMRO yesterday (Wednesday 8 November), Evonne Ferguson, Director of the Contemporary Music Centre, said:
CMC and STF are delighted to launch Uneven Score into the public domain in the hope that it will support change throughout the new music sector with regard to gender balanced programming and commissioning. We thank the organisations, institutions and funding bodies who contributed data to this research; without your key support and engagement this research would not have been possible – your patience, openness and generosity of spirit is so gratefully appreciated.
To download the report, see below. For more, visit www.cmc.ie
Published on 9 November 2023