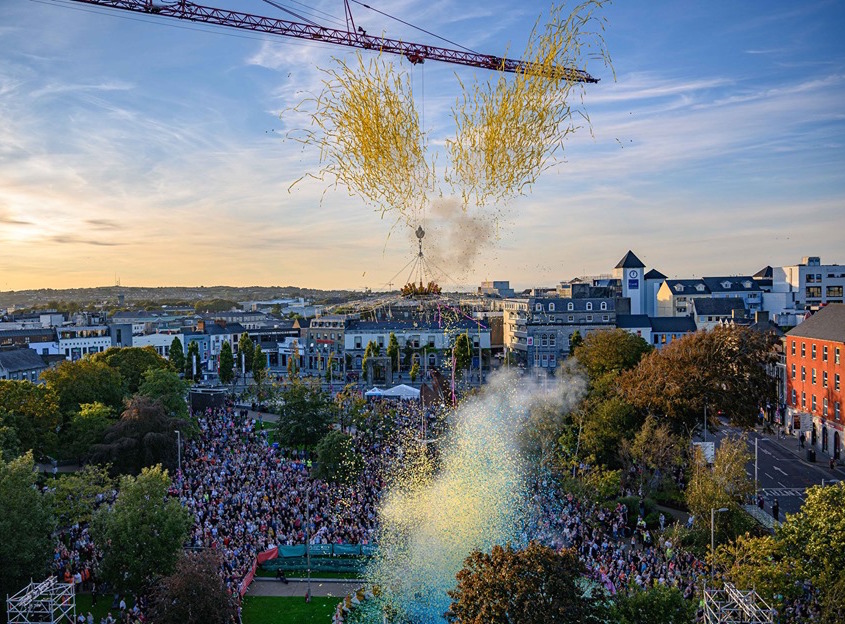 What Music Does Galway 2020 Have in Store?
A new international cello festival, an instrumental suite by Máirtín O'Connor, an opera by Elaine Agnew, Abendmusik: Crossing Borders concert series, NCH International Music Series events, Oireachtas na Samhna, and indie and alternative festivals.
Galway 2020 announced its European Capital of Culture programme last week (18 Sept.). Built around the ancient Celtic calendar, the programme officially begins in February 2020, although there will be a number of events in January. The programme covers theatre, visual arts, circus, dance, language, literature and more, including an event with the author Margaret Atwood.
As regards music, however, the year will feature some major classical music events, including the inaugural year of a new triennial cello festival titled Cellissimo, a new opera from Irish composer Elaine Agnew, a concert series curated by Mark Duley, and a partnership with the National Concert Hall that will see artists from their International Music Series perform in the west.
The main traditional music events are the premiere of a new work by accordionist Máirtín O'Connor titled The Mighty Ocean, and the return of the Irish-language arts festival Oireachtas na Samhna to Galway.
There will also be a series of Americana concerts featuring musicians from America and Ireland; performances from the new youth orchestra Symphonic Waves; Galway Early Music Festival events; a weekend of music, films and talks curated by the Róisín Dubh; the Eye on the Edge and Fever Pitch festivals featuring alternative and indie music; Music for Galway's Midwinter festival focused on Beethoven plus a performance of Beethoven's 9th Symphony at the end of the year; concerts at the Galway International Arts Festival; performances from Comhaltas titled 'Ceili at the Crossroads'; and traditional singer Katie Doherty from Scotland will bring her Beyond the End of the Road show to Galway.
Cellissimo
Taking place from 25 April to 3 May 2020, Cellissimo is a new triennial festival and is produced by Music for Galway with Artistic Director Finghin Collins and Executive Producer Anna Lardi Fogarty. Cellists from all over the world will gather in the city, including Mischa Maisky, Giovanni Sollima, Nicolas Altstaedt, István Várdai, Tatjana Vassiljeva, Marc Coppey, Laura van der Heijden, Hannah Roberts, Natalie Haas, Jakob Koranyi and Naomi Berrill.
There will be three orchestral concerts, including the Irish premiere of the Crouching Tiger concerto by Chinese composer Tan Dun, and premieres of new concertos by Gerald Barry and Julia Wolfe. There will also be a new piece by Bill Whelan for the Galway Cello, made by luthier Kuros Torkzadeh. Music for Galway will announce full details of the festival, plus information on their entire Galway 2020 season, titled Soundscapes, on 1 October. Visit www.musicforgalway.ie
Paper Boat
Elaine Agnew's new opera, Paper Boat, is produced by Music for Galway and Galway 2020 in association with Irish National Opera. Directed by Conor Hanratty, and with a libretto by Jessica Traynor, it celebrates 700 years of St Nicholas' Collegiate Church in the city and tells the story of a young homeless man, a mother and child arriving at the church to claim sanctuary, but protecting them risks the safety of the city. Paper Boat takes place on 11–13 June at St Nicholas' Church and is conducted by Sinéad Hayes.
Abendmusik: Crossing Borders
The Abendmusik: Crossing Borders concert series is inspired by the seventeenth-century Abendmusik ('evening music') in the north German city of Lübeck, a port city like Galway with a history of mercantile endeavour. Curated by Mark Duley with Music for Galway, old and new will be brought together with five new commissions from Irish composers alongside music from centuries past. The series begins in April and runs until November.
The Mighty Ocean
Máirtín O'Connor's new instrumental suite The Mighty Ocean will receive its premiere on 4 September 2020 at the Town Hall Theatre. The suite, which will be performed by O'Connor and a large band, will explore a dialogue between mankind and the environment, touching on the power of the sea, and questioning the destructive influence of mankind on endangered oceans.
Festivals and series
The Oireachtas na Samhna festival in October/November 2020 includes a wide-range of traditional music and song performances and competitions, including the major sean-nós singing competition Corn Uí Riada.
The Three Chords and The Truth concert series, co-produced with Belfast International Arts Festival, will trace the transatlantic roots of country, blues, gospel, folk and bluegrass and the influence of generations of immigrants who journeyed across the Atlantic from Ireland and Scotland to the USA. The four concerts will take place in autumn 2020.
Details of the NCH International Music Series have yet to be announced but the concerts will take place throughout the year.
Livefeed, which is produced by Tracy Bruen, David Boland and Eoin Dolan, will focus on youth music in Galway. The project will culminate in late 2020 at the Eye on the Edge festival, where young musicians will perform for two days at the Livefeed stage.
The Midwinter Festival in January 2020 will focus on Beethoven's early period and presents three chamber music concerts featuring Russian violinist Alina Ibragimova, French pianist Cédric Tiberghien and Galway's ConTempo Quartet, plus a mix of Irish and international wind players.
Róisín Dubh's five-day event, titled 'And it Moves: Music & Songs from an Open Road', will take place on 27–31 January 2021 and explores migration in music through music, talks and films.
Further details on all Galway 2020 events will be released in the coming months. The Galway 2020 Box Office will open in November. Download a PDF of the programme below or, for more information, visit https://galway2020.ie.
Published on 24 September 2019