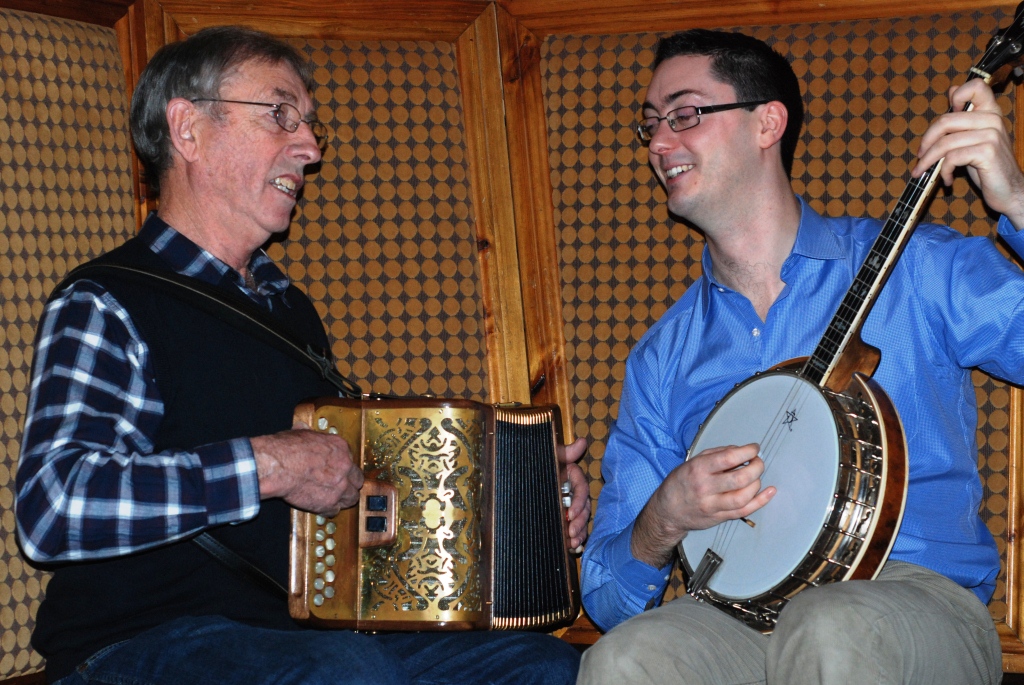 John Cronin and Daithí Kearney Playing Bruach na Carraige
Accordion player John Cronin and banjo player Daithí Kearney will be performing a concert at Bruach na Carraige centre ('the heart of Sliabh Luachra') in Rockchapel, Co Cork on Saturday, 17 November.
For the past few years, Cronin and Kearney have been playing together in a regular session in Wallis' Bar in Midleton, a town not usually celebrated for Irish traditional music. Cronin came to the town in the 1970s and Kearney some thirty-five years later, and both brought with them a love of the music of the Sliabh Luachra region.
Earlier this year they released an album called Midleton Rare to celebrate that music. The recording is a snap shot of their session in Midleton, drawing heavily on the music of Sliabh Luachra and particular accordion players Johnny O'Leary, Denis Doody, Jackie Daly and John Brosnan.  It also features music sourced from Cronin's father DD, a fiddle player from Glenamuckla in the parish of Newmarket, Co. Cork.  Guests musicians who feature on the album are Barry Barrett on bodhrán, Mike Cunningham on bouzouki, Louise Keating on flute, Shane Keating on pipes, and Imelda McCarthy on fiddle.
Cronin's connections with Sliabh Luachra music arise from such facts as that Pádraig O'Keeffe used to come to the Cronin house to teach, and that later Denis Doody, Julia Clifford and Con Curtain, as well as visitors including Billy Mahony and Dan Fitz, would call in for tunes. DD Cronin (1917-90) was a fiddle player who used to play at a dance hall at Clapper Cross, near Ballydesmond, and Killnahulla, near Boherbue.  
Banjo and mandolin player Daithí Kearney has toured regularly as a musician, singer and dancer with a number of groups including Siamsa Tíre and the National Folk Theatre of Ireland. A native of Listowel, he grew up in Tralee, and has family connections with Abbeyfeale and Moyvane.  He is currently lecturing in music at Dundalk Institute of Technology, where he is programme director of the BA in applied music.
The tracks are as follows:
Scart slide; Is It The Priest You Want?; Barrack Hill

Jim Keeffe's; Ballyvourney Polka; Johnny Mickey's

Tom Billys; Cordal jig; Humours Of Lisheen

Walsh's; Her Golden Hair Curled Down Her Back

Brosnan's; Piper's Despair; Trip To Cullenstown

DD

Cronin's; The Quarry Cross; The Rathawaun
The Cascade;

DD

Cronin's Favourite; John Walsh's

The House In The Glen; Cooley's

Far Away In Australia; The Bluemont Waltz

Toormore Polkas; Captain Bings

Cronin's Hornpipe; The Plains Of Boyle

Rambling Pitchfork; The Legacy

The Galtee Ranger; Gleanntán Reel; Callaghan's

Dan Connell's Favourite; Tom Billys; John Walsh's
Midleton Rare is available from Claddagh Records.
Published on 8 November 2012