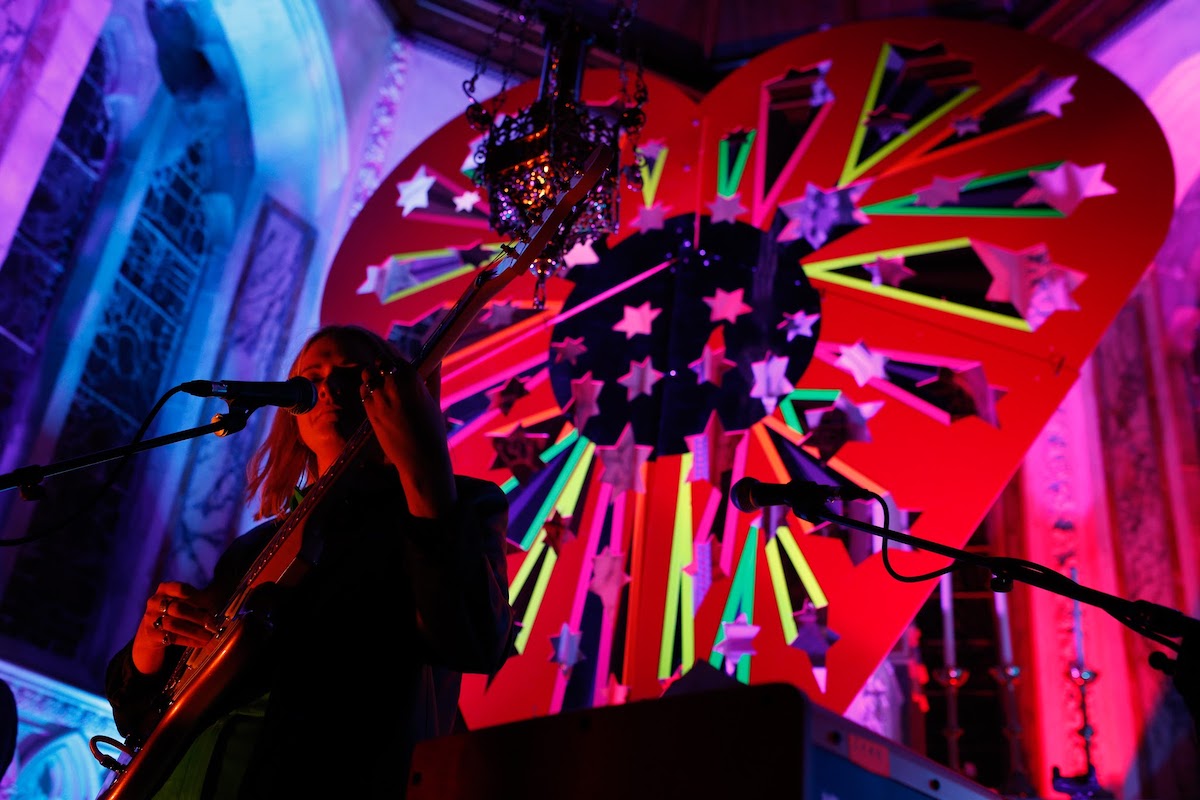 A Reminder of All That is Great
The Other Voices festival celebrated twenty years this year, with a weekend of live music in Dingle just before the latest restrictions. Andrea Cleary reviews.
Thinking about Other Voices now is like remembering some occasion in the distant past. It was just over two weeks ago (25–28 November) that the seaside town of Dingle, Co. Kerry, temporarily doubled its population when 3,000 or so music fans, performers and organisers descended for the twentieth edition of the festival. Since then, live events have been cancelled in all but name, and the Irish music scene ends the year, once more, on a rather gloomy note. 
Other Voices has always been a festival for music lovers. This sounds like an obvious value proposition for a festival, but it has, over its twenty-year cycle, managed to circumvent the traditional pitfalls of such gatherings in their growth stage. There are no areas sponsored by soft drinks or hard liquors; no sea of plastic cups being crushed under stampedes; no international acts that couldn't tell you what country in Europe they're playing at this stage of a tour, let alone what sleepy, seaside town. 
Instead, there are packed out pub-cum-hardware shops hosting conversations on everything from the climate crisis to journalistic ethics (the Banter series at Foxy John's); pints in real pint-glasses at prices that would make a Dublin heart soar; performers who you might spot picking up a few bits for breakfast in the Holy Ground SuperValu before, a few hours later, playing to an enraptured audience. You're more likely to soothe a sore head with a dip in the freezing Atlantic than queue for soggy, overpriced chips and a weak coffee on a Sunday morning. There's always been a sense that Other Voices is just a little bit different. 
While the addition of masks, daily antigen tests, and one or two cancelled performances firmly rooted the weekend in our current situation, the prevailing mood in Dingle this year was to 'make the most of it'. Almost everyone I came into contact with over my two-day stay noted how this was probably our last chance to see live music for a while, spoke of potential lockdowns, and noted how wonderful it was to mark the previous year and a half in some way, by celebrating the live music community we have so missed. 
Hello Dublin
First up for this writer was Saturday evening at The Hillgrove, beginning at the earlier time of 7:30pm due to the midnight curfew – another sign of the times. Zimbabwean/Irish musician Shiv opened proceedings with a warm set dedicated to when she reunited with her parents after being separated by the pandemic. She is followed by Dublin five-piece Silverbacks, whose debut album Fad was one of the best of last year, jokingly saying 'Hello Dublin!' to a room where only about half the people (the non-Dubs, perhaps) got the joke. Of all the Irish post-rock-adjacent bands releasing music these days (Fontaines DC, Gilla Band, Murder Capital), Silverbacks lean in with the most humour. Daniel O'Kelly is a commanding presence on lead vocals, taking notes from the wry delivery and barely there foot stomps of early-aughts indie bands, and carrying off the performance with a knowing nod to these influences. The band is, essentially, note-perfect – especially on 'Dunkirk', with its spiky, beachy guitar-line and pop-centric rhythm. With their second album coming in 2022, Silverbacks look set to play bigger stages when they open for us again. 
The night loses the run of itself – in the best possible way – once electronic artist and producer Elaine Mai begins. Tucked away behind a large chrome table, an Apple Macbook balanced precariously beside a mixing desk, Mai never physically takes centre stage, allowing her propelling rhythms to elevate the energy of the night. A highlight of the set comes when collaborator Loah joins for 'Waiting To Breathe', later joined by Other Voices stalwart May Kay and Kildare singer-songwriter Sinéad White. The three vocalists work brilliantly together, with May Kay as hype-woman. 
Closing the evening is Dublin duo Mango x Mathman (Karl Mangan and Adam Fogarty) whose energy is a stark reminder of the release we've all been missing over the past 18 months. The significance isn't lost on Mango, who periodically notes how special it is to play to a crowd like this in Dingle, to be on stage with his best friend, to hear live music again. Grime beats and heady, agile vocal delivery make it almost impossible to distinguish his lyrics, but this is a performance fuelled by more than conveying the message of the tracks. The message is one of celebration – it's a sweaty, hyperactive performance, beginning with Mango decked out in a Nike tracksuit and shades, and ending shirtless, drenched in sweat, and utterly spent. 
What's your name?
Sunday evening at An Díseart was a calmer affair. While readying our Covid passports at the door, our small group heard angelic singing making its way along the road towards us – two women, in brilliant harmony, singing 'Danny Boy' as they ascended the steps to the convent. Any assumption that they were part of some street performance at the festival fell apart when, after their round of applause, one asked the other: 'So, what's your name anyway?' That's Other Voices for you. 
But to the scheduled acts inside. Ailbhe Reddy, who is preparing her second record for release in 2022, opens the evening. Any nerves present at the opening – the gig proper begins slightly before she's ready – fall away immediately, and her voice sounds more confident – stronger, more assured – than it ever has. Joined by bass and drums (deafening in the room, just shy of overpowering) it is 'Personal History', the title track from her debut LP, and 'Self Improvement', from the same album, that shine here. 
Concertina player Jack Talty follows, making the most of the tremendous acoustics of the space. Aware of a potential divide in the room between trad fans and those who made the pilgrimage to hear some guitar-based rock, he explains how the pieces he's playing are named after various places around the country – 'I think they're mostly named at random, to be honest with you' – while talking the uninitiated through the various time signatures and traditions of each mode. He is spellbinding. Eyes closed, body entirely still, save for the swift and dexterous movement of his fingers over his instrument, and a gentle tapping of his foot to keep time. Looking around the room, the audience is split between those joining in – adding rhythmic flourishes with their hands and feet, a beautiful reminder of the communal nature of trad tunes – and those who are swept away by the moment, looking to the rafters of the space, lost in time. 
Tenacity
Finishing the evening, and for this writer, the weekend, is Stevie Appleby, formerly of the band Little Green Cars. During the set, we learn that this is his first time performing on stage in three years after a difficult personal period, and while nerves catch in his voice from time to time, we are completely won over by his tenacity. These songs are intensely personal, with lines like 'all the colours in my palette turn to grey' punching through over melodious acoustic guitar. An encore is demanded, and the room is overcome with support at the close, offering two standing ovations to a visibly moved Appleby, who takes his leave, guitar in hand, with a sigh of relief. The rest of us file out in hushed tones, considering quietly the weight of what we've witnessed.
Usually, the journey home from a festival, packed into a car with somehow more luggage than you arrived with, is a relief. Not so with Other Voices; this yearly pilgrimage is a reminder of all that is great about Irish music – the dedication, respect and celebration of what makes this community unlike any other. And let's not forget all that the Other Voices team did in 2020 when live music moved online, and the Courage series kept us company through some of the darkest days of the pandemic. As we enter 2022 with little real sense of what is to come for Irish musicians, it is comforting to know that such events can survive and thrive. Bualadh bos to the performers, organisers and supporters for this glimmer of hope before what is sure to be a long winter. 
Visit www.othervoices.ie.
Published on 14 December 2021
Andrea Cleary is a freelance music and culture writer based in Dublin.