Honesty and Vulnerability
Chamber Choir Ireland, conducted by Nicolas Fink, created a programme of sacred but intensely personal music with Between Us. Anna Murray reviews their performance at Hugh Lane Gallery.
Chamber Choir Ireland's Between Us programme, performed in Belfast and Dublin (9/10 June) and conducted by Nicolas Fink, featured three sacred works by composers best recognised for their choral music: Josef Rheinberger, who was born in Liechtenstein in 1839 but spent his life in Germany; the German composer Max Reger, born in 1873 and died in 1916; and Swiss composer Frank Martin who spent most of his life in the Netherlands and died in 1974.
As with many later sacred works, the music of Between Us was marked by a kind of emotional honesty, as the composers tried to tap into their personal relationship with their faith rather than meet the demands of a church-based patron. This is shown in the choice of texts, which seemed to value emotive resonance over tradition: Rheinberger's Drei Gesänge combines settings of poetry by August Heinrich Hoffman von Fallersleben, psalms and gospel texts into three short songs, 'Morning Song', 'Hymn' and 'Evening Song'; Reger's motet selects from the Psalms rather than use one complete text; and Martin set the Latin Mass but kept it from the ears of the public until 1963, over 40 years after it was written.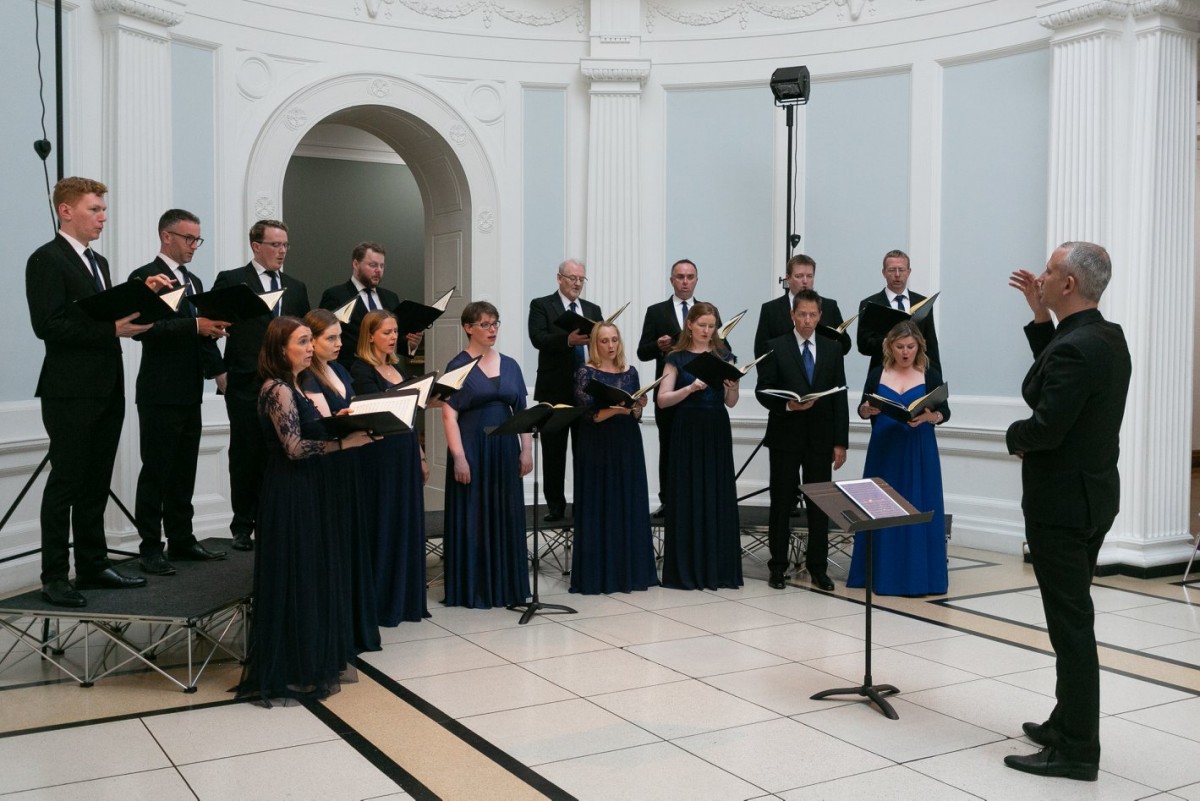 Photo: Joseph Carr
Vulnerability and exposure
There is vulnerability to these pieces, which also translates to an elevated level of exposure for the choir. The reverberant space of the Hugh Lane Gallery, while beautifully suited to choral ensembles, also somewhat flattens their expressive range, and emphasises some less-desired artefacts such as a few dangling esses and ragged phrase endings. But Nicholas Fink brought the choir to a rich fullness of sound, even pushing at the louder dynamic ranges to an extent that was occasionally uncomfortable in the resonant hall.
The works were connected by each sounding as if transplanted from another era, and given just a splash of colour of their own. This was no more evident than with Max Reger's Ach Herr, strafe mich nicht, written in 1910 with the distinctly baroque flavour to its forms and textures, in particular the spectacular and dense double fugue. It was when challenged with the virtuosity of this work that Chamber Choir Ireland showed their strengths under Fink; despite the tendency of the space to level the dynamics, the ensemble teased out the subtleties of the lines, emphasising the overlapping waves of parts and managing the ebb and flow of tension to build to almost unbearable levels.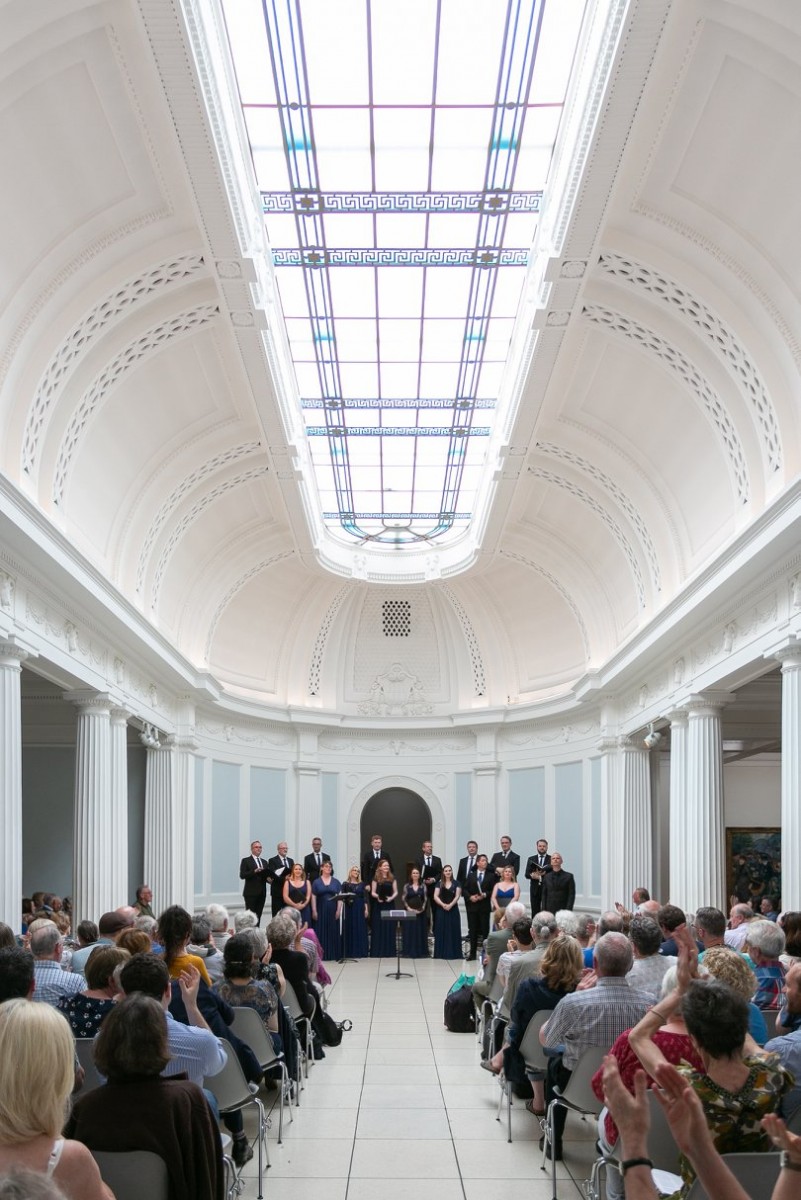 Photo: Joseph Carr
A gem of pathos
Such spectacular toying with tension and resolution however – with its fire and anguish, its frequent false turns and dramatic conclusion – left the works by Rheinberger and Martin pale in comparison. Rheinberger's Drei Gesänge is earnest if unadventurous, though the final song of the three, 'Evening Song', is something of a miniature gem of pathos, invested with suspensions and shadows, hints of sadness and hope. The male voices of the choir were here given a chance to reach forward to express a moment of very human anxiety in lines that sweep downwards only to rise again to rejoin the texture. 
Abide with us, for evening shadows darken,
and the day will soon be over. 
Frank Martin frequently turned to the clarity and modality of chant in his setting of the Mass for Double Choir, which, though occupying the longest portion of the concert, was the most forgettable. When the focus is on texture rather than melody, this work is at its most interesting: it is the tonal colours of the opening of the Sanctus that linger longest in the mind thanks to the creation of a kind of shifting drone placed against rocking exclamations in the text. There is a sense of foreboding here, even of awe, confirmed by the anxious, almost obsessive Benedictus. 
Chamber Choir Ireland's next performance will be of their Choirland Revised programme at the Fishguard International Music Festival on 31 July. For more, visit www.chamberchoirireland.com.
Published on 14 June 2018
Anna Murray is a composer and writer. Her website is www.annamurraymusic.com.