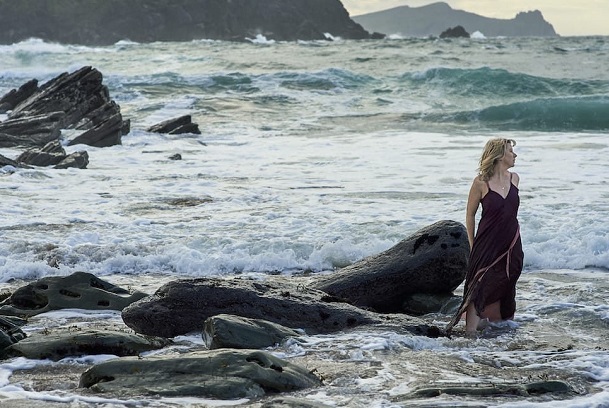 Humours of the Sea
Singer Muireann Nic Amhlaoibh's latest album 'Thar Toinn / Seaborne' explores themes of the ocean and our cultural connection to it. Sadhbh O'Sullivan reviews.
The sea has long been an object of infatuation in Irish poetry and song. Maybe it is its presence hemming us in from every side that is at the root of our preoccupation. Maybe it is the natural musicality of it, the poetry that seems to arise from its ever-changing forms. In any case the temptation to personify the sea, to connect it to ourselves in some way, is irresistable; from the indifference of its almighty waves to the apparent companionship of its tranquil moods.

With her latest solo offering, Thar Toinn / Seaborne, Muireann Nic Amhlaoibh explores this theme in the company of musicians such as Gerry O'Beirne, Séamus Begley, Donogh Hennessy and Julie Fowlis. Since the release of her previous album Foxglove and Fuschia in 2017, the singer and flautist who sang with Danú for 13 years has been busy on the musical front, including a project called Aeons (an electronic collaboration with concertina player Pádraig Rynne). This return to her solo work, which she calls a 'capsule project', seems to gratify a personal affinity with its subject; Nic Amhlaoibh professes herself to be 'obsessed with the ocean and our cultural connection to it.' Having grown up on islands along the west coast and in Kerry, it is hardly any wonder that she feels so drawn to what lies beyond the edge of the land.

The opening notes of the album's first track 'Faoiseamh Faoistine', with a melody composed by Gerry O'Beirne with words by Domhnall Mac Síthigh, are fittingly provided by the assured and crystalline guitar plucking of O'Beirne himself. The long-standing musical relationship that binds O'Beirne and NicAmlaoibh is evident in the beautiful interplay between voice and accompaniment here, with bass notes in the guitar pedalling to add to the already anticipatory air of the mixolydian melody. If it's possible for a guitar to sound oceanic then the softness and depth of tone here achieve just that. As the song develops, the ebow creeps in from underneath to complete the aural seascape which has been gradually unravelling.
Sweet and sorrowful
'Air Failirín Iú' makes an immediate shift in colour, signifying that this album is set to encompass all of the many humours of the sea. Relaying the story of a fisherman's wife whose husband has been lost to the water, Nic Amhlaoibh successfully treads the line between sweet and sorrowful in a way that could convey the emotion even to someone who didn't understand the Irish lyrics. When the harmonies begin to layer around her, I feel as though I am standing in the midst of a group of keening women, united in their sorrow at what the sea has taken from them. 

It seems a pity to single out any particular track on this album, so masterfully crafted is each one. The vocal is superb throughout, demonstrating Nic Amhlaoibh's range and in particular the warmth of her low register. One standout moment is the piano performance on 'Sweet Kingswilliamstown'; Cormac McCarthy subtly applies his composer's mind and knowledge of jazz harmony to bring a soft dissonance to the track, keeping true to the traditional genre while gently encouraging it to absorb other influences.

What elevates this body of work from good to great is the sensitivity of each musical arrangement towards the story within the song. Every tale is told not only with words, but by the choice and use of instrumentation. Niamh Varian-Barry's lonely viola on 'Air Faillirin Iú' seems to lament a life lost at sea. The chugging, palm-muted guitar on 'Tá na Báid go Doimhin sa Bhfarraige' embodies the rhythm of a boat bobbing on the surface of water and establishes a sense of adventure as the protagonist wishes good luck to the fishermen. On 'Port na bPucaí' the completely enthralling sound of the yaybahar (an instrument originating in Istanbul with two drums and two strings connected by coiled springs) lays down an otherworldly backdrop for a tune said to have come in from the sea on the wind. As the vocal melody builds tension with rolling ornamentations and flattened 7th notes, one could easily imagine the droning, swooping yaybahar to be whale-song or the music of the fairies who have captured the woman at the heart of the narration. This particular yaybahar was built and played by Nic Amhlaoibh's husband, Billy Mag Fhloinn.

It is difficult to write about music, or indeed about anything, without relating it to the bizarre time we are living through. While concerts have been cancelled and our usual daily opportunities for connection come to a halt, recorded music is a source of comfort to which many of us are turning. With its prosodic nature, mythical storytelling and beguiling arrangements, Thar Toinn could certainly be regarded as a source of comfort. This is an album that rewards repeated listening at a time when an invitation to lose yourself in music is a most welcome one.
To purchase Thar Toinn / Seaborne, visit https://muireann1.bandcamp.com/album/thar-toinn-seaborne. Listen to the Journal of Music's podcast interview with Muireann Nic Amhlaoibh here.
Published on 30 April 2020
Sadhbh O'Sullivan is a songwriter, musician and arts-in-health practitioner. As a solo artist she has released three albums (under the name Sive), toured extensively and performed on numerous television and radio shows including Other Voices. Sadhbh completed the MA in Community Music at the University of Limerick in 2014.