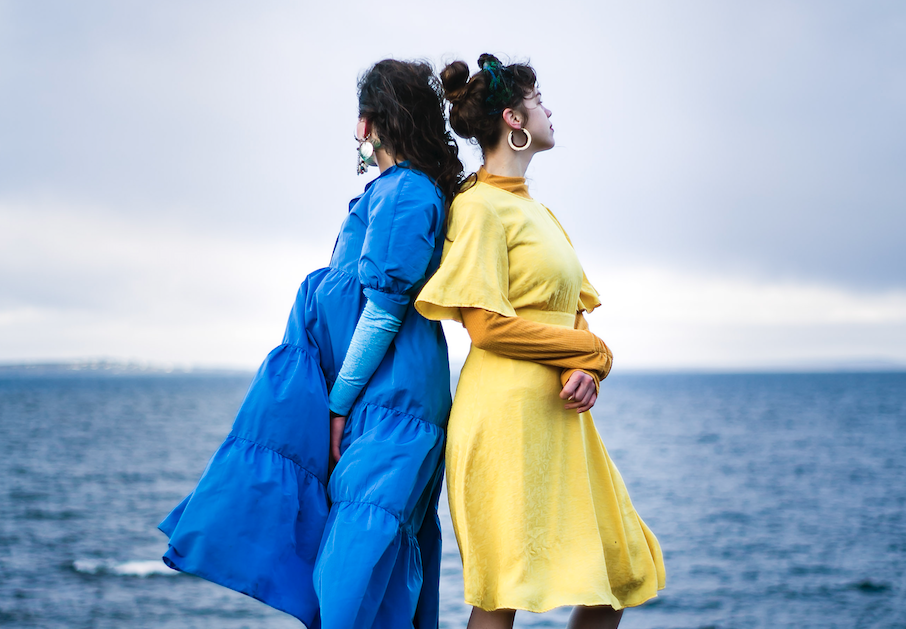 New Releases of the Week (26 February 2021)
A round-up of recent releases, including Clare Sands and Susan O'Neill, NewDad, Míde Houlihan, Æ MAK, CMAT, and Laura Cannell and Kate Ellis. To submit your music for inclusion, please email
[email protected]
Clare Sands and Susan O'Neill – Carry My Song
'Carry My Song' is the new work by Cork fiddle player Clare Sands and singer-songwriter Susan O'Neill. The song is the first in a new series of Sands' 'Tírdreacha agus Fuaimdreacha' (Landscapes and Soundscapes), which will span the seasons of the year across the four provinces of Ireland. 'Carry My Song', which features O'Neill on trumpet, congas, vocals and dulcimer, and Sands on violin, cello, vocals, and synth, was recorded, engineered and produced by the pair in 72 hours on location in County Clare. As part of this new project, Sands will release more works, collaborating with Steve Cooney and Tommy Sands, Brídín, and Liam Ó Maonlaí. Visit: https://claresands.com/
NewDad – Slowly
Alternative indie band from Galway, NewDad have today released 'Slowly' via Fair Youth Records. The song is the latest in a series of tracks released by the band since they formed in early 2020, including 'I Don't Recognise You' and 'Blue'. The hazy, feedback-filled sound is what the band have been crafting over the past year, working towards their first EP, Waves, due for release on 26 March. Visit: https://newdadofficial.bandcamp.com/
Míde Houlihan – Without Me
West Cork singer-songwriter Míde Houlihan's first release of 2021, 'Without Me', was released this week. Following 'Idle Words', released in 2020 and co-written with Mick Flannery, 'Without Me' is out now on Cork label Unemployable Records and is taken from Houlihan's EP, Shifting  Gears. 'It's about feeling frozen in time', said Houlihan. 'When people you love are moving onto bigger and better things and you're missing them so much. Torn between being really happy for them, and resenting them for their progress, even though you try not to'. Visit: https://www.facebook.com/midehoulihanmusic
Æ MAK – Jamie
Electronic pop artist Æ MAK has today released a new track 'Jamie' via her own label Spacer Records, distributed by ADA Music. The song was recorded during lockdown with an accompanying video showing the singer dance in the streets of Dundalk, playing music in her home and pinning polaroids of famous Jamies on a wall – Jamie XX, Jamie Oliver, Jamie Lynn Spears, Jamie Lee Curtis and others. The song is the first from her upcoming EP Class Exercises out on 26 March. Visit: https://aemak.bandcamp.com/album/jamie
CMAT – I Don't Really Care For You
'I Don't Really Care For You' is the latest release from songwriter CMAT, whose music is a distinct blend of pop and Americana with often poignant and humorous lyrics about relationship troubles and breakups. This new song features on CMAT's upcoming debut EP Diet Baby, along with 'Another Day (kfc)', 'Rodney' and 'I Wanna Be A Cowboy, Baby!', singles released last year. Pre-order the EP here: https://store.dublinvinyl.com/products/cmat-diet-baby-ep
Click on the image below to listen.
Laura Cannell and Kate Ellis – February Sounds
February Sounds is the second record in a year-long project by violinist Laura Cannell and cellist Kate Ellis, 'These Feral Lands  – A Year Documented in Sound and Art'. The project will document the year in full, with a new record each month, along with a video work and column published in art and nature publication Caught by the River.  This month's record includes four tracks that came about through a process of improvisation. According to the sleevenotes, 'Kate and Laura create conversations through wood, strings and fragmented songs, ebbing and interweaving their emotions through compositions and solitary performance'. Find out more about the project on Bandcamp: https://brawlrecords.bandcamp.com/album/february-sounds
Click on the image below to listen.
To submit your music for inclusion, visit: https://bit.ly/38vquCn
Published on 26 February 2021