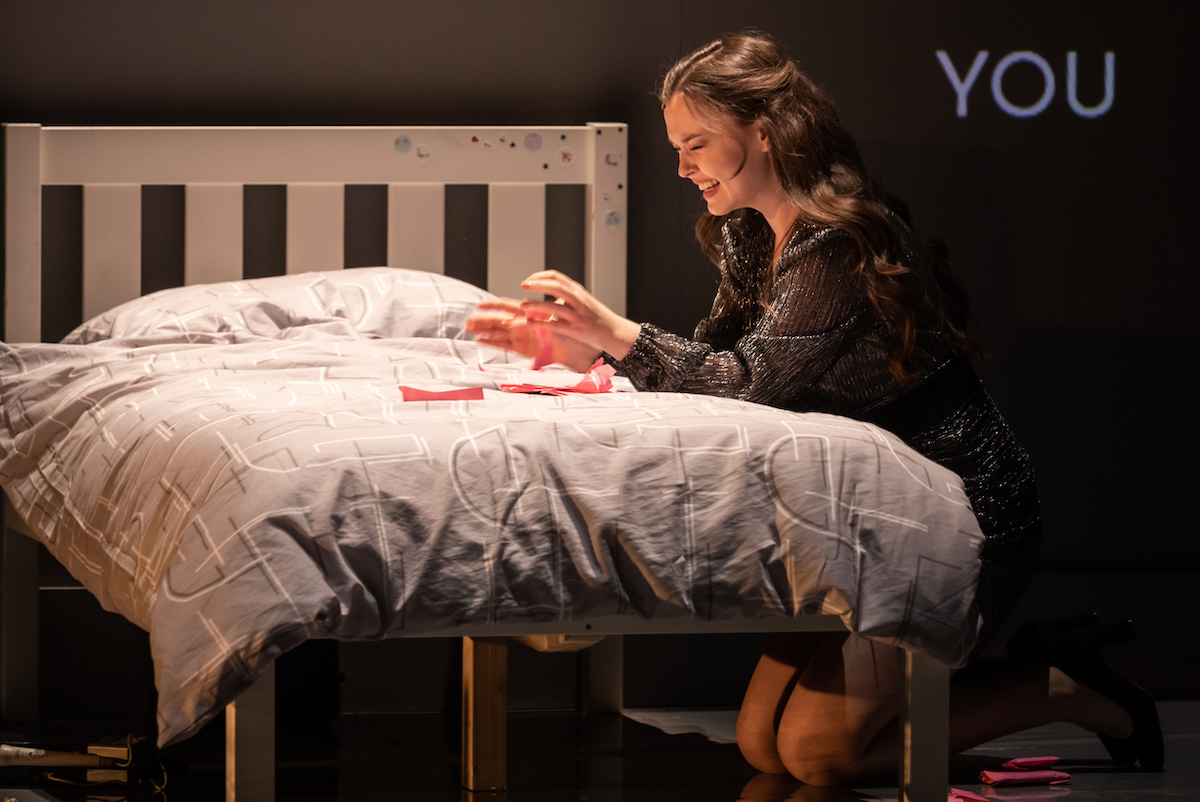 Hollowed Out by Her Past
Donnacha Dennehy and Enda Walsh's new opera, 'The First Child', premiered at the Dublin Theatre Festival at the weekend. Adrian Smith reviews.
The First Child (Dublin Theatre Festival, 4 October) is the final instalment in composer Donnacha Dennehy and writer Enda Walsh's trilogy of operas following The Last Hotel (2015) and The Second Violinist (2017). Despite the praise heaped on these first two productions by critics, I have to admit to being somewhat less enthusiastic about both of them. For me, the convoluted plots involving an assisted suicide in The Last Hotel and the awkward doubling of the main character in The Second Violinist never seemed to gel with Dennehy's music and felt dramatically stilted. Both operas also lacked an ingredient that – although may not be so crucial in theatre – still seems to constitute a central ingredient of most successful operas: a character with whom the audience could genuinely empathise. On both these fronts, The First Child breaks from its predecessors with a radical simplification of the scenario combined with a devastating psychological analysis of the lasting scars inflicted by childhood bullying. 
Indeed, the opera's plot is so minimal that the compilers of the programme booklet didn't feel the need to include a synopsis. Karen (soprano Sarah Shine) – a woman in her mid-thirties – works as a shop assistant selling baby and childcare products. Seemingly by chance, she meets a young married couple, Simon (baritone Emmett O'Hanlon) and Alva (mezzo-soprano Niamh O'Sullivan), to whom she manages to sell a baby carrier for their newborn first child. Karen's mild flirting with Simon arouses a bout of jealousy from Alva which seems over-the-top but which hints that both female characters have a shared past. Through some Instagram creeping, Karen manages to find out where Simon and Alva live and arranges a Tinder date with Gary (tenor Dean Power) – a brash, Jack-the-lad – in their vicinity where she encounters the couple again. Unaware of any relationship between his wife and Karen, Simon invites everybody back to their new home, the scene of the opera's denouement where – in a toxic, booze-fuelled altercation between all four characters – we discover the real reason for Karen's obsessive stalking of the couple: Alva was Karen's childhood bully.
While all this might sound rather simple, even banal, the plot is intertwined with a magical realism element that lifts it out of the ordinary and catapults it into a mythical realm. Two devices are used to achieve this. First, a children's chorus appears in the interludes between the various scenes serving as a constant reminder of the innocence and vulnerability of childhood. Directly counterpointing this angelic purity is a demonic element in the form of an omnipresent, nameless male nurse (countertenor Eric Jurenas) who paces about the stage and appears to delight in Karen's inexorable downfall. While he is mute for much of the opera's early scenes, his terrifying entry around a third of the way through the opera is a hair-raising moment, affirming his malevolent grip on proceedings as his shrill vocal line swoops in and out of the high register. Both of these devices, alternately representing the forces of good and evil, suggest deep primeval powers at play outside the control of the main characters. 
Adding a further layer of complexity was the fragmented rendering of Karen's narrative. At the beginning of the opera we are greeted with a minimalist set – featuring a sofa and a coffee table flanked with a nursing home bed to the left and a bedroom to the right. It soon becomes obvious that these props are set up to represent Karen at different stages of her life: as a lonely, elderly woman (Joan Sheehy); as a frightened schoolgirl (Caia Leseure); as a young woman. Episodes from her childhood and old age are inserted between scenes of the main narrative so that we gradually piece together a psychological portrait. At other points, the three versions of herself are in play simultaneously, and seem to be disturbingly aware of each other's existence. 
Warping into darker soundworlds
The glacial pace of the narrative allows Dennehy the space to paint each scene with broad sonic brushstrokes giving each one a distinctive hue. The score requires three of the musicians to double as microtonal pianists which adds a tingling richness to the music that is beautifully performed by the Crash Ensemble under Ryan McAdams. At times it can seem to convey a vibrant, ethereal purity until – by sliding a couple of micro intervals – it suddenly warps into a much darker soundworld. In the more dramatic scenes, where the music needs to be dexterous, the vocal writing – a big weakness in The Last Hotel – is full of variety and while Karen remains the focus of attention, the other characters are so well realised musically that their own individual psychological traumas frequently spill out into the foreground, most spectacularly during the opera's drunken climax.
In contrast to the multimedia overkill of The Second Violinist, Jamie Vartan's minimalist set and Jack Phelan's video projections underscore the absence of warmth in this dark vision of suburbia. While the opera inches forward slowly, Walsh's direction and Emma Martin's choreography ensure constant movement on stage and no shortage of symbolism allowing the audience to pull multiple interpretations from the opera's conclusion. 
While hatred and vengeance may be Karen's primary motivation throughout the opera, ultimately we are left with a portrait of someone whose very sense of themselves has been hollowed out and who remains captive to a traumatic past. Her final aria, in which she sings of childhood dreams unrealised, is one of the most poignant I've heard in any contemporary opera and it is impossible not to feel deeply moved by her failure.
When Dennehy mentioned in the programme booklet that 'writing this opera was probably the most intense creative experience of my life so far', it seems he had an inkling that both he and Walsh were on to something special. He wasn't wrong. This was the best Irish opera I've heard since Gerald Barry's The Importance of Being Earnest and should go on to enjoy success far beyond these shores.
The First Child, presented by Landmark Productions in association with Irish National Opera, is sold out at the Dublin Theatre Festival for the remainder of its run, but will be available online from 10 to 23 October. Visit www.irishnationalopera.ie or https://dublintheatrefestival.ie.
Published on 7 October 2021
Adrian Smith is Lecturer in Musicology at TU Dublin Conservatoire.