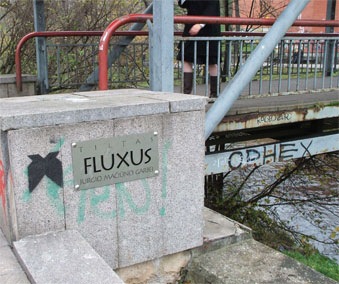 Ideas in Flux
No discussion of Lithuanian composers can avoid the political dimension
In the last issue of JMI I wrote: 'Many European festivals, including those in much poorer countries (Portugal, Lithuania, Croatia, etc.), are a week or ten days long'. In fact this year's Lithuanian new music festival, Gaida – meaning a note, a melody, or a mode – ran from 24 October to 8 November, an epic sixteen days. How do they do it, and how come every concert played to full houses? Lithuania is a small (mostly Catholic) country shadowed by a colonial past, a parliamentary democracy with a population of just 3.5 million. Could there be a few things we could learn from them?
I was able to attend the festival for a week, where one of the high points was the performance of Akanos, a very fine orchestral piece by Irish composer Gráinne Mulvey, performed by the Lithuanian National Symphony Orchestra at the National Philharmonic Hall, Vilnius. While there, I took the time to find out a bit more about the country and its surprising success in new music.
No discussion of Lithuanian composers or artistic matters in the twentieth century can avoid mentioning the political dimension. The history of Lithuania is far more disturbed and dramatic than ours, and the current period of independence dates from just 1990. The period of Soviet control started in 1940 (but with a more violent and repressive Nazi period within this). Prior to that Lithuania was independent from 1918 – fighting both Soviet Russia and Germany to gain full control in 1919. During the independent periods, composers, artists and musicologists have featured prominently in the government and diplomatic corps of the country: Vytautas Landsbergis, President from 1990–92, also a major musicologist, is just one example.
The composer scene in Lithuania today is conditioned by that recent history. Despite this, younger composers have arrived at a point that is probably as much in line with European norms as they are in Ireland, or more so. A strong festival culture is one reason for this. Another is the strength of the desire, as a young nation, to exert itself in catching up and in asserting an identity – things that are lost in the mists of time to us here, comparatively at any rate. There are many festivals dedicated to contemporary music there, with Gaida being the biggest by far. Every festival provides commissions to the composers of Lithuania, thus enlivening a native scene, and also they allow wide exposure to high-quality visitors from outside – Ensemble Modern, Ensemble Intercontemporain, Ensemble Recherche, Arditti Quartet – all the usual suspects of the international new music scene have appeared there over those recent years of independence. Interestingly, some policies partially retained from the Soviet times have also fertilised the scene. During Soviet times concert hall and operatic concerts allowed free admission to all students and young people, and to date events in Gaida are free to students of composition and musicology, and members of the composers union, to encourage professional development. The way in which such things as composers' unions are part of the institutional infrastructure, with offices and buildings dedicated to their purpose, is another remnant of those times. The composers' union in fact set up the Gaida festival. The full houses at events can be put down to a combination of mass media coverage and artistic programming; the festival is also promoted strongly to the contemporary visual arts public.
Lithuania, like Ireland, has not come up with a figure of international renown on the scale of a Ligeti, for example, but one name, George Maciunas (Jurgis Mačiūnas, 1931–1978) sticks out, as he was the father of the anti-establishment Fluxus movement. Having fled to New York in 1944 as the Soviets took over from the Nazis at home, he became influenced by electronic music and the ideas of John Cage. Later, in 1962, he publicly declared the Fluxus manifesto in Wuppertal. It was Vytautas Landsbergis who, while corresponding with Mačiūnas, created a Fluxus movement inside Lithuania during the 1970s and 80s, which stimulated an environment of non-conformism among the composers of the country which echoes through to today. Its anti-authoritarian stance had of course a particular resonance in the Soviet years, with the regime's attention to artistic/political stances actually increasing from 1980–85. Fluxus has for these reasons become a matter of national pride, with state support for travelling exhibitions and so forth (going against the spontaneous spirit of the movement in the process). In fact there are and have been many other types of composer in Lithuania, and the situation resembles Ireland in that respect: some following European avant-garde trends including machinism, microtonality and spectralism, others reflecting post-minimalism and post-modernism; while electro-acoustic and urban underground scenes also exist, as well as this post-Cage, neo-Dada, Fluxus element, which does not limit itself to music or sound art, or any other convention.
One strength of the Lithuanian scene, one which may be lessening in importance over time, is the habit of discussion and reflection on the aesthetics and the societal relevance of the composer. This is inevitable where a history of resistance and assertion of nationhood impinges strongly. For example, questions surrounding stylistic modernity, through the whole twentieth century, received a dialectical fillip by being placed in opposition to the traditional conservatism of 'nationalist' classical music, particularly against the conservative backdrop of 'socialist realism'. While serious engagement with 'modernism' in new music began there in the mid-50s, the question of national identity continued to have an immediacy and relevance in the context of the struggle to preserve its expression (in language and folk art, etc.) against vigorous outsider-imposed destruction. In Ireland there are some parallels, yet we are strangely quiet about all this: we have compartmentalised these issues, and we have also lobotomised public cultural discussion – it is non-existent where concert music is concerned. It is rather ironic that the Soviet-engendered state support for a strongly institutional composers' union, the centre for such discussion, has ultimately resulted in a healthy state of open debate and a world-class festival.
The role of Gaida itself has been hotly debated over the years, and its role has evolved in reaction to this spirit of debate. At the start it saw itself as reaching out to the Baltic region, seeking common issues with Latvia and Estonia. Always mindful of its place away from the mainstream, it then found common themes and mutual support with Scandinavian countries, while more recently it has become a regular on the circuit for the big acts – but this has caused serious debate around the issue of quality of interaction: it is felt strongly by some composers (themselves also organisers of new music events) that it is not useful to merely have a German ensemble play German repertoire and then leave the next day. It would be better to invest in exchange contracts whereby visiting ensembles are required to take on Lithuanian repertoire as part of the deal, which they will later bring elsewhere, thus encouraging two-way interactions benefiting the smaller partner; ones that do not smack of the neo-colonial aspect of globalisation. Again, we could learn something from that.
Considering our own cultural sense of identity in the light of all this, we have been blessed and cursed with a calmer history in the last one hundred years. But also, our ability to define Irishness in any intellectualised and meaningful way was fatally put on hold by the long drawn-out suppuration of the northern conflict. Now it seems to be too late to pick up the threads that entwine artist and society: our artistic policy is discussed (not debated) wholly in 'agreed' terms that derive from an entirely thoughtless embrace of marketing jargon and political correctness; for artists and arts administrators here, as for Thatcher, there is no 'society', only individuals. Only our traditional music has attempted to engage with the issue of a national identity, and it too runs up against the mental block created by the northern problem. Meanwhile the failure to regenerate our language in the early days of our statehood was either a symptom or the cause (probably both, to some extent) of the ongoing cultural cringe towards Britain whose symptoms include, among many other things, the fact that few of our universities seem to regard Irish composition as a subject worthy of musicological consideration. The few attempts to define Irish classical music within its socio-political context were questioned in this publication and this has not, so far, sparked the healthy debate that was hoped.
Our other major historical political/cultural cringe, towards the Vatican, had a serious effect on our writers, who up until the early 70s could find themselves on the very same 'index' that included Galileo. (It's therefore richly ironic that also in the 70s the most persistent and regular samizdat anti-soviet publication in Lithuania was in fact The Chronicle of the Catholic Church of Lithuania, and the dissident writers of Lithuania were broadcast back in to the country by Radio Vatican, and of course Voice of America). Strange as it may seem, some of the Irish composer's problems in reaching a public are related to all this, as such things as string quartets and orchestras still retain a whiff of the long-gone Protestant ruling class, reinforcing their perception as 'foreign'. So our complex modern identity (if only we could define it) affects all cultural affairs.
There are seven promotional CDs produced by the Lithuanian Music Information and Publishing Centre (www.mic.lt). Recommended composers include Onute Narbutaite, Raminta Šerkšnyte, and Šarūnas Nakas. Sources for this article include World New Music Magazine No. 18, the issue entitled Contemporary Lithuanian Music (see www.iscm.org); thanks also to Daiva Parulskaine, Cultural Attaché to the Lithuanian Embassy in London.
Published on 1 January 2009
John McLachlan is a composer and member of Aosdána. www.johnmclachlan.org