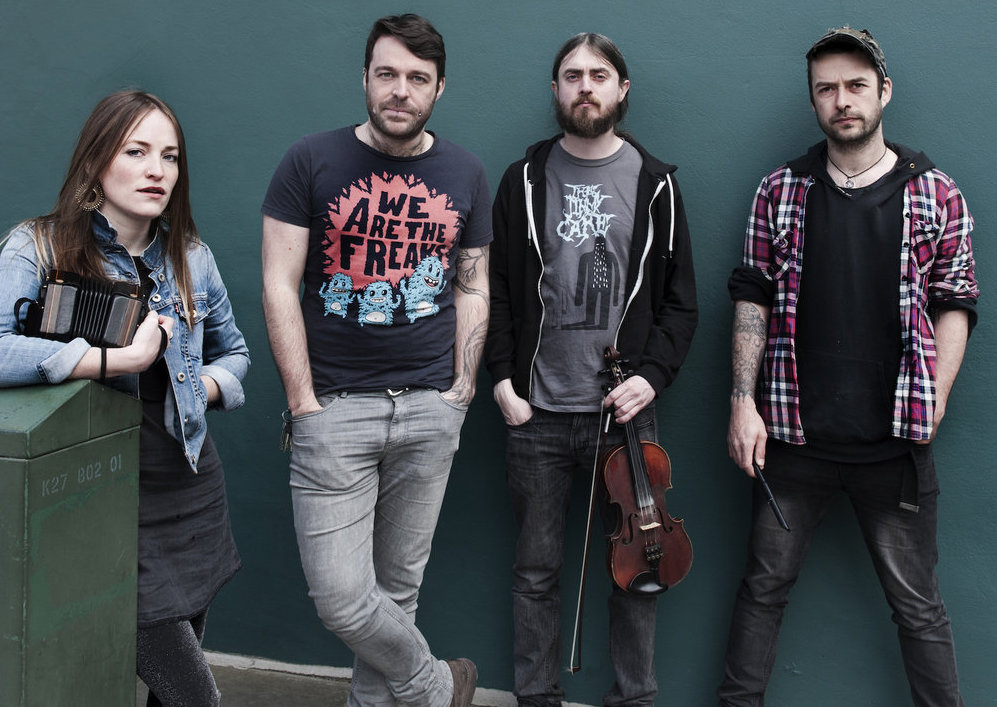 Lankum's New Fire
In the latest review from our Journal of Music/Galway City Council Music Writer Mentoring Scheme, Shannon McNamee listens to the skilled, edgy folk sound of Lankum.
Lankum are at the cusp of a compelling new wave of Irish folk music, featuring ballads and vocal harmonies at its core. With groundbreaking groups such as The Clancy Brothers and The Dubliners as apparent influences, and elements of Planxty as well, Lankum's Dublin identity shines through in not only their accents and on-stage charm, but in their music and songwriting too. 
The band began making music as a punk act circa 2009 under the moniker Lynched, and though the music they have grown into does not at all resemble their early punk style, they have not left behind their anti-establishment roots. Much of their original material is politically infused, and the words 'End Direct Provision' are emblazoned on guitarist Daragh Lynch's instrument. 
I'll not have him
Cold Old Fire, the debut album Daragh and Ian Lynch, Radie Peat and fiddler Cormac Dermody have been championing since its release in 2014, is a collection of traditional tunes, folk ballads, old-timey Dublin songs and original material. A personal highlight is a moment on 'The Old Man From Over the Sea', sung by Peat, the band's female vocalist and concertina player. During the chorus of this solemn piece, she is accompanied by deep, baritone vocals for the words 'Aye, but I'll not have him', creating an eery, hair-raising effect as the two vocal lines blend harmoniously.
At a full St Nicholas' Church at the Galway International Arts Festival (20 July), the band began with 'Sergeant William Bailey', led by Ian's vocals with a backing on fiddle accompanied by softly strummed guitar and harmony on concertina. 'Sergeant William Bailey too ra loo' – the slow jaunty rhythm gently reels the audience in, concluding with an instrumental march. 
Traveller inspiration
The ballad 'What Will We Do When We Have No Money' follows, sung by Peat, and acquired from the singing of Irish traveller Mary Delaney. Irish traveller music is a recurring source of inspiration and material for the group – their name, Lankum, comes from 'False Lankum', a piece from the singing of traveller John Reilly Jr. The four chat and joke about the dole, dedicating the song to those on social welfare incomes. Peat is accompanied by Ian on uilleann pipes – long, bellowing pedal notes lie underneath her vocals, voice and pipes occasionally sounding as if they are mimicking each other. The singing style is reminiscent of the sean-nós tradition, and her unique nasal voice fills every point of the church. 
Perhaps the most memorable aspect of the concert is the precision in Lankum's vocal harmonies. In almost every song they sing, they make use of a close vocal harmony – marrying their voices together like strings in an ensemble. This is exhibited especially well in 'The Peat Bog Soldier', a piece in which all four voices are used a cappella. 'We are the peat bog soldiers, marching with our spades to the moor', Peat's alto line projects above the rest as their voices resonate like a church organ in this hymn-like chorus. 
For a new audience
As the performance progresses, Lankum gift the audience with a condensed set of old and new music played with such precision and ease that the entire room is captivated. Between charming, humorous conversation with the crowd, they deliver songs such as 'Salonika', 'Cold Old Fire' and new track, 'The Granite Gaze' – a spurring insight to their upcoming second album due to be released later this month. 
This, as my second time seeing Lankum perform, confirmed them to me as a stand-out act, who not only give vocals centre stage, but carve out their own version of Irish folk music as they connect with a wider, young audience. Though the concert was in a considerably more reserved setting than my previous encounter with them – a boisterous festival tent – it demonstrated their ability to adapt. Their modern rendition of Irish folk and traditional music is a fresh outlook on the genre, emphasised by the fact that this style of vocal folk has not been explored so effectively by new Irish artists in decades.
Lankum perform at the National Concert Hall on Saturday 7 October at 8pm as part of the Tradition Now festival. For other concert dates, see http://lankumdublin.com
–
This review is published as part of a new scheme for music writers in Galway City. The Journal of Music/Galway City Council Music Writer Mentoring Scheme is supported by Galway City Council Arts Service and was launched in March 2017. Over 12 months, the editorial team of The Journal of Music will work with five new writers – Vincent Hughes, Shannon McNamee, Jake Morgan, Dylan Murphy and Julie Seagrave  – to expand the magazine's coverage of musical life in the city. The first three reviews from the Galway scheme include Vincent Hughes on Overhead, the Albatross, Jake Morgan on the RTÉ Concert Orchestra, and Dylan Murphy on Brian Wilson.
This is one of two schemes currently underway. A second – supported by Clare County Council  – supports four new writers to cover musical life in County Clare. The first two music reviews from the Clare scheme are Ian Bascombe writing about the Riches of Clare concert series and Deirdre Clare reviewing Paul Brady.
For further details on the background to the schemes, please visit https://goo.gl/QY83ga.
Published on 4 October 2017
Shannon McNamee is Assistant Editor of the Journal of Music.