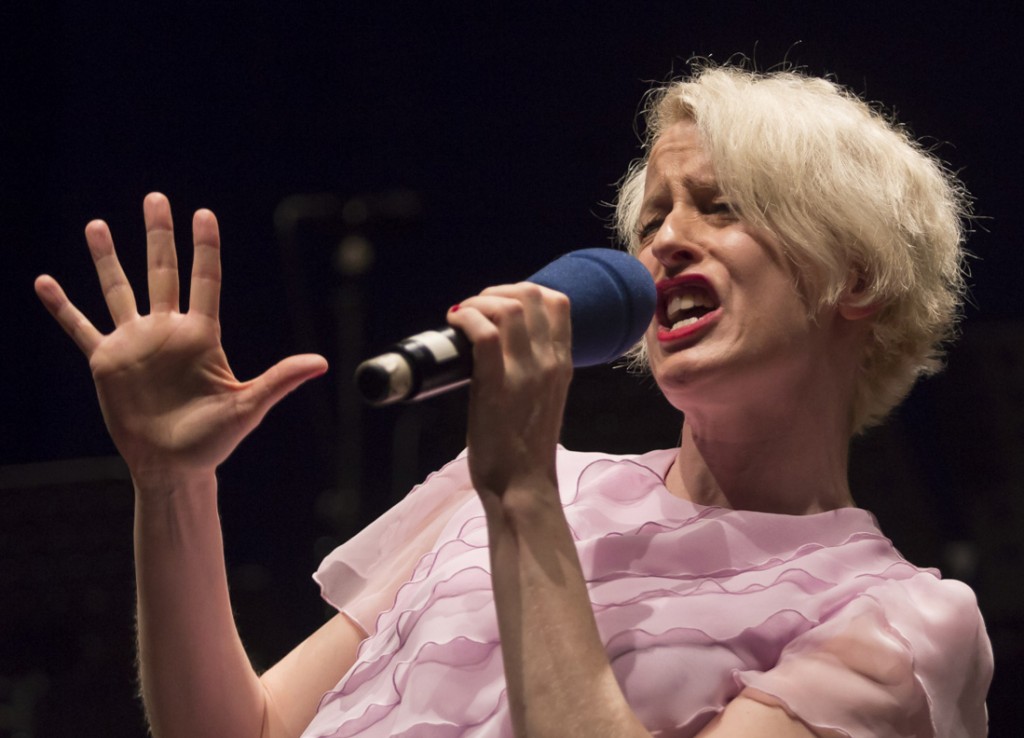 Ireland Needs to Celebrate the Work of Jennifer Walshe
The achievements of Ireland's composers abroad are not getting enough attention at home.
You would not know it from the vibrant music scene that we have today, but Ireland's relationship with certain types of music has often been complicated, tormented even.
It took many years before the Irish state – with new arts policies in the mid-2000s – could embrace its own traditional music and see beyond the colonialist view of it as being a primitive art form. Similarly with classical music, Ireland struggled to warm to it after independence because it was perceived as not being Irish enough. Between these two strands, Irish pop and rock broke through internationally in the 70s, 80s and 90s and gave us a new cultural confidence, which allowed us to relax a little about music, and, through that gap, we started to build a more inclusive scene.
But we may have become a little too relaxed about it. In recent years, one of the great challenges for Ireland, as it was seen in decades gone by, namely, to produce composers of international renown, has been achieved several times over and yet as a country we are not celebrating this fact nearly enough. 
Infrastructure and confidence
It was in 1958 that John F. Larchet spoke on an RTÉ radio programme called 'Composers At Work' about the missing 'great Irish composer for whom we are all waiting'. The Irish music community felt that it had missed some great opportunity because no internationally successful composer had emerged. Of course, the idea of what a composer was – male, writing works for orchestra – was of its time, but nonetheless there was an awareness that Ireland lacked the infrastructure and confidence to make it happen.
Since the 1970s, that situation has changed radically. Irish composers have produced work that draws on our quite unique circumstances and history, whether it is Roger Doyle's electronic 'The Ninth Set' from Passades, which received the Magisterium Award at the Bourges International Electro-acoustic Music Competition in 2007, or Donnacha Dennehy's Grá agus Bás for sean-nós singer and chamber ensemble. Dennehy, now a professor of music at Princeton in the US, regularly has his music performed internationally; the premiere of his Overcasting for the LA Phil was conducted by John Adams this summer.
Meanwhile, Gerald Barry often has works performed by international orchestras and his opera The Intelligence Park will be performed by the Royal Opera House this September. Work by Ann Cleare and Andrew Hamilton is also performed by international ensembles and she has just been awarded the Ernst von Siemens Composers' Prize. Hamilton and Brian Irvine have won British Composer Awards and, of course, Bill Whelan won a Grammy in 1997 and was subsequently commissioned by the Metropolitan Opera in New York.
High point
Two weeks ago, another high point was achieved when Jennifer Walshe was elected to the Germany Academy of Arts (the Akademie der Künste) in Berlin, joining Bob Dylan, Brian Ferneyhough, Peter Brook, György Kurtág, Sofia Gubaidulina and many more renowned artists.
Since 2000, when she won a prize at Darmstadt, Walshe has consistently made an impact on the international scene because her work is so original. It is theatrical and physical. She draws on the cultural driftwood of our society, from everyday noises to social media bile, and then writes works that have the performers use everything from musical instruments, voice and movement to artificial intelligence, film and tape to express a new way of thinking about it, in ways that continually surprise us. She stretches the boundaries of music, which is why she received a British Composer Award for innovation in 2017 and why she was elected to the Akademie in Germany.
In the last couple of years, she has had premieres at New Music Dublin, Tectonics festival in Glasgow and Borealis in Norway, and with the Arditti quartet, renowned as a specialist in contemporary music and which has premiered work by Stockhausen and Ligeti. Just this past weekend she premiered a new work at the BBC Proms.
And yet, Ireland has not celebrated Walshe nearly enough. While she featured at New Music Dublin in February, she has never been commissioned to curate any major festival or concert series here, whereas the Spor festival in Denmark asked her several years ago. The overall response to her election to the Akademie was muted. The Contemporary Music Centre was quick to release a statement, but there was nothing from the Arts Council or the Minister for Culture Josepha Madigan (although her office has just released a statement congratulating novelist Kevin Barry on making the Booker prize longlist). The Irish Times used the news as an opportunity to attack the beleaguered Irish academy of artists Aosdána. The national broadcaster RTÉ never mentioned it in its news bulletins. And then, appallingly, it published an amateurish article about experimental music and, without mentioning a single work by Walshe, or indeed any work by any composer since 1960, suggested that her work was not to be taken seriously. It was a reminder of the cultural cringe and begrudgery that often holds Ireland back, but even if certain parts of the Irish music scene still suffer from it, Walshe does not.
I first heard Walshe perform solo seventeen years ago in the National Concert Hall. Alone on stage, in front of an audience that also contained some established Irish composers, she performed her work dirty white fields for voice and violin. Over several movements, she created an endless sequence of sounds, whispering around the violin, brushing against the scroll and neck with her hands. It was the sheer courage of the work that first struck me, and then, when you became accustomed to her originality, you realise your concept of what music is, and what is possible, has been entirely refreshed. There is as much in Walshe's work for someone who is interested in traditional music as there is for the classical or contemporary music concert-goer or the electronic or rock music listener. In that sense, she is a unifying force and has managed to create works, such as the The Worlding, Dordán and ALL THE MANY PEOPLS that bind the many strands of our cultural life together.
There is a long history of under-appreciating our musical achievements in Ireland. Walshe, in her complex but exhilarating voice, has said something new. It is time Ireland started to seriously celebrate her work.
Published on 29 July 2019
Toner Quinn is Editor of the Journal of Music. His new book, What Ireland Can Teach the World About Music, will be published on 1 February 2024 and is now available to pre-order. Visit https://bit.ly/3uz7rGm.